PADI Advanced Open Water Course in Gran Canaria
PADI Advanced Open Water (AOW) qualification in the subtropical waters around Gran Canaria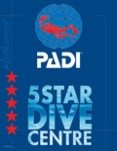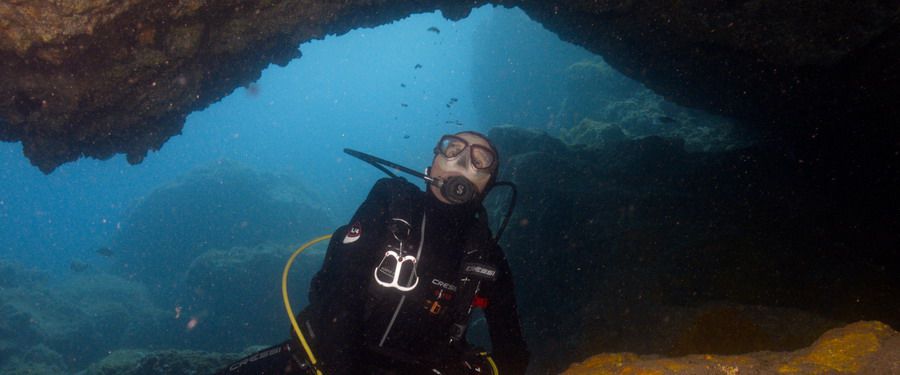 If you are looking for somewhere to enjoy your PADI Advanced Open Water (AOW) Course then the best place to do it is in the Marine Reserve at El Cabrón near Arinaga. The diving is always special here, with dramatic underwater scenery and lots of marine life to see.

Using our expert knowledge of the El Cabrón we use a series of different dive sites which match the topics of the PADI Advanced Open Water course perfectly. This will show you different sides of the Reserve, and with such a prolific and varied marine life here this is an excellent place to choose fish identification as one of your specialist dives!
On your PADI Advanced Open Water course we do the theory in the garden of our spacious dive centre at 'Casa Limon', and then five different adventure dives in the marine reserve, each one of which introduces you to new types of diving and environments. It is an ideal way to broaden your knowledge of diving and increase your confidence by undertaking a set of dives which have increased risk or skill requirements following your PADI Open Water Course. The El Cabrón area is famous because the volcanic reef has arches, caves, cliffs and with these varied habitats it is a marine-life hotspot where you can see almost the whole catalog of marine species from tiny seahorses to angel sharks and butterfly rays. The main advantages of taking your PADI Advanced Open Water course in the El Cabrón Marine Reserve are:-
See more, build your experience, with over 10 routes and 400 marine species
'Casa Limon' is the most spacious and relaxed dive centre in Gran Canaria, the perfect place to take a PADI Course
Our team of PADI Instructors are mature, knowledgeable and highly rated on TripAdviser!
PADI AOW Course - Content and options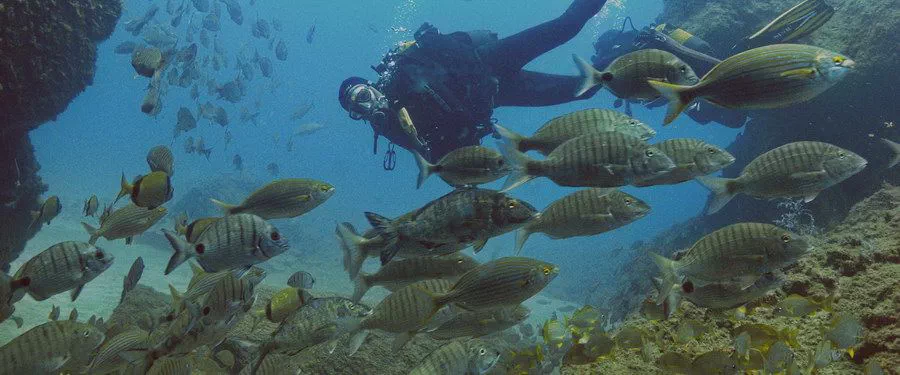 To get your PADI Advanced Open Water certificate you do five adventure dives in open water, which must include a deep dive in the marine reserve and a navigation dive. The other three dives can be chosen from our list and may include wreck, boat, night, photographic, multi-level or computer (see the full list below). There is also some reading, video sessions, knowledge reviews and tests/quizzes. You can choose your three elective dives from the following list :
Multilevel Dive and computer (including FREE use of dive computer)
Underwater Naturalist
Peak Performance Buoyancy
Night Dive *(Check out the night dive simulator!)
Search and Recovery
Aware Shark Conservation
Digital Underwater Photography (check out our Photo Gallery)
PADI Aware - Fish Identification
Enriched Air *(NITROX)
Boat Dive *(In the South of the Island)
Wreck Dive *(In the South of the Island)
* small supplement payable for this dive.
All of these options are described in much more detail on the
PADI Advanced Open Water Options
page.
Here are some students on their dives: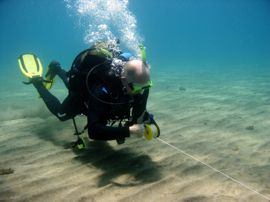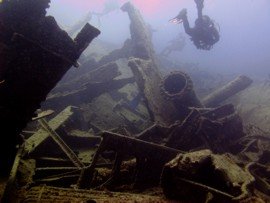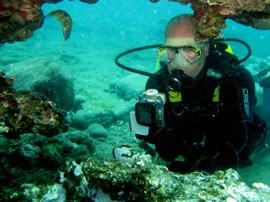 Navigation / Fish Identification / Digital Photography
Skills covered
The course broadens your experience of diving and shows you how to use skills in a range of different diving conditions. Each dive will cover techniques to help you have fun when completing further similar dives in the future.
Free use of Dive Computers!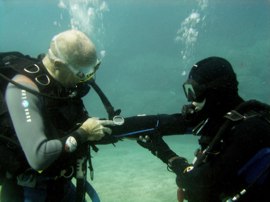 PADI now recommend that all students on this course get to use a dive computer as part of their training. The dive computer monitors depth and duration constantly, and calculates a remaining dive time to avoid decompression illness, and helps monitor ascent rates. Using a dive computer properly contributes to increased diver safety and more enjoyable dives. At Davy Jones Diving, we include the use of the Dive Computer for part of your course Free of Charge, so you can understand how they work and how they can help you manage your dives.
Distance Learning Options

You don't have to wait until you get here to Gran Canaria to start your scuba diving course, as you can now start to learn to dive at home before you depart using one of our distance learning options. The simplest way to start is to get the PADI course manual before you come to Gran Canaria for your diving course, and do all the reading at home. Alternatively you can register for the new
PADI e-learning
system, nominate Davy Jones Diving as your partner, and do much of the coursework and quizes online. In both cases we will be able to answer any questions by phone or email before you arrive to do the practical parts of the course. We work with a UK partner (Roho) to help you get the right materials. Finally you can complete the reading, tests and confined water training with one school before you depart, and the rest of the Open Water Diving Course in Gran Canaria when you arrive (See the
Referal dive
page). For more details on any of these options please use the
Express course enquiry and reservation form
What you get
At the end of the three days, if you have met all the performace requirements, your instructor will award you the PADI Advanced Open Water Qualification. You will recieve confirmation of this from PADI within about 2 weeks with your new card.
Other students said ..
5
stars -
"Great team and a great experiance! Could not fault at any level. Highly recommend to all!!"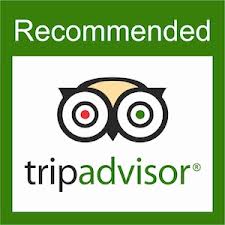 Thank you Raymond and Brian for all your help over the last 4 days. You and your team at Davy Jones are awesome and i would highly recommend you to everyone i know no matter what their ability was. The team are all very knowledgable and obviously love what they do. I can honestly see why they have the great reputation that they do! It was a pleasure to study my PADI Advanced here and i will be sure to be returning to see Brian and the team again. The dive sites were awesome ... Thank you all for making my holiday one i will never forget and i will look forward to returning soon!
2016-01-29
Paul G
Published by

Tripadvisor.co.uk

See full review
5
stars -
"Awesome Experience"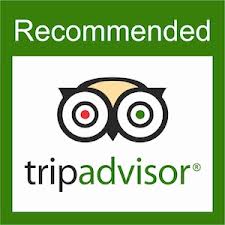 Jessica and Raymond truly are top-notch dive instructors! I did my Open Water Diver course with Jessica who was very patient and dedicated towards helping me develop a strong foundation in diving. She was sincere about ensuring I got the basics right before progressing on to the next set of skills. I then proceeded to do my Advanced Open Water Diver course...
2016-03-15
desmond88yong
Published by

Tripadvisor.co.uk

See full review
WOW! did our AOWD and improved our skills a lot! many many super super thanks to Brian, Andy, Eduardo and all the others! It was all worth it and more.
Jukka and Pipsa - From: Finland
I am back in the office in cold Amsterdam, I wear long sleeves, a warm top, I am freezing. I had a great week last week, diving all week, and I got the confirmation already for the certification.
I hope I will be diving with you again, maybe beginning of next year.
Anne Marie Hartman - From: Amsterdam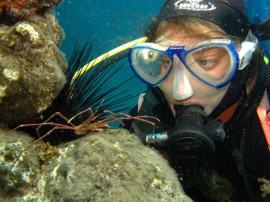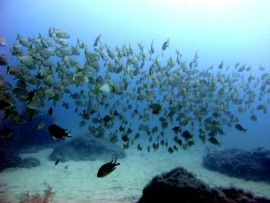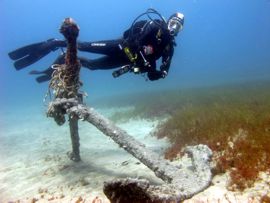 How much will it cost?
The price of obtaining your PADI Advanced Open Water Qualification in the marine reserve at El Cabrón is €410 per person for web bookings at least 7 days in advance, which includes six dives in the marine reserve; full equipment hire; your on-line registration with PADI (your PADI Divers Card); mandatory Spanish insurance; use of dive computers, compass and other equipment; and all the services listed below. Prices also include Canary Sales Tax (IGIC).
If you have your own equipment the price is €350 per person
If you do the Advanced and Nitrox course together the price is €480 per person excluding equipment.
A single person supplement of €50 may be charged if you want to do your course on your own with a private instructor.
Small supplements apply for boat, wreck, nitrox and night dives, and the basic package assumes you have your own equipment.
To dive in Spain, you must be fit to dive. You will fill in an WRSTC/PADI self-certification medical form and if you reply 'No' to all the questions you need no further checks. If you reply 'Yes' to some of the questions you will need to get a medical check done by a doctor. These can be arranged in Gran Canaria for between €30 and €40.
In order to keep the centre free of COVID-19 we insist that all students are free of symptoms and recent contacts. When vaccination roll-out reaches your age-group we expect you to be vaccinated before arrival.
If for any reason you do not complete the course a pro-rata price will be charged.
Reserve your place on a great PADI Advanced Open Water Diver course !
To
Start planning, or book your course now
You can click on some of the dates shown below or fill in the
Express course enquiry and reservation form
or use the information on our
contact page
to email or call us to enquire about or reserve a place on your PADI Advanced Open Water course.
Summary of Course
PADI Advanced Open Water
The three-day PADI Advanced Open Water Diver Course will build your skills and confidence so you can take on more challenging dives. By taking it in the El Cabrón marine Reserve with PADI 5-Star Diving Centre Davy Jones Diving you see the authentic Canarian Marine life at one of the island's top diving sites, with one of the leading dive centres in the Canary Islands.
Some suggested dates for
PADI Advanced Open Water Course

Course name / Week
Week commencing (Mon)
Week ending (Sat)
Link for details

PADI Advanced Open Water Course

-

Wk 49

4-12-2023
9-12-2023
- Check availability now!

PADI Advanced Open Water Course

-

Wk 50

11-12-2023
16-12-2023
- Places Available

PADI Advanced Open Water Course

-

Wk 51

18-12-2023
23-12-2023
- Places Available
PADI Advanced Open Water Course - later dates
From 2023-12-25
- Click to check
Plan your PADI AOW Course now!
FAQ and More detailed information
Click on the

icon to expand the sections below
Class Size

Junior Advanced Open Water Course

Minimum Requirements

Duration and Logistics




Instruction in the following languages: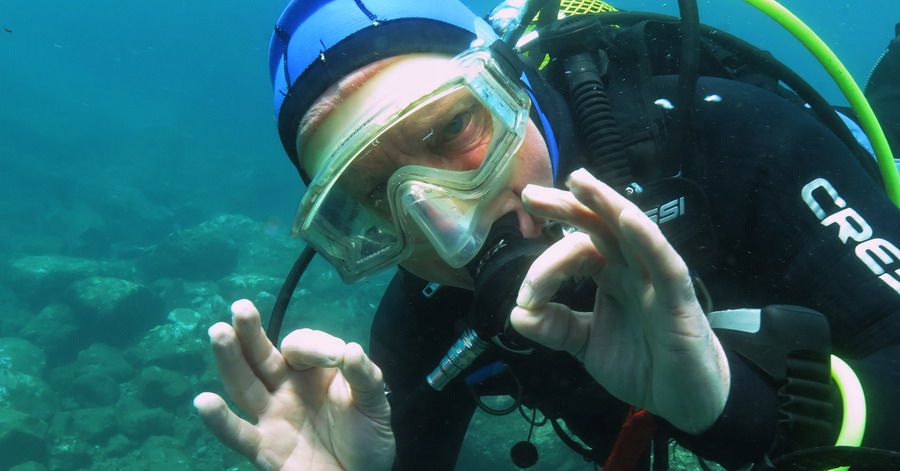 Remember our FLEXI-BOOK offers!
NO Deposit, Cancellation or Change fees!
Discover more secrets of the best diving in Gran Canaria