Dive Sites in Gran Canaria
The best dive locations and the Don't Miss dives
Gran Canaria has many of the best and most interesting dive sites in the Canary Islands, as it is the most southerly of the main islands. The warm subtropical waters of the Gulf Stream mean that you can dive all year round, and see a mixture of sub-tropical and temperate fish and marine life. Dramatic volcanic scenery with caves cliffs and arches, big fish such as sharks and rays, warm waters and a wide range of colourful fish make it one of Europe's most popular diving destinations.
The best known dive site is the amazing Arinaga or 'El Cabrón' Marine Reserve - one of the most popular dive locations on Gran Canaria, used by all the top diving schools. You can join us to explore this fabulous dive location almost every day, and learn more from our knowledgeable and experienced instructors about this fabulous dive site and the marine life you can see here.

El Cabrón is one of the top dive sites in Spain and the Canaries, and ranked in the top 100 worldwide.
We are the closest PADI dive center to this spectacular Marine Reserve.
We dive from our centre throughout the year in waters warmed by the gulf stream and our sunny weather.
Just 20 minutes from the main tourist centres of Playa del Ingles, Maspalomas, Meloneras and only forty minutes from Puerto Rico.
Diving in Gran Canaria you'll see lots of fabulous marine life and spectacular underwater scenery - it's full of surprises!
Highly rated PADI 5 Star Dive centre - holder of two PADI Certificates of Excellence.
For more general information about scuba diving in Gran Canaria read our English Homepage
Gran Canaria Diving - a tour of the Island
Starting in the North East of Gran Canaria, near Las Palmas, most diving is by boat, although only a few wrecks are now dived, with La Catedral and Barra de Las Canteras being the other most significant other dives. Working clockwise around the coast, it is possible to dive from several bays, inlets and small beaches (though mostly unremarkable). The Gando Shoal has some interesting wrecks, but at present there is no dive school or boat which goes there on a regular basis.

To experience the area with the highest concentration of routes, most caves, and amazing marine life,then it is unquestionably the ZEC (Zona Especial de Conservacion) or Arinaga Marine Reserve on the East Coast, known better as 'El Cabrón', where divers can be found every day of the week. This is where Davy Jones Diving, Gran Canaria is based.
Working towards the south of the Island there are several possible entries such as Castillo de Romeral but these are onto unremarkable shores with variable visibility and little life.

Once past the sandy beaches of Playa del Inglés, Maspalomas and Meloneras and round the southern tip of the island, the west coast offers numerous coves and bays from Pasito Blanco, through Arguineguin, Anfi del Mar, Puerto Rico, Playa del Cura and Mogan, and a few off-shore sites such as Pasito Blanco, which provide variety, but lack the quantity or diversity of marine life at any one site that can be found at Arinaga.

The north-west coast of Gran Canaria is largely inaccessible, but also subject to strong swells and the northerly trades, and so rarely dived. The small town of La Aldea, near San Nicholas on the North East Coast has some good dives, but access for tourists is very difficult, so only Sardina del Norte is used on a regular basis by visitors to the Island. It is near here that in autumn there is a chance to see Manta rays.

Several diving sites around the coast of Gran Canaria have been listed by the EU as Sites of Special Scientific Interest, but to date only the 'El Cabrón' area and La Aldea have formally been proposed to the Ministerio for the status of Marine Reserve.

Gran Canaria - Diving in the El Cabrón Marine Reserve (Arinaga)
This small area on the east coast of Gran Canaria has developed such a reputation for the variety and quantity of marine life, that it has not only been proposed as a marine reserve, but an underwater guidebook has already been produced by the local council. But it is not just the marine life which makes this area special for scuba diving, as the underwater scenery is stunning, and you can explore and swim through natural arches, caves, tunnels, or float alongside and underwater cliff and walls covered in marine life. From the main entry point you can take at least four different dive routes, and visitors can take between eight and ten seperate diving routes in the reserve.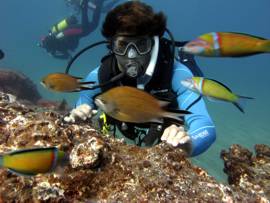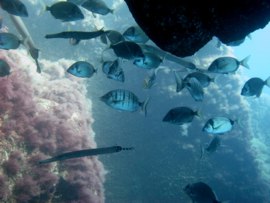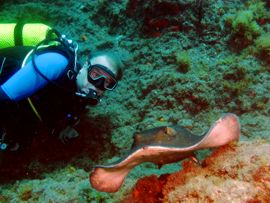 The underwater marine life is prolific, with huge shoals of Roncadores, damselfish, sardines, and baracuda, other species such as bream, wrasse and parrotfish are common throughout the reserve. Every dive can throw up surprises, from rays, to sea-horse, from glass-eye to gorgonias.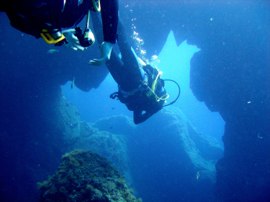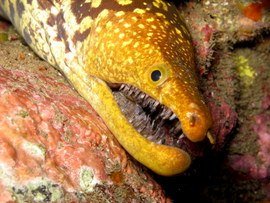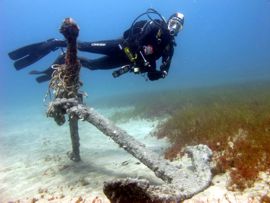 Despite the beauty and colour under the water the reserve itself is at the end of a dusty 'off-road' track with no visitor facilities at all (no toilets, no water, no cafes nothing). The best dives bottom out at around 22m, and are 'multi-level' which means that if you are careful with your air you can get non-stop dives of 40+ minutes. There is a separate page If you want more in-depth information about the dive sites in the Arinaga marine reserve
5
stars -
"Three great days diving El Cabron Reserve"
Just finished 3 days diving with these guys & would highly recommend for beginners or qualified divers. I chose Davy Jones after Internet research & consulting Trip Advisor reports. Arrangements before arrival were perfect & I was picked up on time on my first day. After completing paperwork & logbook checks...
2016-06-04
Bryan T
Published by

Tripadvisor.co.uk

See full review
---
Diving the Barra de Las Canteras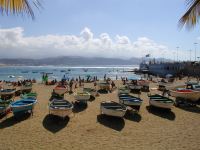 On the North side of Las Palmas is a long beach, Playa de Las Canteras, which is protected from the usual northerly swell by a small reef. If conditions are suitable it is possible to swim out from the beach and explore the reef, which reaches a maximum depth of 8m. You will find most of the smaller species such as Damselfish, Wrasse, Bream. This site is better for snorkelling than diving due to access and tide conditions.
---
La Catedral  
Lying just outside Las Palmas,this dive can only be reached by boat, and only when the wind and tide conditions are favourable - on one of those rare days when the north-easterly trade winds are not blowing, and there is no on-shore swell.

This is a cavern dive where you descend to the sea-bed at 12-14m, then through large natural hoes into the cavern below. The cavern then stretches down to an amazing 45m, with light streaming in through the entry points above you in the roof. The underwater geology is spectacular, but marine life can be a little sparse after some of the island's sites, although you can expect to find prawns, crabs and other inhabitants of limited light. This is a dive for those with more experience, particularly if there is an swell running.
La Catedral is a great dive but not easy to get to.. It is a long boat ride from the harbour, and can only be dived when the weather conditions are right. This means that we only get the chance to dive it about once a month. If you have an advanced qualification (It is not suitable if you only have Open Water) and are interested in this dive then let us know and we will see if any trips there coincide with your visit.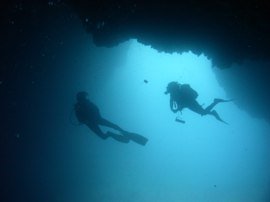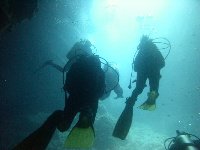 ---
Diving the Bays of the North East   -
There are several bays where shore diving is possible along the North East coast of Gran Canaria. If weather conditions are suitable you can dive these sites which are much quieter than the most popular diving destinations. At Taliarte near to Playa de Salinettas you can dive down to see a field of Gorgonias at 30m.
At Tufia there are several entry points for snorkelling and diving down to 20-30m. This area has some areas further out with gorgonias, seahorses, flabellina, as well as butterfly rays and angel sharks. Some lucky divers have even seen turtles in the area, and if you go early in the morning some divers have spotted sharks patrolling near to the local fish-farms!
The Bay of Gando (next to the airport) is a military area and is closed for diving, however just outside the bay, on the Gando Shoal there are several wrecks that can only be reached by boat, including the wreck of the Alphonso XII in 60m of water where it is rumoured you can still find gold coins! Sadly the military authorities will only allow Spanish Nationals access to these dive locations as it is close to a large military air and sea base.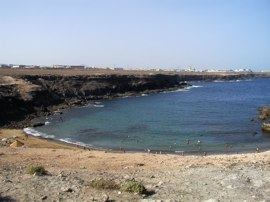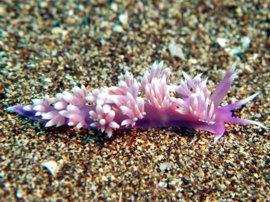 ---
Diving in Playa del Ingles, Maspalomas, Meloneras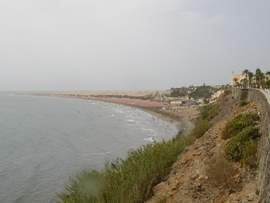 This is the most popular tourist area on Gran Canaria, because of the dunes and the big sandy beaches which fringe them. However all this sand mens that the scuba divining in Playa del Ingles is very poor - lots of sand, no scenery and limited marine life in very shallow water. However this can be a good place to stay if you have a family, as there are plenty of other attractions for the non-divers, and it is half way between the places to dive on the west and on the east coast of the island.
---
Pasito Blanco  
This is a boat dive to a reef about 2km from the shore just off the southern point of the island. This is probably the best scenic dive on the South and West coast of the island. The reef is at a maximum depth of 19m and rises between one and three meters from the sand, and is roughly circular, so can be circumnavigated on one tank of air. There is a large shoal of roncadores (bastard grunts), and stingrays are fairly common. You are also likely to see trumpetfish, baracuda, filefish, black-tailed combers, morays, marmor bream and smaller reef species such as damselfish and wrasse.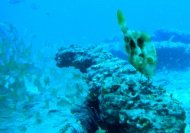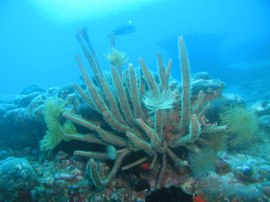 ---
Arguineguín Reef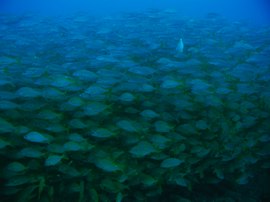 Just outside the harbour at Arguineguín, this reef lies in 14-16m and has a large permanent shoal of roncadores. Stingray, trumpetfish, morays and other common reef dwellers can also be found. Following the edge of this volcanic reef you come can hunt among the nooks and crannies for smaller species, until you arrive at the fish-ball, which will part to let you pass and then reform behind you.
---
Smaller Bays (Amadores, Medio Almudh, Playa del Cura, Tauro, Taurito)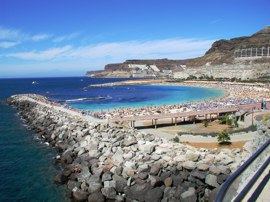 There are several smaller bays along the west coast where shore diving is possible, and you can enter the water from the beach. Most of these beaches are quite steep and stony, and have a breakwater zone where visibility can be quite poor. Once outside this zone rock-strewn shores are common with a variety of the more common species such as damselfish, parrotfish, wrasse and bream. The beach at Amadores is of imported coral sand behind the breakwater, and this can be very cloudy close inshore. The undeveloped beach at Medio Almudh is suitable for shore diving and snorkelling, however it is also the local nudist beach!
---
Sardina del Norte   
The dive sites around Sardina and Puerto de la Nieves are on the opposite corner of the island to the popular tourist resorts of the south and west, making it a drive of almost 100km to get here. Few tourists therefore visit this area, where there are several shore dives down to aproximately 25m. The rocky shore has many sea urchins and the typical harbour species of wrasse, damselfish, mullet, octopus and cuttlefish can all be found here. This can also be a good place to find Angelsharks and small rays. The dive at Caleta Bajo has numerous small caves and overhangs, but in autumn it becomes a very popular dive as Mobulus Rays (A small manta ray)feed in this area and are frequently seen by divers.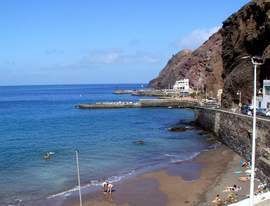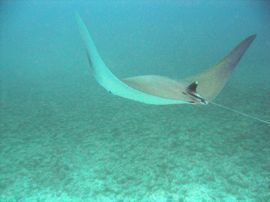 ---
Puerto de la Nieves (Agaete)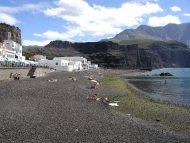 This is the terminus of the ferry to Tenerife, and from the beach it is possible to snorkel a long way out without dropping into deep water. Parking near the beach is very limited, and there are no dive schools in this area, making it once again a very long drive from the resorts of the South.
Shore Diving in Gran Canaria
For several years there was a lack of clarity in Spanish diving laws, and some dive centres implied that shore diving was not legal in Spain. This was never the case, and when the laws were updated in June 2020 they specifically included shore diving as an legal activityin all parts of Spain and the Canary Islands.
Every day of the year, hundreds of people dive from the shore in Arinaga, Sardina del Norte, Playa de Amadores, Playa de Taurito and several other sites. Accidents from diving in general, and shore diving in particular in the Canaries are extremely low (less than 1 in 100,000!), and if you get told about strong currents, these currents can effect all the dive sites (boat and shore) as this is a small island. At many of the shore dives you can often find the University doing research, or the Guardia Civil Diving Unit (police) doing their training drills from the shore alongside Professional schools and amateur divers. For several years the Government ran the 'Photosub Galdar' official photographic competition from the shore at Sardina del Norte.
Gran Canaria has many great shore and boat dives, so don't be afraid to try several, and discover the beauty and variety of the underwater diving experiences around the island. Nobody has been locked up, prosecuted or stopped 'by the authorities' from diving from the shore with a legal, authorised dive centre during the ten years we have been here, so please ignore these baseless attempts to persuade you to only dive by (their) boat, and walk away from anyone who tries to frighten you with vague myths and uncertainty about Spanish Diving laws.
Remember our FLEXI-BOOK offers!
NO Deposit, Cancellation or Change fees!
Discover more secrets of the best diving in Gran Canaria