Gran Canaria - diving in
The El Cabrón
Marine Reserve.
Late Season Special Discounts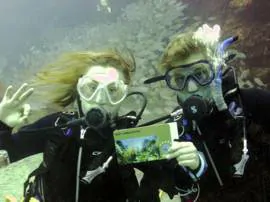 Don't miss this SPECIAL LATE SEASON OFFERS Get 5% off any diving or PADI Course up to 30th November! For two or more people together save 10% each off our standard prices!
Get in contact with us by our Contact or Booking pages, by email, Whatsapp or phone, and mention promotion FALL2022 and we will arrange your dives or course in one of Europe's best dive locations. Remember that the offer only lasts for a few weeks!
Find out more and Save up to 10%
When I first came to Gran Canaria, I had not heard about 'The El Cabrón' Marine Reserve, or the town of Arinaga. I had dived in many parts of the world, including Fuertaventura and mainland Spain, and was a bit unsure what was so special about the 'El Cabrón'. However it only took two dives to convince me that this was a very special area, with a class of diving that I had not come across before in Europe. After diving the 'Hole on the Wall' for the first time I started negotiating and ended up buying the dive centre! On that one dive I had swam through the chimney, through the arch, and come up to the shoal of roncadors, and then wall dived back.. There was so much life, of different species that it amazed me.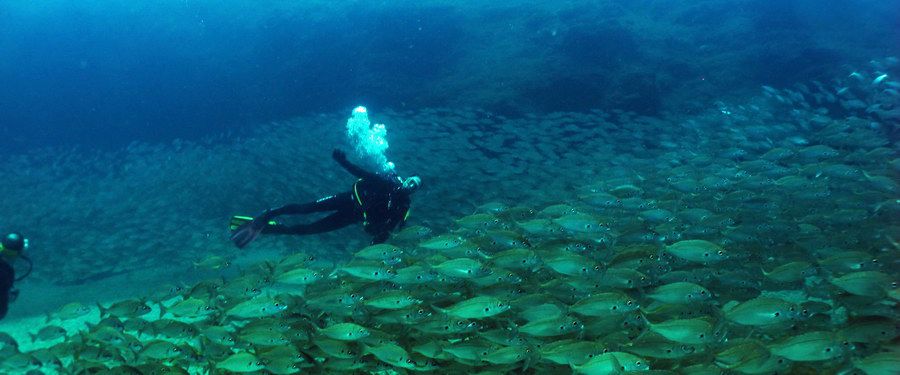 I have lived here and been scuba diving here ever since 2002, and have probably made more than 5,500 dives here, showing divers the highlights such as angel sharks, rays, seahorses; training people to dive; or enjoying myself photographing the huge diversity of marine life here.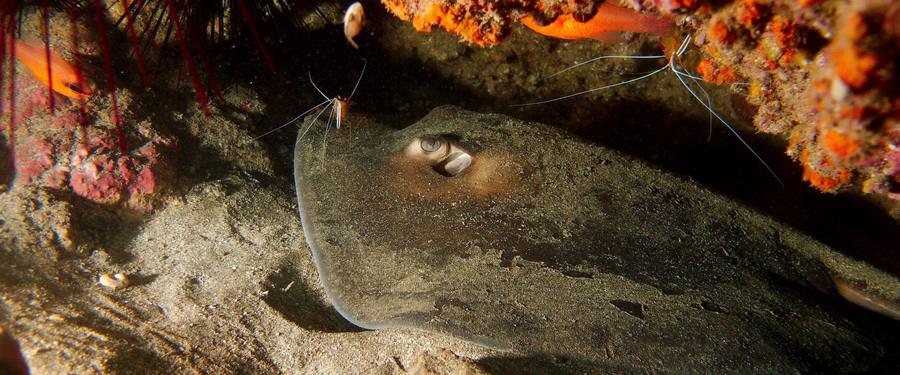 There are four features that make this the 'go-to' hotspot area for divers looking for the best scuba dives in Gran Canaria;
Huge Biodiversity - It's a great hotspot for marine life with everything from seahorses up to angel sharks and stingrays.
Dramatic Underwater Scenery, with arches, caves, walls, drop-offs and a variety of different habitats.
Variety of dives and entry points - over ten main dive routes with some suitable for beginners and courses, and other deep dives for experts.
You can dive here almost every day, all year round, with the warmest temperatures in October (24ºC) and the coolest in February (18ºC).
Marine Life in the El Cabrón

With species which originate from the Mediterranean, from the Atlantic, from Africa and from the Caribbean, it is believed that in excess of four hundred varieties of marine flora and fauna can be seen in the reserve - although it may take you several dives to explore and find them all! One of the keys to this rich diversity is the large area of sea-grass which forms a huge nursery in Spring for many species, and because there are plenty of distinct habitat types, from the sand areas favoured by Angel Sharks, through rocky crevices that moray eels love to hide in, to the algae and sea-grass of the inter-tidal zone.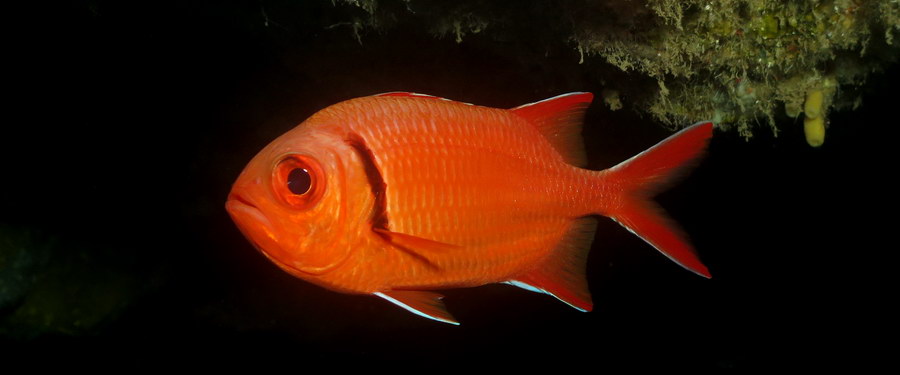 The area has an incredible array of marine life, you can tick off almost all the species in the main marine life guides, including many of the species that are only found in the Canaries, and several species that are on the IUCN Red List of endangered Species. You can find out more about some of these on our endangered species page.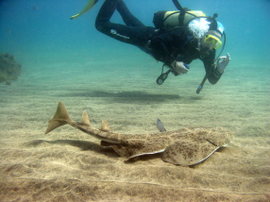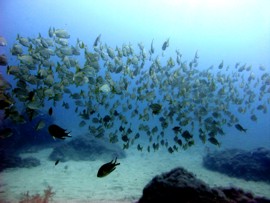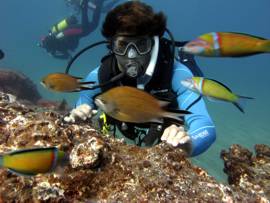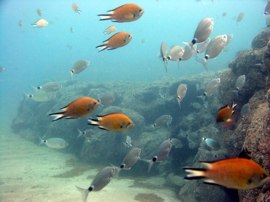 The Volcanic underwater landscape
The Cabrón area is overlooked by the Montana de Arinaga - a defunct volcano and itself a National Monument. The landscape in the north was heavily worked for the extraction of lime in the 1950's and has never been regenerated, giving it the feel of a lunar landscape. However when you get underwater this rich topography has been replicated, and there are arches to swim through,short caves you can explore, and cliffs you can float along looking out for nudibranch, morays or giant anemones. The majority of the central area is also at a perfect depth for recreational diving, an around 18m to 21m deep, giving multi-level dive times of around 40 minutes without complex dive planning or the need for decompression stops.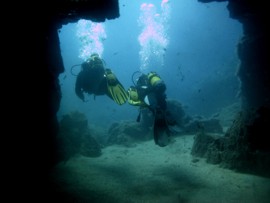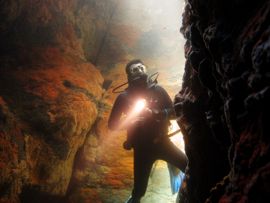 One of my favourite areas is around 'Punta de la Monja', where there is something for everyone.. There are small caves to explore, or if you do not want to enter, there are broad overhangs which still shelter glass-eyes and trumpetfish, seahorses have been seen in this area, and the sand has angel sharks, rays, stargazers and striped mullet. Underwater the clarity of the water combined with warm gulf stream temperatures and abundant and varied fish life make this the 'must dive' location for holiday visitors and local divers alike in the Canaries. Water temperatures average 21ºC for most of the year so you can dive here with a wetsuit. We can organise your exploration of the reserve almost every day, and also through night dives and deep dives can show you many of the secrets and highlights of this spectacular divers paradise.

The El Cabrón Marine Reserve was listed as a Site of Special Scientific Interest by the European Union in December 2001 and is one of only three Marine Reserves in the Canary Islands. You can find out more about angel sharks in the reserve by reading the results of the 2007 survey
The map below shows the location of the Marine Reserve just outside Arinaga on the east coast of Gran Canaria. Click on any of the tabs to find out more information about the reserve.
Brian Goldthorpe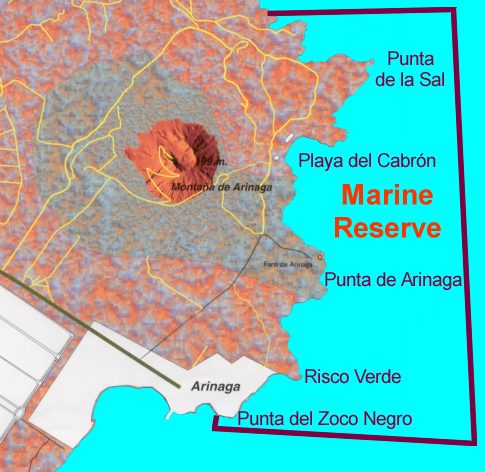 Remember our FLEXI-BOOK offers!
NO Deposit, Cancellation or Change fees!
Discover more secrets of the best diving in Gran Canaria