Snorkelling in Gran Canaria
If you are looking for somewhere to snorkel in Gran Canaria, then some of the best sites can be found in the El Cabron Marine Reserve. Here you can see a wide variety of life thanks to the relatively abundant levels of sea-grass, where the fish reproduce in spring. Alongside the common yet colourful species such as Wrasse, Blue and Atlantic damselfish, Parrotfish, Pufferfish, Breams, and Sea Cucumbers you may see lizardfish, weeverfish, blennies or razorfish; and if you are very lucky you can see octopus, cuttlefish and even angelsharks and rays in just a few metres of water.
The snorkelling at the Playa del Cabrón is among the best with a good access from the beach, and several areas of prolific life. There are usually plenty of gold-striped bream, band-tailed puffers, turkish wrasse, bluefin damselfish and parrotfish in the area in front of the few houses. The only problem is access by car .. If you have a hire car you may prefer to leave it by the school and walk the last 200m rather than risk damaging your vehicle. This beach also has no facilities (toilets, bars, cafes, shops etc) so take plenty of bottled water and everything else you need with you.
Risco Verde is within the town of Arinaga, and has similar species to El Cabrón for snorkelling. Except here you can park alongside and there is a nice restaurant, and the 'mini-museum' around the Hornos de Cal (restored Lime Kilns). From here you can walk along the promenade around the outside of Arinaga and look at two other places. The swimming pool at Zoco Negro is ideal if you have young family members who want an introductory swim / snorkel. This area is enclosed by a rock wall to make it safe for bathers, and the council have spent a lot of time and money over the last two years improving access and facilities here. Keep walking on the promenade and the area inside the pier is also a very sheltered area for the less adventurous snorkeler.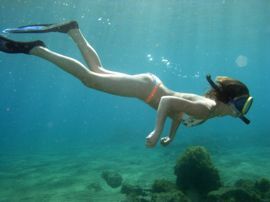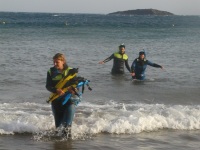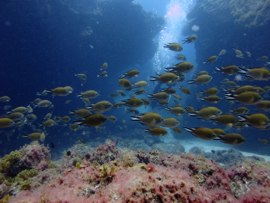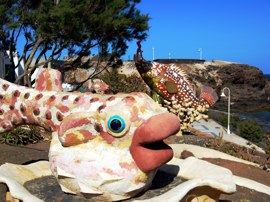 Options for Snorkellers in Gran Canaria
We offer the following options foor snorkelling in Gran Canaria:
Unguided Snorkel Excursions
Guided Snorkel Excursions
Rental of snorkelling equipment
Unguided Snorkel Excursions
We offer an excellent opportunity for those who do not wish to dive to experience the delights of the Marine Reserve. Excursions can be organised for groups or individuals and can be run alongside diving excursions for non-diving friends or family.
Guided Snorkel Excursions
If you want more support from an instructor then you can join one for a guided exploration of the reserve. If you have less snorkelling experience they will help you with your equipment, basic snorkelling techniques and safety, as well as pointing out and explaining the main species during the excursion. The service includes collection from your Hotel, and all the equipment including a wetsuit. We do a first swim in the sheltered waters of the local sea-water pool in the morning, and then after a break, we go to a second site in the afternoon where you may see different species. Your guide looks after you for both swims, and helps you get the most out of the dya by pointing out strange species and telling you about the marine life you will experience. The price of this excursion is €49 per person.
Rental of Snorkelling equipment
If you are totally independent you can simply hire some equipment from our centre in Arinaga and enjoy yourself snorkelling in Gran Canaria.
Snorkelling equipment
If you enjoy snorkelling then at some point you may want to buy your own equipment. We offer free advice to make sure that you get the equipment that is right for you; masks that fit and don't leak, fins that are the right size and comfortable. You can buy, try and change .. if it is not right we will exchange any item for a more suitable alternative .. or if you are not happy we offer a 100% money back guarantee.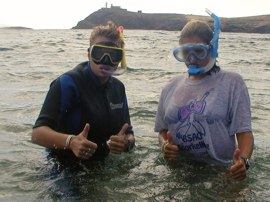 Remember our FLEXI-BOOK offers!
NO Deposit, Cancellation or Change fees!
Discover more secrets of the best diving in Gran Canaria