'Outstanding' PADI Five Star Diving Centre in the Canary Islands
Are you are looking for a PADI 5* Dive Centre in the Canary Islands where
You can dive in one of the best places to dive in the Canary Islands?
There are dives for all levels from beginners to experienced; for children, for women and for experienced divers?
you can extend your diving skills with PADI courses taught by PADI Elite Instructors?
we keep to small group sizes and high teaching standards?
there are great facilities to relax between dives in our outdoor 'classroom' which has shade, sun and fresh air?
Then look no further. Davy Jones Diving in Arinaga is one of the leading PADI Five Star Centres in the Canary Islands, where great diving, a warm welcome and professional training standards are all applied.
In 2018 they were awarded the PADI Outstanding Achievement award for their excellent feedback from students and commitment to excellence in teaching.

Colourful marine life in the Canaries
There is plenty of colourful marine life to see in the Canary Islands, but not much coral. The Canary Islands are volcanic in nature, which as lead to a more varied sea-floor where you can find caves, arches and tunnels in the volcanic rocks. These are often the daytime hiding places for rays, glasseyes, spiny pufferfish and other nocturnal animals.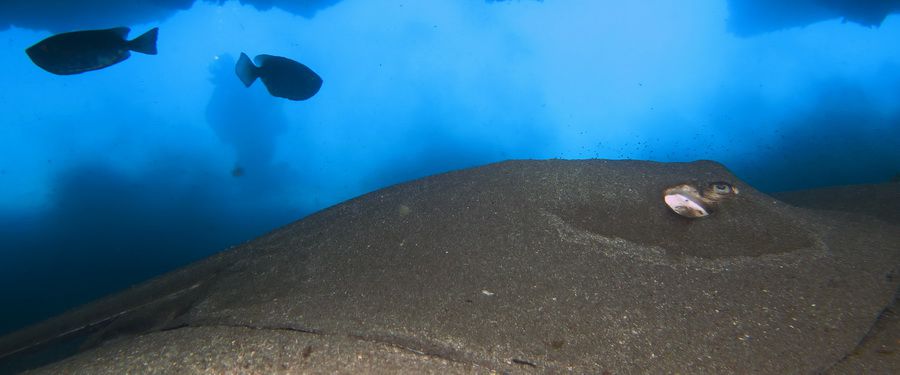 Explore caves and arches
5
stars -
"Perfect guided dives in the El Cabron Marine Reserve"
Mr boyfriend and I are both Advanced Open Water divers, and as soon as our credentials and insurance were checked (as it should be!) we were off on 10 awesome and varied dives on the marine reserve and also in the north of the island in Sardina. As we are experienced in diving around the world, it was fantastic to know how safe and knowledgeable the team were - especially Ed and Brett! We really could not have asked for more. I highly recommend Davy Jones for their professionalism, experience and friendliness. I would most certainly return!
2016-07-12
Beth J
Published by

Tripadvisor.co.uk

See full review
Got your card? join us on a fun dive
If you already have your card, then we have over ten dive routes locally, which vary from shallow dives for training, refreshers, or regaining your confidence; standard dives to big shoals of fish, and a deeper dive down to 30m to see our coral gorgonia. So no matter what your qualification, the number of dives you have or how confident you are about diving again, we can pick a route and an area which will suit you.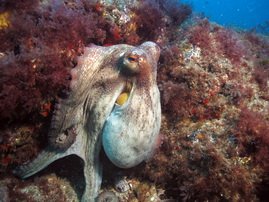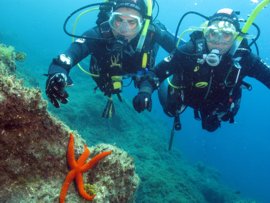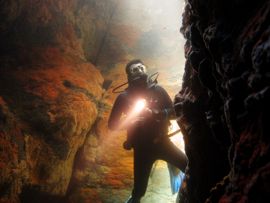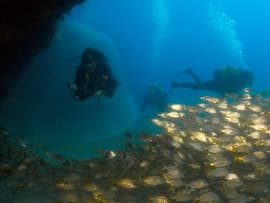 So, along with a great team of experienced, mature, PADI Instructors, three of which have been recognised as both Master Scuba Diver Trainers and PADI Elite Instructors, to look after you, when you dive with us we can offer you some of the best dives in Gran Canaria with the following benefits.
All of your dives will be no-decompression dives within safe recreational limits
You will dive in one of the Canary Islands most prolific and spectacular dive sites, the El Cabrón Marine Reserve in Arinaga.
We keep your course sizes small
Read the reviews on TripAdvisor complimenting our high standards for professionalism and customer service.
To make your experiences more personal and enjoyable, our guided groups maintain low instructor to diver ratios.
We try to make everyone welcome in our dive school, no matter how much or how little experience you have. If you have only taken an experience programme such as Discover Scuba Diving, then we may be able to credit that towards your diving licence. If you have not dived since taking your Open Water, then no problem, we will happily give you an instructor escorted dive or a refresher to help you build your diving confidence.
PADI Training Courses in Gran Canaria
We offer all the main PADI training courses, the most popular being:
Recent Student Success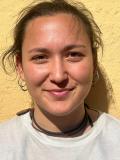 No matter which course you choose, we can help you to get that licence by making some excellent dives among the profuse marine life in the El Cabrón Marine Reserve. Our diving centre in Arinaga is
just twenty minutes
by mini-bus from the popular tourist destinations of
Playa del Ingles, Maspalomas, Meloneras, Sonnenland, Bahia Feliz, San Fernando and San Agustin
. All our packages include a complimentary two-way transfer to your own Hotel, and we have a full range of high quality equipment available for you to use on your dive.
Click on one of the menu items on the left to find out more about PADI scuba diving in the Canaries with us. Look at the details of the dive sites within the marine reserve, our training facilities in both
BSAC and PADI
, as well as the
Snorkeling courses
we offer for younger people to enjoy the marine reserve. While you are visiting the Canary Islands don't forget wide range of other adventure activities in Gran Canaria, from windsurf to cycling and hill-walking to sailing.
So if you want to make use of your PADI qualification, or are planning to take a course while on holiday in the Canary Isles make sure you visit the El Cabrón Marine Reserve on Gran Canaria with PADI Five Star Dive Centre, Davy Jones Diving, and experience our warm welcome, professional standards and great diving.
IMPORTANT PADI AWARD - AUGUST 2018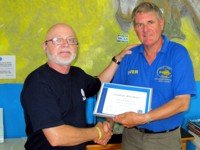 We were over the moon! PADI awarded us the PADI Europe '
Outstanding Achievement Award for 2018
' for our commitment to quality training and innovative dive experiences. The award was delivered by our Regional Manager, Sascha Engeler who believes that our innovative use of web technologies and advanced communications has helped us to achieve our success. The award is to the Dive Centre and as such it reflects the efforts of the whole team in their commitment to giving all our guests a great time while diving with us here in Gran Canaria.
Remember our FLEXI-BOOK offers!
NO Deposit, Cancellation or Change fees!
Discover more secrets of the best diving in Gran Canaria