Secrets of the El Cabrón Marine Reserve
All good diving sites have some great attractions, and fortunately there are many to be found in the relatively small area of the El Cabrón Marine Reserve in Arinaga, Gran Canaria. Attractions such as the Roncadors, The Big Arch, the Little Arch, the Gorgonia, the School of Barracudas, the Playa del Cabrón, Risco Verde etc are known to most of the local divers. But the El Cabrón Marine Reserve also has some secrets, and as our experts instructors have all been diving here for up to ten years, it is not surprising that we know more secrets of the area than anyone else.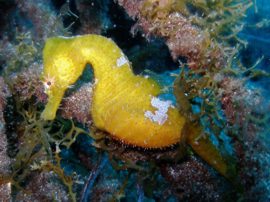 The Seahorses
Seahorses (Hippocampus guttlatus)are really beautiful creatures, and it is clear from the number in the cabinets in the Museum at Santa Lucia, that in the past they were far more plentiful around the island of Gran Canaria. They have been systematically collected in the past and today their numbers appear to be very limited. Over the last few years we have found them in a large number of different places, although few of them with any regularity.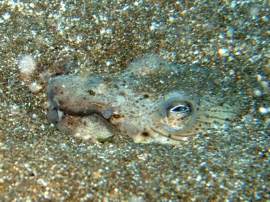 El Crokodillo (The Crocodile)
Late in 2011 a local diver discovered something unusual in the Marine Reserve, an unknown head emerging from the sand. he took a photo of the fish and showed it to several local experts who in the end decided that it belongs to Echiophis punctifer a species of Sand-eel, normally only ever found in tropical waters of Africa and the Caribbean. With it's wide flat head and large teeth it looks very threatening, yet is very tranquil and inoffensive, and appears to spend all it's time under the sand with only it's head out on the surface. It's array of teeth quickly gained it the name of the 'Crocodile Eel'. So far only a single individual has been found, but perhaps with more investigation in the area (which is not normally dived much) others will appear.
This is not the omly 'rare' fish to be found in Arinaga - we have also seen surgeonfish, sergent majors, barrelfish, a sunfish and other strange visitors.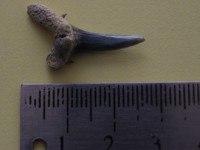 The Sharks Teeth
Everyone who dives in the Canaries for some time knows that the only shark you are likely to meet is the Angel Shark (squalus squalus) and we are lucky enough to be able to see these on a regular basis in winter. So why are there some very special areas where we can find the teeth of the Sand Tiger Shark Carcharias taurus? There are occasional reports of divers encountering these large predators around the Island of El Hierro, but only very rare reports of sightings of bigger sharks in Gran Canaria. So far this is one secret we have not come to the bottom of.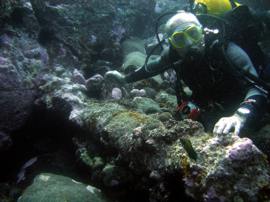 The Canon
Arinaga is justly famous for the huge amount and variety of Marine Life that can be found here, however everyone knows that there are no wrecks in the Marine Reserve. Yet there is in fact one piece of solid wreckage - a well encrusted canon. It is located in an area that is very difficult to reach from the shore, in an area of strong currents. Several divers have examined the area without discovering any further wreckage or debris. How did it get there? (Please note that we do not offer this as a normal, or a special dive route, as it requires a level of dive skill and planning well above normal, and believe me, there is only one canon there now!). Eduardo can however tell you much more about it!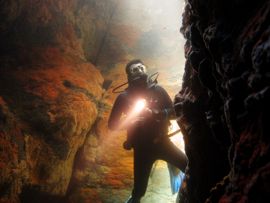 The Secret Cave
The Marine Reserve has several well-known caves and crevices, many of which house colourful creatures such as the Canarian Lobsterette, the Atlantic Dancing shrimp, Glass-eyes, or larger visitors such as Angel Sharks or Rays. However there is only one cave which has a 'moon pool' where you can swim back to the surface in a small blow-hole.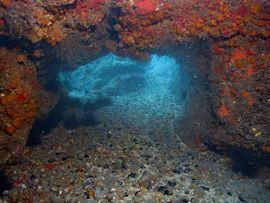 The Fairy Bridge
In the deepest part of the Reserve near Punta de la Sal is a curious underwater structure that we call the Fairy Bridge. This rock structure looks like it has been man made .. but at 30m? We often find small rays or cape lobsters under the bridge. Once again this area requires a long dive and a deep dive, and can only be tackled in good weather. This dive is by 'invitation only!'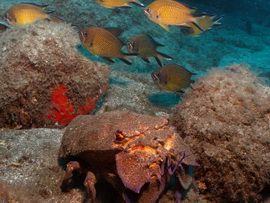 Other Secrets
Sometimes we come across species that are very unusual for our area, and also some which are under threat from unscrupulous collectors or illegal spear-fishers. Species such as the Cape Lobster, Spiny Pufferfish, Seahorses, the Forkbeard, Butterfly Rays and even Marbled Electric Rays can be difficult to find .. unless you know where to look! To protect these from persecution we try to keep their locations secret, so please respect the privacy of these animals.
Once in a while...
Every now and again, we find rare animals which stray into the marine reserve, such as Turtles, Skate, Scrawled Filefish, Surgeon Fish, Black-bar soldierfish and the occasional Pelagic Shark or Manta Ray, and strange nudibranchs... so keep your eyes open, you never know what you might find! Our friends from the windsurfing community have seen Hammerheads sharks near the surface, and in 2010 a Whaleshark was reported in the north of the Island near Sardina del Norte by scientists from the University of Las Palmas.
Only the ocean knows...
If chasing rare fish is not for you, how about some of these questions of the Marine Life:
Where do Angel Sharks and Pygmy filefish go in summer?
Where do triggerfish go in Winter?
If Sea cucumbers have no eyes, why do they move about more at night?
Remember our FLEXI-BOOK offers!
NO Deposit, Cancellation or Change fees!
Discover more secrets of the best diving in Gran Canaria