Ha det gøy med dykking på Gran Canaria!
Late Season Special Discounts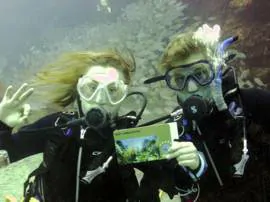 Don't miss this SPECIAL LATE SEASON OFFERS Get 5% off any diving or PADI Course up to 30th November! For two or more people together save 10% each off our standard prices!
Get in contact with us by our Contact or Booking pages, by email, Whatsapp or phone, and mention promotion FALL2022 and we will arrange your dives or course in one of Europe's best dive locations. Remember that the offer only lasts for a few weeks!
Find out more and Save up to 10%

Har du lyst til å dykke i løpet av din ferie på Gran Canaria? I så fall gå ikke glipp av sjansen til å utforske det beste dykkerstedet på Gran Canaria; El Cabrón.
El Cabrón er et fantastisk dykkested og er rangert blant de 100 beste stedene å dykke på verdensbasis.
Vårt dykkersenter ligger nærmest dette spektakulære Marine reservatet
Vi er den eneste PADI 5 stjerners dykkerskole på Gran Canarias Øst-kyst.
Vi er det enesteBSAC Premier Senter på Gran Canaria.
Dykking utføres året rundt her på øya. Vannet varmes av solen og/eller gulfstrømmen.
Senteret vårt ligger kun 20 min fra de største turiststedene som Playa del Inglés, Maspalomas.
Det er "free collection service", det vil si at vi henter deg/dere gratis der dere bor.
Fantastisk marin fauna og spektakulært landskap på havbunnen - full av overraskelser!
Vi er autorisert av det offentlige på Gran Canaria til å tilby dykker eskursjoner og dykkertrening.
Vi ble tildelt PADI's 'Certificat of Excellence' i 2006 & 2012
Du kan oppleve dette bemerkelsesverdige livet under havflaten og få sterke opplevelser bare minutter unna vår dykkerskole. Det er kjempegøy under havflaten og våre kunnskapsrike ansatte vil hjelpe deg til å få mer ut av din utforsking av naturreservatet. Da dykkersenteret vårt bare er få minutter unna selve dykkingen, kan du også slappe av i tilrettelagte omgivelser mellom dykkene.


I midten av naturreservatet ligger Playa del Cabrón, et ypperlig sted å lære å dykke på - enten på et BSAC eller PADI dykkerkurs. Stranden er beskyttet og trygg, likevel med et spesielt og fargerikt marint liv. Du kan også delta i mer avanserte kurs på større dyp, hvor noen av de mer sjeldne skapninger finnes. Eller du kan ta et kurs i snorkling eller marin safari. Glem heller ikke at du kan gjøre gode kjøp på dykkerutstyr hos oss p.g.a. fordelen med lav m.v.a/moms sats.

We speak English

Hablamos Español

Wir Sprechen Deutsch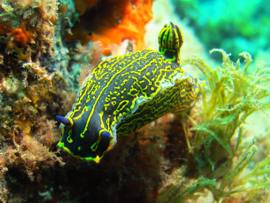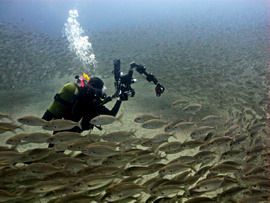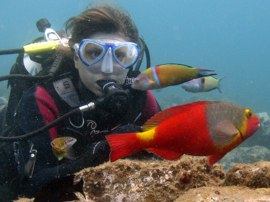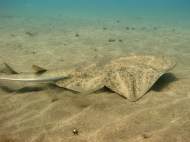 Klikk her for å besøke Gran-Canaria-Diving.com
og se flere foto fra det marine livet under vann på Gran Canaria
Utforsk det oppsiktsvekkende landskapet under vann i den Marine parken. Vi kan vise deg grotter, gjennomgående huler og vegger, flokker av barracuda, en gigantisk 'fiske-ball', en rokke eller 'angelshark' som sedat glir av gårde, det vakre ved en sjøhest og en 'cuttlefish' som uanstrengt skifter farge. Hvert guidet dykk i El Cabrón natureservat vil utvide din forståelse av det komplekse økosystemet i marine omgivelser. Vi organiserer også dykk på større dyp, dykk etter vrak, nattdykk og spesielle dykk for undervannsfotografer. Våre dykkere forteller oss at dette stedet er bedre enn alle andre steder på Tenerife eller noen av de andre kanariøyene - på grunn av det store antall av ulike arter og den store mengden av marint liv.
Så hvis målsettingen din er å finne det beste dykkestedet på Gran Canaria, Tenerife eller en av de andre kanariøyene, så kontakt oss nå på e-post eller ring! Vi vil tilrettelegge for din optimale dykkeropplevelse på en av de beste stedene å dykke i Europa. Husk at vi tilbyr gratis henting/levering av deg/dere til vårt dykkersenter. Vi henter i Mas Palomas, Playa del Ingles, Sonnenland, San Augustin, San Fernando, El Tablero, Bahia Feliz, Puerto Rico, Anfi del Mar, Patalavaca, Vecindario, Agüimes og Meloneras. Gjennomsnittlig kjøretid til vårt senter fra disse stedene er ca 25 min.
Vi her på dykkersenteret snakker Engelsk, Tysk og Spansk og ønsker velkommen våre venner fra Norge hvert år.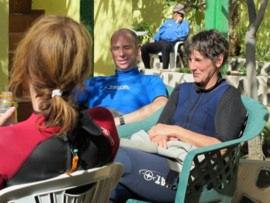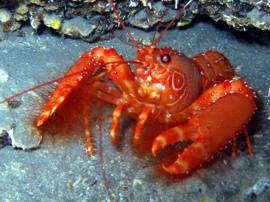 Remember our FLEXI-BOOK offers!
NO Deposit, Cancellation or Change fees!
Discover more secrets of the best diving in Gran Canaria