Diving in Arinaga
(the El Cabrón Marine Reserve)
Gran Canaria
The scuba diving around Arinaga is highly rated, as you can visit many of the top rated dive sites in Gran Canaria, and take part in activities from the beginner up to expert level. First you can see the amazing variety of marine species, with everything from nudibranch and seahorse up to angel shark and rays. Then you can explore the underwater scenery, and swim along walls, cliffs and through arches and underwater canyons.
Then there are caves to explore here - more caves and caverns than at any other dive site, and as the sand is limestone rather than volcanic, there is a much better light and better apparent visibility. Finally the diverse habits of sand, sea-grass, walls, coast, rocky slopes, bare rock, gravel all attract different species and a large variety of colourful sponges and algae. Colour, variety, texture, intrigue .. Arinaga has all of these.
The town of Arinaga is roughly half-way between Las Palmas, the capital of Gran Canaria, and Maspalomas, the main tourist area. You only need to drive about 30 minutes on the motorway to get from Playa del Ingles, Maspalomas, Meloneras or Las Palmas to the most varied diving area in Gran Canaria. It is a bit further (40-50 minutes)from Puerto Rico and Mogan but the motorway makes the journey easy.
Here's a brief taste of what you can expect to find in Arinaga as we take a quick look at our most popular scuba diving routes in this special diving area.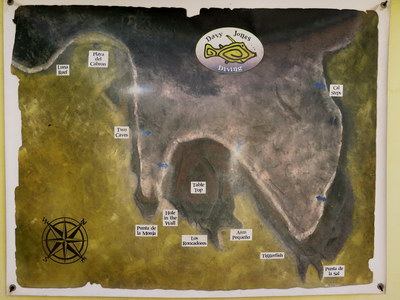 The Hole in the Wall dive route -Arches caves and shoals
The Table Top - many routes from one entrance
Punta de la Sal - deep dive down to the corals
Punta de la Monja - a chance to see something unusual
Playa del Cabrón and Risco Verde - great places to learn to dive or for relaxed second dives
Arinaga's diving routes are varied - there are over 12 different dive routes and entry points in the reserve, and enough different routes to be able to dive here for over a week. We are one of the few dive centres to take clients to dive sites such as Cal Steps, the Goat Track, Muelle Vieja or the Moon Reef, but our intimate knowledge of the area means we always dive here safely, even when some of the main shore dive entry points are closed by abnormal wind directions.
Our school is the closest PADI dive centre to the El Cabrón Marine Reserve; the experience of diving here for over twenty years; and instructors who live on the coast in the town of Playa de Arinaga, watching and learning every mood of the sea; means that we know the area better than any other diving school in Gran Canaria. Every day we can achieve great fun, exceptional safety, yet challenging diving, so make Davy Jones Diving your first choice for diving in the El Cabrón Marine Reserve in Gran Canaria
---
The Hole in the Wall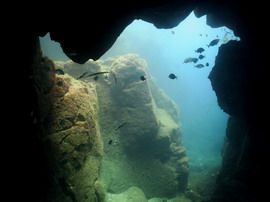 This is not only the most spectacular, but also a more challenging dive, and can only be attempted when the winds and currents are favourable
The dive begins with a shore entry from a shelf into a vee-shaped channel with a depth of about 5 meters; we then descend to 14 meters by swimming down through a hole,and out through the cave that gives the site it's name.
Swim down the slope for 25 metres and you are then greeted by the amazing sight of a large archway filled with Trumpet Fish and Bream, following a slope that quickly drops down to a maximum depth of 22 meters.
If you have not yet been amazed by the diversity of life on this dive, swim on for another 100 metres and the sight of around two thousand bastard grunts (or roncadores) in a large 'fish ball' confronts you. There is also a school of Striped Bream with the ever present Barracudas in search of a quick snack. The Barracudas can grow up to 1.2 meters long and are at the top of the food chain here.
You are also likely to see Eagle Rays, Morays, Marble electric Rays and Common Sting Rays as well as the occasional Angel Shark. Common fish include bream, grouper, nudibranchs and many of the other common Canarian species. There are also two caves on this dive, and divers with good air consumption and appropriate qualifications can be taken here to see rarer species such as forkbeard, leopard spotted goby, canarian lobsterette, prickly shrimp and yellow coral.
This is rated as a favourite site by those lucky enough to get the right conditions to attempt it.
| | |
| --- | --- |
| Dive Site: | Hole in the Wall |
| Maximum Depth: | 22m |
| Suitable for: | PADI / CMAS / SSI Open Water divers with experience and above |
| Look for: | Trumpetfish, Morays, Roncadors, Forkbeards, Butterfly Ray, Barracuda, Angel Sharks, Grouper, Abade, big shoals of fish! |
| Options : | More experienced divers can explore the caves for rays, Canarian Lobsterette, Cape Lobster. Also start here and swim to the Table Top and exit there. |
| Specials : | Look for Palometon (Garrickfish) harrasing the roncadors, or bigger rays (Bull ray, Long-tailed ray) or Mobulus rays (mantas) following the coastline. Rainbow wrasse and Barred Hogfish have been seen in this area. |
The Table Top - Three great dives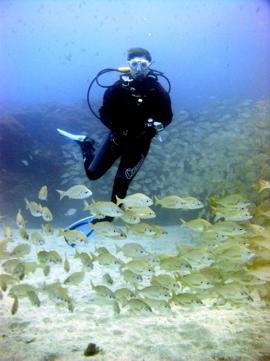 From this entry point there are several classic dive routes, including los Roncadors(the Fish Ball), Arco Pequeno, The eel garden (Triggerfish) and The Table Top itself.
The entry point for this dive can look daunting at first, as the waves can often appear to break right on the entry point. However if you listen and follow our experts as they explain the special entry technique, the underwater channel just off the shore and the lack of strong currents make this a lot easier that it may first look.
You are then rewarded with a choice of dive plans, taking you to the Fish Ball, or to the caves and swim-throughs, or to the gorgonia. Fish life is abundant in this area, and along with the common species of parrotfish, damsels, wrasse, and bream, you are likely to find yellow snappers (roncadors), trumpetfish, a shoal of barracudas, plenty of morays (tiger, brown and dotted), cernia rossa, and in spring large shoals of sardines and bogas.
Several species which are less common have resident populations in this are including Shi Drum (verrugato), glasseye, marmor bream, jurel (yellow jack), painted comber, zebra bream and some stunning giant anemones.
If you look carefully or just get lucky you may also see dusky grouper, three types of stingray, forkbeard, unicorn fish, tuna or in exceptional circumstances sea-horse, blue sharks or manta rays.
A night dive can reward the adventurous with stingrays, squid, octopus, angelshark and many other night hunters of the reef. And as for plant life and invertebrates there is much more to look at here as well.
In addition to the prolific marine life, there is a fascinating underwater scenery, allowing 'wall dives' around much of the outside of the reef; several caves, the small arch and lots of larger holes to look in for morays and other creatures.
Few dive sites in the Canaries have such variety, such abundance, and such scenery so close in to the shore, all available from one shore entry point.


| | |
| --- | --- |
| Dive Site : | Arco Pequeño (The Little Arch) |
| Maximum Depth: | 20m |
| Suitable for: | Open Water Divers and above |
| Look for: | Stingrays in the cave, Verrugatos, Maria Francesa, Nudibranchs (Hypselodoris picta, Golden Sponge snail and leopard Sea Snail), Giant Anemone, Angel Shark, Octopus, Cuttlefish, Morays, Barracudas, Abade, Dusky Grouper. |
| Options : | Explore around the 'big rock' towards the Finger, or if good on air go into the sand to look for more rays, sharks, or sea-horses. |
| Specials : | In the cave, look for the Black-bar soldierfish (a rarity from the Caribbean), Cape Lobster, Frogfish. There are some tiny Thor shrimps near the white Anenome, and at night you might see sorcerer eels, frogfish, squid, and hunting moray eels. |
| | |
| --- | --- |
| Dive Site : | The Roncadors |
| Maximum Depth: | 21m |
| Suitable for: | PADI Open water with experience (good with air) and above |
| Look for: The big shoal of Roncadors and Axillary Wrasse, Round Ray, Angel Shark, Barracudas, Trumpetfish, big Abades and Dusky Grouper. | |
| Options : | You can explore the caves where we drop down to the Roncadors, spend more time on The Finger, go out to look for the seahorses, or start with a shallow swim and drop down into the 'Big Cave' to look for stingrays and macro subjects. |
| Specials : | There can be several rays including round ray, common ray, eagle ray, marbled electric ray and butterfly ray depending on the season. The Black-bar soldierfish, and Barred Hogfish Forkbeard and Palometon (Garrickfish or Leerfish) have all been seen in the area. Look in the sand for Stargazers. |
Punta de la Sal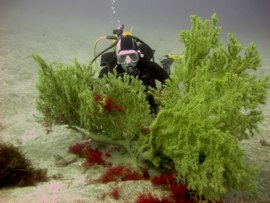 There are two ways to reach this area, which is the deepest part of the reserve. We normally use the 'Table Top' entry point as this is less prone to the effect of a northerly wind.
This is not only a deep dive, but also a long dive, so is only suitable for experienced divers who can demonstrate similar previous experience, as we normally plan this as a decompression dive.
We start by following the undersea cliff at a level of 10-15m. In clear conditions this area can hold tuna, barracuda, trumpetfish and grouper. We descend slowly, passing a field of garden eels on our right, till we reach an area of large boulders, in around 20m,where large numbers of morays can usually be found.
Continuing on from this point, we reach the 'campo de gorgonia' in 30m where you can see these delicate gorgonians. There is one particular gorgonian which is over 2m wide.
In this deeper area other species such as marbled-electric rays, gilt-headed bream and angelshark have also been seen.
| | |
| --- | --- |
| Dive Site : | Punta de la Sal (The Gorgonia) |
| Maximum Depth: | 31m |
| Suitable for: | Advanced Divers with experience of currents and good with air. |
| Look for: | The big Gorgonia, and then the small red and yellow sea fans. Angel sharks, rays, triggerfish, abade, grouper, big shoals of boga. |
| Options : | You can do the first part to the 'Triggerfish as a shallower 20m dive. Explore more of the 30m zone, or come up to the hidden cave at 22m. |
| Specials : | Look around the sea fans for flabellina,or for rubio's in spring. Almost any sort of ray can show up here are there have been reports of manta rays, hammerhead sharks, turtles over the years. |
Punta de la Monja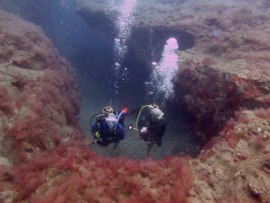 By starting from the 'Hole in the Wall' entry point, you can swim all the way around the point of the Punta de la Monja, and finish your dive in the calmer waters of El Cabrón bay. This is a very long dive, and careful air consumption is a must. There are several small caves, and big recesses in the rocks where more nocturnal species such as Glass-eye, and Conger can be found during the day. Huge shoals of Atlantic Damselfish inhabit the rocky crags and ledges that make the topography very dramatic here.
Risco Verde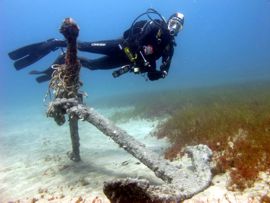 Risco Verde (or Green Cliff)is the closest dive site to the town of Arinaga, and is at the northern end of the 'Avenida' - the promenade which snakes all the way along the shoreline.
This is a nice shore dive to 14m with lots of life. You can find damsel fish, mullet, wrasse, cuttlefish and octopus in this area. It can be a good place to find large Spinuous Spider crabs.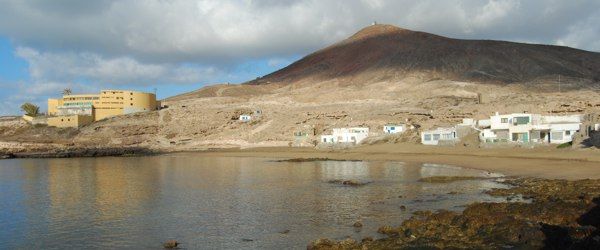 Playa del Cabrón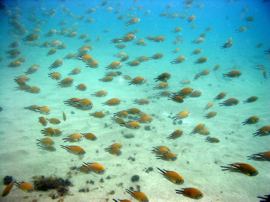 This is a fun dive to 12m maximum, beginning with an easy walk from the beach; we then follow the reef out towards the headland, which forms the natural shelter for the bay.
There are several different activities you can do here, with the most popular being snorkelling, discover dives and PADI training dives. It is very safe and protected from boat traffic. As conditions here are invariably calm this makes it the perfect site for beginners taking their first 'Discover Scuba' dive or trainees on Open Water Diver courses, and as a great place to do a Refresher for those of you who have been out of the water for some time. Yet many experienced divers and underwater photographers also enjoy the bay because of the diversity of life and excellent light conditions, and the relaxing diving conditions.
There is a wide range of sea-life ranging from the ever present shoals of atlantic and blue-fin damselfish, bream, parrotfish, wrasse, lizardfish and pufferfish. More diligent searching will reward the diver with clams, razorfish, juvenile barracudas, trumpetfish, wide-eyed flounders, common stingrays, octopus, as well as cuttleFish and many other species. In spring many predators enter the bay at night to feed on the spawning fish. Some stay during the day giving close-ups of stingrays, anglesharks, barracuda and weaver fish
Visibility will rarely fall below 15m making this a nice easy dive full of variety and interest.
Visitor Facilities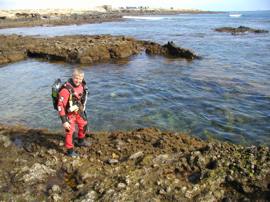 As the local authorities have restricted development on the shore of the marine reserve there are no 'visitor' facilities at all. Sorry about that .. but that means no loo's or shops or cafes or bars. For this reason, we have our dive centre about five minutes drive from the dive sites in the town of Arinaga. We are in fact the closest dive centre to the marine reserve, and the only PADI and BSAC centre in Arinaga.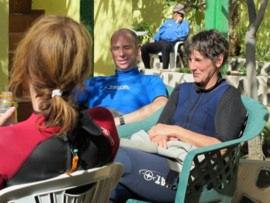 You get changed and kit up in wetsuits within our dive centre, where we do have facilities! You can safely leave valuables in the centre, or relax in Arinaga in one of the cafes between dives. We transport you to the dive site and back in one of our off-road vehicles.
This makes a day trip to the marine reserve at Cabrón with Davy Jones a relaxed and fun day out with great diving!
Remember our FLEXI-BOOK offers!
NO Deposit, Cancellation or Change fees!
Discover more secrets of the best diving in Gran Canaria