What will you see as you
Discover Scuba Diving
in Gran Canaria?
Try Diving in Gran Canaria -no experience needed!
Yes, you can do it! You can swim underwater in the safety of the El Cabrón Marine Reserve and see loads of colourful fish!

In just one morning you will learn how to enter the sea wearing scuba equipment for your first dive, under the watchful eye of your PADI Professional instructor. You do not need any previous experience for this 'try-dive' yet you get to swim with hundreds of fish of all shapes, sizes and colours, and get to explore a small corner of the amazing El Cabrón marine reserve.

You get a complete service to make a complete experience, from being collected in the morning from your hotel, the extended briefing in our private garden that we do before you go in the water, and then the personal attention that our experienced instructors give you in the water to keep you safe and show you all sorts of hidden animals and underwater secrets.

The Arinaga area is famous for the quantity of colourful marine life that can be seen just a few steps from the shore, which makes it a popular destination for beginners dives. Only when you do a try-dive with Davy Jones Diving will you experience one of the most spectacular underwater areas, the Playa del Cabrón, where you can see strange creatures such as cuttlefish, trumpetfish, painted combers and if you are lucky in winter, angel sharks sleeping in the sand!

What do you need for this experience?
You do not need any previous diving experience to take your first try-dive in Gran Canaria. It helps if you are a confident swimmer, but don't worry if you are not a strong swimmer as your instructor can still guide you around the reef, and the equipment will make you float safely at the surface. You must pass a medical self-certification, and be over ten years of age.
We collect you for your underwater excursion at around 9.00am from any Hotel in the main tourist resorts, and return you to your hotel in mid-afternoon. All transfers and equipment are included in the price, you just need to bring a swimming costume, a towel, and plenty of enthusiasm!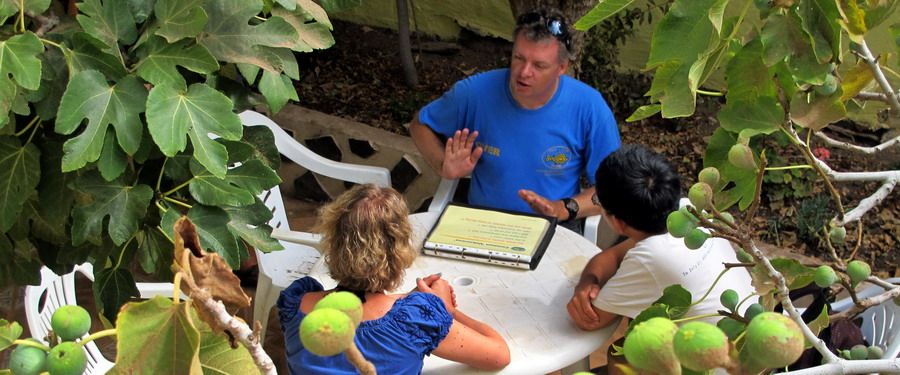 Casa Limon - the most relaxing dive centre in Gran Canaria
Your base for this exciting excursion is 'Casa Limon' in Arinaga, which has an enclosed, shady garden where you can relax while your instructor gets you ready for diving. In 'Casa Limon' you can make yourself a drink, snack in the garden, get changed in privacy and comfort, and use other facilities such as the toilets, shower and free wi-fi. With more space, more facilities and more atmosphere than any other dive centre in Gran Canaria it is no wonder our customer feedback and scores won us our 'TripAdviser Certificate of Excellence' in both 2014 and 2015
And if English is not your first language, between us can also talk you through the briefing in Spanish, German, Dutch and Italian.
You will hear how Scuba Diving as a recreational sport has developed and matured in the 60 years since Jacques Cousteau invented the Aqualung in the 1950's. You will see how todays equipment is well engineered, reliable and comfortable, and learn a little bit about the marine life you will encounter during your dive.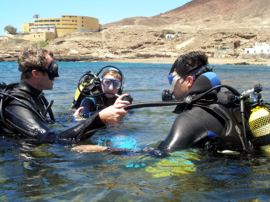 What happens in the water?
After you have been prepared for your try-dive (sometimes called a Discover Scuba Dive or DSD), with your own suit, boots, mask and fins, we take you the short drive to the Playa del Cabrón, where we do the dive. Playa del Cabrón is one of Gran Canaria's hidden secrets .. an undeveloped beach at the end of a track, well known to the locals which is well protected from the northerly winds, and has an amazing natural underwater fauna and flora.
Your first step in the underwater world will be to practice using your equipment to breathe underwater while still standing on the bottom. After you have learnt a couple more simple skills we start swimming on the surface, looking down at gold-striped bream, small pufferfish, wrasse and damselfish. When we think you are ready we then slowly let the air out of your jacket, so that you have the sensation of gently floating down towards the sea grasses.
There are a maximum of just two students with each of our professional divers, and as you build up your confidence in the water we then take you for a guided underwater tour of the marine reserve! You get about forty minutes in the water, and all the time you will be looked after. You will experience the sensations of swimming freely underwater, and be able to enjoy the variety of the marine life, the colours and some of the peculiarities of the underwater world.

What will you do and see on your Daycourse in Gran Canaria?
Your excursion covers all basic knowledge and skills required to dive safely in the sea under the direct control of an instructor, including breathing, mask clearing, regulator clearing, and ear equalisation. You will also learn a little about how the pressure on our bodies changes as we go deeper, and how modern scuba diving equipment compensates for these changes.
Just as importantly, you will learn a bit about the underwater environment, and about some of the different marine creatures that can be found there. You will normally see three or four different habitats - rocky slopes, sand, sea grass, walls and open water, and each of these has it's own species and places to look.
Your experience in the sea will last around 35-40 minutes - one of the longest beginner excursions in Gran Canaria.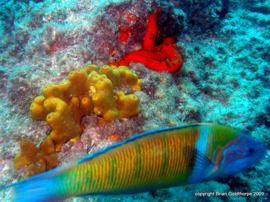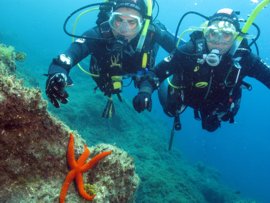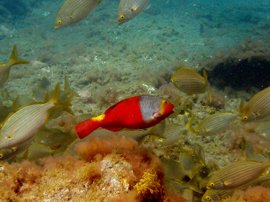 What other students said ..
5
Stars -
"An absolutely amazing experience..... First dive and what a tremendous way to start!"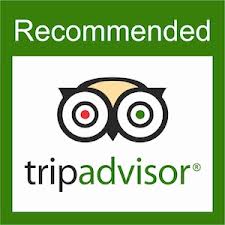 Came on holiday with a friend who is an experienced diver. Having never dived before I signed up for a tri scuba dive. The instructor Brett was truly amazing. His diving knowledge, patience and skill made me feel very safe. All the staff were friendly making for a relaxed, experience when we arrived. The briefing was excellent with good clear explanations as we worked through the easy to understand booklet (available in multiple languages). The diving location was close by and the fish we saw were just incredible. Safety checks were done during the dive and I felt completely looked after from the moment we arrived until the moment we left. Saw loads of different varieties of fish with highlights being an angel shark and cuttle fish. The instructor kept hold of me for the entire time I was under water. My friend was able to dive with us so it felt like a very special day with a happy memory made. A first class experience very worth while!
2019-11-25
Eve B
Published by

Tripadviser.com

See full review
5
stars -
"Excellent day diving"
An excellent experience from start to finish. I was extremely nervous and totally panicked when I got into the water and said I could not go ahead. My fiancé carried on with his dive and had a wonderful experience. I stayed in the water and was reassured by a young man whose name I could not remember. He made me feel at ease and enabled me to calm my nerves and progress with the diving. I was not made to feel silly at all. We will never forget this experience. All of the staff are very professional.
2016-04-08
nats21981
Published by

Tripadvisor.co.uk

See full review
I have just had an amazing time! I panicked and didn't want to get in! but the instructor was wonderful - so calm and just helped me under and away we went. About 4 times I went into 'panic' mode and forgot to breathe, got water in my mask and generally went round in circles! But each time he was brilliant!! Thank you so much for a wonderful experience 'I will be back!' Sam & Tash PS my daughter really enjoyed it too!

Samantha - From: London

We had a brilliant time. We were informed before we went in the water in an excellent fashion and we would recommend this diving school to anyone who wants to have a truly excellent first dive. The instructors are that good, that when I tried to swim away from them they still managed to catch me.

Chris Booth & Catherine Hawksworth - From: Manchester, England

Wonderful experience, something you'll never forget (get the DVD!). Thank you to Andy and all the team for a great day and all their help. Keep up the good work and keep introducing people to a whole new world. God Bless

Bob Walsh - From: Basildon, Essex, UK

Awesome experience, one I shall definately be repeating. I also want to thank the instructors for all their time and effort. They are superb in all aspects and made our Adventure one my brother and I will never forget. Thank you very much.

Jas and Luke Screech - From: Taunton, Somerset, UK

Fantastic experience. Can't wait to do it again. Thank you all for your patience. Your support, instruction and encouragement made this a brilliant day - Again thank you.

Kelli Bothwell - From: Leigh on Sea, Essex, UK

See more Guestbook entries.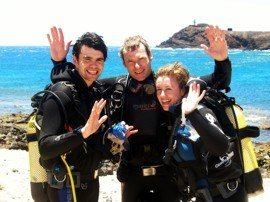 If I like it my Discover Scuba Dive, Can I do more?
You can certainly do some more diving! if you do not want to get a qualification, then you can do a 'double bubble' which is another similar dive, probably at a different dive site, without listening to the briefing again; or you can take either the PADI Scuba Diver upgrade in one day or the PADI Open Water course upgrade in 3 days, and gain a full diving qualification. Your daycourse can be credited as part of one of our other training courses, both for the content and for the fees paid.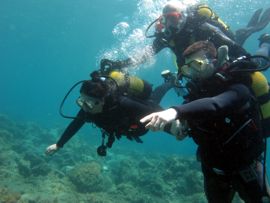 Will I be safe with Davy Jones Diving?
Safety is part of our culture, and is part of everything we do. By assessing all the risks carefully we have planned safety into each step. For this experience for beginners there are many aspects to keeping you safe, from the equipment we use, through the low ratios of instructor to students, to the use of a very safe area for the diving which has plenty of marine life to thrill any beginner. Over the last twelve years over four thousand people have safely taken this course with us. If you have any concerns about safety then please do not hesitate to voice them, and we will be delighted to explain how we keep our accident rate so minimal.
When diving in Spain, the laws require that every diver is covered by both suitable medical insurance and a type of 3rd party insurance called 'responsibilidad civil'. To guard against any potential problem, we have organised a specialist policy with a Spanish Insurer which guarantees to cover all medical and Spanish legal issues for every single Daycourse Student that we teach. So rest assured, you do not need to dig out that policy and check it word for word before you learn to dive .. we've already got you covered.
How much will my Discover Scuba Dive cost?
You can enjoying the thrill of scuba diving for the first time in Playa del Cabrón in the heart of the Marine Reserve at Arinaga for just €95 per person. This price includes all the equipment you will need, including a warm wetsuit, mandatory Spanish diving insurance, local taxes and collection from your resort, and you get to dive for 35-40 minutes.
To dive in Spain, you must be fit to dive. You will fill in an WRSTC/PADI self-certification medical form and if you reply 'No' to all the questions you need no further checks. If you reply 'Yes' to some of the questions you will need to get a medical check done by a doctor. These can be arranged in Gran Canaria for between €30 and €40.
In order to keep the centre free of COVID-19 we insist that all students are free of symptoms and recent contacts. When vaccination roll-out reaches your age-group we expect you to be vaccinated before arrival.
Reserve your place in Gran Canaria on a great Discover Scuba Experience !
To
Start planning, or book your discover scuba course in Gran Canaria
You can click on some of the dates shown below or fill in the
Express course enquiry and reservation form
or use the information on our
contact page
to email, send a WHATSAPP message or call us to enquire about your PADI Open Water Diver course.
Summary of your
Discover Scuba Diving Experience
The one-day Discover Scuba Diving experience is your first step to experiencing the amazing underwater world around Gran Canaria, and no previous experience is required. By taking it in the El Cabrón marine Reserve with PADI 5-Star Diving Centre Davy Jones Diving you can see some of the authentic Canarian Marine life at one of the island's top diving sites, with one of the leading dive centres in the Canary Islands.
Some suggested dates for your
Discover Scuba Diving Experience

Course name / Week
Week commencing (Mon)
Week ending (Sat)
Link for details

Discover Scuba Experience

-

Wk 39

25-9-2023
30-9-2023
- Check availability now!

Discover Scuba Experience

-

Wk 40

2-10-2023
7-10-2023
- Places Available

Discover Scuba Experience

-

Wk 41

9-10-2023
14-10-2023
- Places Available
Discover Scuba Experience - later dates
From 2023-10-16
- Click to check
| | |
| --- | --- |
| | |
| | Where else do you get all this on your Try-dive? |
| | You get forty minutes exploring the Playa del Cabrón (one of the best dive sites in Gran Canaria) under the watchful eyes of a PADI Professional Diver. |
| | Your Discover Scuba Dive includes all the diving equipment you need, and free drinks in 'Casa Limon' the PADI Five Star Diving centre in Gran Canaria with a Tripadviser Award for Excellence. |
| | You will be picked up at your hotel and returned with a big smile on your face! |
| | You are fully covered by our insurance for both responsibilidad civil and medical costs. |
| | You will find out how it feels to swim weightless among hundreds of small colourful fish. |
Remember our FLEXI-BOOK offers!
NO Deposit, Cancellation or Change fees!
Discover more secrets of the best diving in Gran Canaria