Diving Centre in Gran Canaria - Casa Limon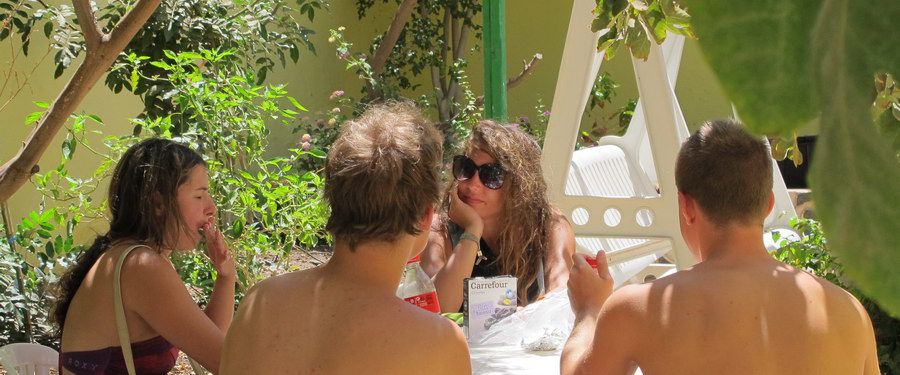 At the end of 2013 we moved out of our long-serving dive centre, across the street, into 'Casa Limon' (the Lemon House), where we have more space, more facilities, and above all a much more relaxed and private environment in which to prepare for your diving trip in Arinaga. Casa Limon has one major feature which sets it apart from almost all other dive centres in the Canaries - the largest private garden area - where you can chill out, prepare for the dive, or relax after the dive. Casa Limon is the most spacious diving centre in the Canaries, it has all the facilities to make you PADI Course or diving relaxed and safe, and it is close to one of the best diving spots in Gran Canaria, the 'El Cabrón' Marine Reserve.
5
Stars -
"El Cabron is a lovely place to dive"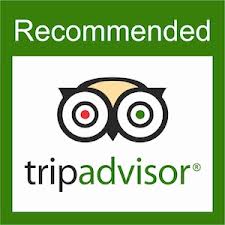 The dive center is a slightly incongruous venue, on a residential street, but is actually well suited to its purpose, having some nice outdoor spaces with both sun and shade. The operation is pretty efficient, and all the staff were very friendly and relaxed. The drive to the dive sites is a bone-shaker, but this becomes fairly routine after a couple of trips. The entry and exits to the water can be challenging, clambering over sharp and sometimes slippery rocks, while the waves do their best to dislodge the unwary. But the main thing is the diving, and once underwater the place is lovely. There is plenty of marine life to see, and the dives are safe, relaxed and varied. I dived with my two teenage daughters (both junior open water qualified) and they loved it as much as I did. I thoroughly recommend diving in El Cabron Marine Reserve, and I rate Davy Jones very highly. Thanks for a great trip.
2018-08-23
robbZ135YF
Published by

Tripadviser.com

See full review
Exploring Casa Limon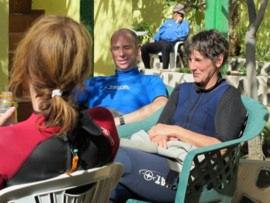 You no longer have to sit in the street in front of the dive centre to catch the sun! We have lots of internal garden space, with both shady areas and sunny areas, so that you can choose the zone that makes you feel more relaxed. The garden is enclosed, and not overlooked, and full of interesting trees and plants, including Fig, Pomegranate, Lemon, Banana, Orange and Guava! And between the trees are aromatic herbs including Rosemary and Mint! The garden is watched over by a team of helpers who will make sure that it always looks in great condition. If you want stronger sun, then the 'sun-terrace' on the roof catches even more rays!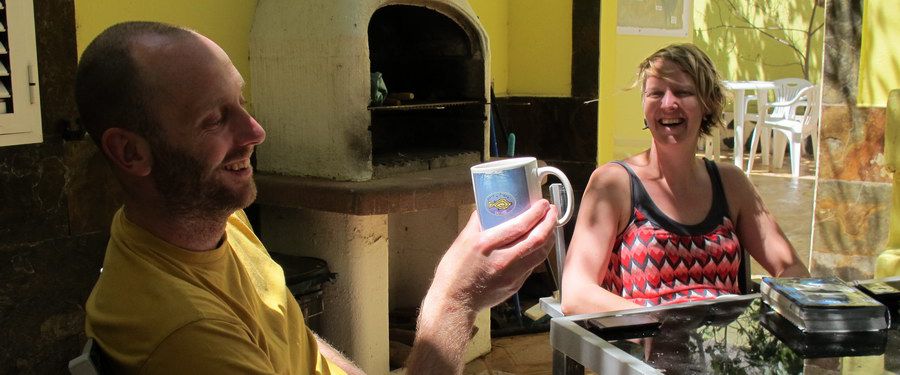 The most striking thing about Casa Limon is the feeling of calm that you get when you walk into the garden of Casa Limon. Far enough away from the street, with a few residents birds (including Blackbirds, Canarian doves and a minute flycatcher). As you sit there the rest of Arinaga feels a long way away, and you can sip a drink or relax in the shade.
The layout of the garden means we have areas with both strong sunlight light and shade, so everyone can find their perfect area. We have a large area under the vines where you assemble, disassemble and check your equipment at the end of the day.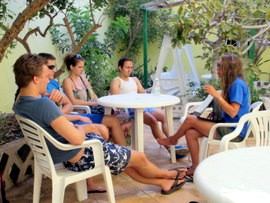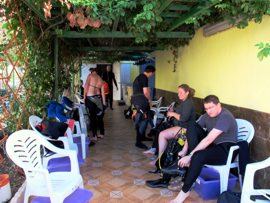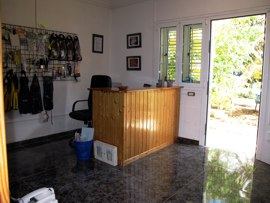 Inside Casa Limon we have everything you need to get the most out of your diving school in Gran Canaria. Reception is the first stop to register for dives, and also has our small shop where you can get clips, torches , dive computers, and your souvenir of your visit to Davy Jones Diving. Inside reception there is a bright mural depicting a vibrant coral reef.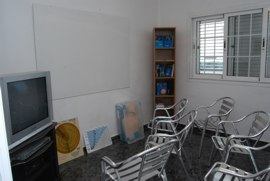 If you are taking a course then our light and airy classroom is the perfect place to watch a DVD, get the theory learnt or take your final test; We have a range of AV and teaching aids, and all entry level courses include the use of a Dive Computer. We can teach in several languages (mainly English, German and Spanish, but also Dutch and French), and have exams for popular courses in many languages including Norwegian, Swedish, Finnish,Danish, Italian, Polish, Hungarian!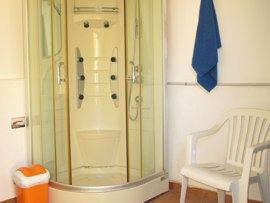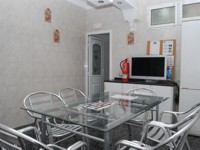 The crewroom is the place to sit inside on a cold or wet day, and there are toilets on both sides of the house. There is a small workshop at the back where we keep all our equipment in tip-top condition, and we have a 'coffee bar' in the wet areas where you can always make a fresh brew. Finally, we are one of the few dive centres to have a shower to wash away the salt, as well as a safe where you can store your valuables during your dives. Other facilities include free wi-fi, changing areas, clothes storage while in the water, kitchen and free tea coffee and water all day.
Casa Limon is virtually unique in the Canaries to have such spacious, private facilities. When you dive with us you will appreciate the calm atmosphere, the friendly staff, and turn a great diving day into an excellent one.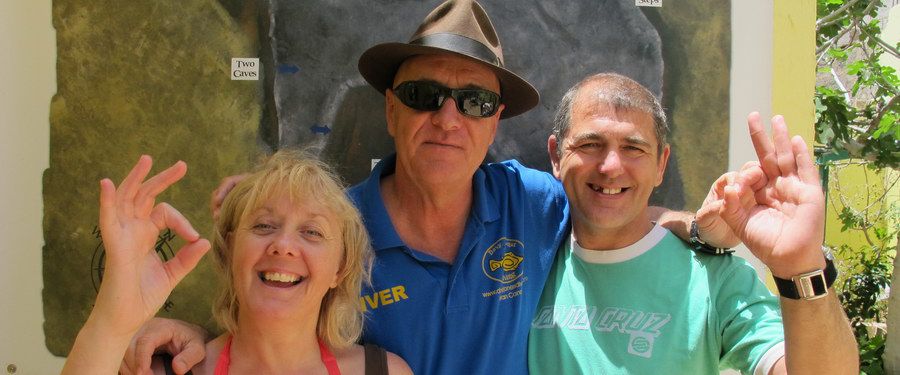 Remember our FLEXI-BOOK offers!
NO Deposit, Cancellation or Change fees!
Discover more secrets of the best diving in Gran Canaria