Scuba Diving in Gran Canaria
with the local experts!
Casa Limon and explore the best dive sites, at the El Cabrón Marine Reserve, just outside the quiet town of Arinaga.
Spanish newspaper 'El Páis' picked Gran Canaria as it's Easter SCUBA diving destination, and said 'Playa del Cabrón is one of the best known sites with areas for beginners and advanced divers' (March 2018)
Highly rated PADI 5 Star Dive Centre - won the PADI Outstanding Achievement award in 2018 .
El Cabrón is a hotspot for marine life, see the full range of Canary marine life including endangered and protected species including angel sharks, rays, spiny pufferfish, moray eels, nudibranchii, sea-horses and barred hogfish.
From our centre just a few minutes drive away at Casa Limon in Arinaga we dive throughout the year in waters warmed by the gulf stream and our sunny weather.
Our team of mature experienced instructors make sure you get the most out of your diving by supporting you and showing you some of the secrets of the area.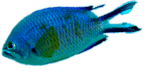 Our diving centre is in Arinaga, right next to the Marine Reserve, which means that you can experience this fabulous treasure-trove of marine life and sample the exceptional diving opportunities within minutes of leaving our dive school.
We dive here all the time, and have a stable team with over twenty years of local knowledge, so your expert guide will know how to make your day with us special, and show you some of the wonderful sights on any dive.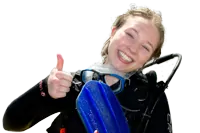 It's great fun to dive in these subtropical waters, and we want to make sure you get more from your exploration of the reserve. And with our
diving centre
only a few minutes from the diving sites you can relax in comfort between your dives in the dive centre.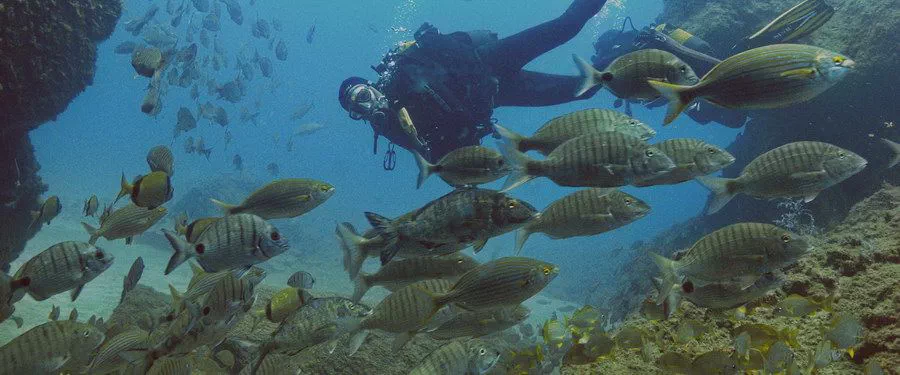 'Outstanding' PADI 5* Dive Centre
Casa Limon, our PADI dive centre in Arinaga has some of the best facilities and probably the best ambiance in the Canaries. The large garden is relaxed and friendly, and there is a choice of shady corners or a sun-deck to chill out in between the dives, while connecting with friends on the free wifi.
Nearby, in the centre of the reserve, the Playa del Cabrón is a great place to learn to dive with one of our highly rated instructors, on a PADI Scuba Diver or Open Water Diver course, because it is sheltered and safe, yet has a prolific and colourful marine life. You can also take part in a more advanced course in the deeper waters, where some of the more unusual creatures are found, or take a snorkelling course or your first dive underwater on a PADI Discover Scuba Diving experience or 'try-dive'.
If you want a centre for PADI SCUBA diving in the Canaries make sure you check our range of courses and see why we were awarded the PADI Europe Outstanding Achievement Award in 2018.

Hablamos Español

Wir Sprechen Deutsch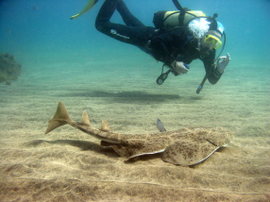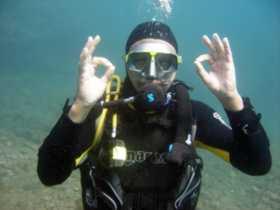 Click here to visit Gran-Canaria-Diving.com
and see lots more underwater photos of marine life in Gran Canaria
5
Stars -
"What a fantastic outfit!"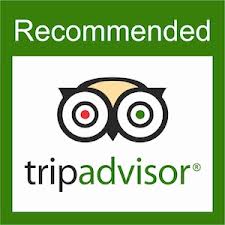 What a fantastic outfit! All the staff were welcoming and helpful from the outset. Booked the advanced open water course having completed open water in UK. Day one was spent getting back into things, a couple of fun dives (no doubt testing that we weren't clowns!). Thanks Hector and Edwardo. ..... Thanks again for a fab week, we'll recommend to the world and look you up if we're in Gran Canaria again. Give us a shout if you're ever visiting West Wales, we'll throw you off some cliffs Coasteering :D Cleopatra & Jerry x
26-02-2018
Cleopatra_CB
Published by

Tripadviser.com

See full review
All the Best Dive Sites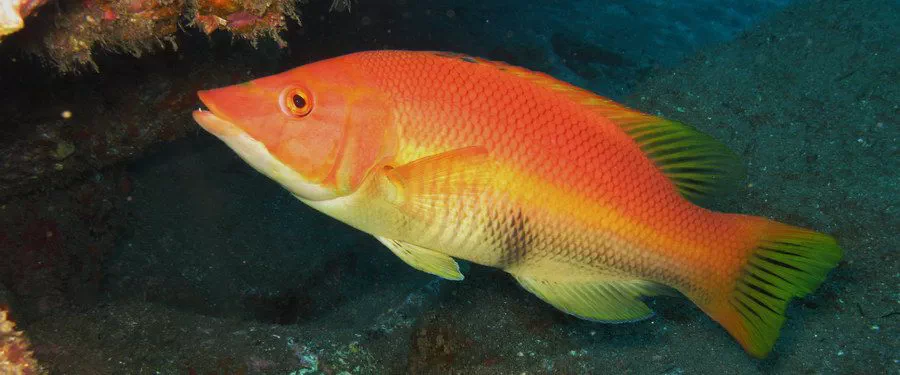 Our experts will help you explore the stunning subaqua scenery of the marine park with it's caves, arches, swim-throughs and walls, and we might show you schools of barracuda, a giant fish ball, the sedate glide of a sting-ray or angelshark, the unique beauty of a seahorse or a cuttlefish effortlessly changing colour. Every guided dive in the
El Cabrón Marine Reserve
will enhance your understanding of the complex ecosystems in marine environments.
We also organise excursions to all the other major areas for SCUBA diving in Gran Canaria, such as Sardina del Norte, The wrecks of Las Palmas or Mogan, and can arrange deep dives, wreck dives, night dives and special dives for underwater photographers. However many of our divers tell us that this site is one of the best for Canary Islands diving due to the unique combination of dramatic scenery, quantity of marine life and huge diversity of species.
A complete diving service
To help you get the best out of your visit to go diving in Gran Canaria, we aim to give a complete service which includes:
Free collection service from the Hotels in the South
Awarded the 2018 Outstanding Achievement Award by PADI Europe
Friendly team of Elite PADI Instructors with years of local experience
We are authorised by the Canarian Government for Tourism Active, Diver Training and excursions.
Holder of three PADI 'Certificates of Excellence'
The only PADI 5-Star Dive Centre on Gran Canaria's east coast.
In the present economic conditions you don't waste your hard earned diving money by not getting to see the best places to dive on the island, or using the best facilities. Why put up with sites with uninteresting seascape and only meagre fish life (such as in the South West of Gran Canaria) when you can dive in the Marine Reserve? And don't put up with second-rate on-shore facilities. If you browse through the photo gallery, or look at the dive sites, you will get a good feel for the marine life and variety here.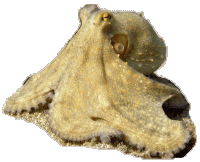 So get in contact with us now, by email, fax or phone, and our experts will arrange your exploration plan in one of Europe's top diving locations. Remember that we operate a free collection service! If you are anywhere in Maspalomas, Playa del Ingles, Sonnenland, San Agustin, San Fernando, El Tablero, Bahia Feliz, Vecindario, Agüimes, and Meloneras, then it takes an average transfer time of about 25 minutes. If you want to come diving from Las Palmas, Puerto Rico, Taurito, Anfi del Mar, Patalavaca, Arguineguin then we can still collect you, free of charge, and it will only take about 45 minutes.
Remember our FLEXI-BOOK offers!
NO Deposit, Cancellation or Change fees!
Discover more secrets of the best diving in Gran Canaria