PADI Open Water
in Gran Canaria
For many people, the PADI Open Water Diver course is the best way to learn to scuba dive. It is possible to start the week with no experience of diving, and by the end of a week in the amazing waters here you are ready to enjoy diving in open water anywhere in the world, with your world-recognised PADI Open Water Diver certification. With your PADI qualification you can go anywhere in the world and float alongside beautiful coral reefs, teeming with fish, or start to explore shipwrecks or dive with amazing marine life such as turtles, dolphins, sharks or whalesharks.
There are five key recommendations for getting the most out of your PADI Open Water course:
To help you quickly pick up the skills and help you with any skills that challenge you, work with a seasoned, experienced instructor
Make sure you can relax both during and between sessions so that you can focus on the important details in comfort
Make sure you are using latest technologies such as dive computers during your course
Pick somewhere with lots to see on the dive sites as this will give you a great showcase for future dives
You will learn faster if you are in a small group with an experienced instructor who speaks your language

Our PADI Open Water Course is not just any Open Water course, as unlike other schools, all your dives take place in the beautiful waters of Gran Canaria's only marine reserve, the El Cabrón. Even your 'confined water training' takes places in a sheltered seawater pool where the fish watch as you practice basic skills. And as Gran Canaria is the most Southerly tourist destination in Europe, the sub-tropical waters around the island stay warm all year round. So you get not only a week of fun taking the course with our expert and highly rated instructors, three of whom have been awarded PADI 'Elite Instructor' Awards, but you also get four open water dives in one of Spain and Europe's best places to dive.
The problem you are probably struggling with is however a common one – how do you choose where to learn to take your PADI Open Water Course when you don't really know what makes a good dive centre.

That's why PADI created its Five Star Dive Centre, to recognise dive centres who, like us, have mature, experienced dive educators who can make your course a lot of fun while teaching you all the vital safety elements. As you can see from the comments below, our customers think our Instructors are expert trainers, our service is top class and the diving here in the waters of the marine reserve is fantastic. So have a look at the details of the course below, then select one of the links to contact us so that we can start to arrange your PADI Open Water Diver Course and take the first step into the wonderful world of Scuba Diving.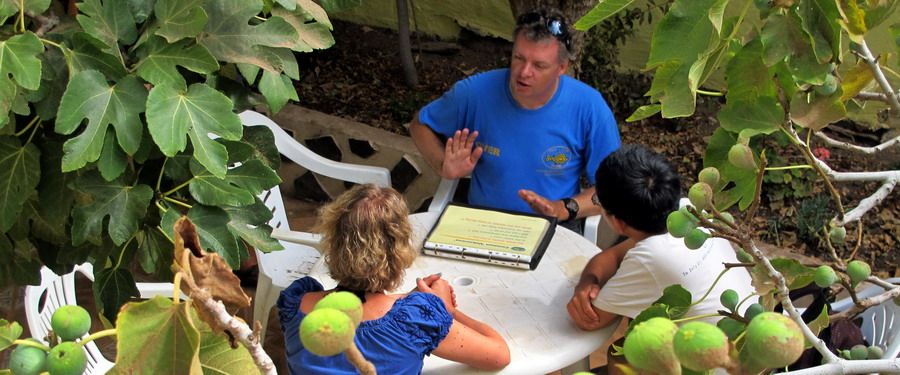 The main advantages of doing your PADI qualification with Davy Jones Diving are:
All the dives are in the Marine Reserve
Full Insurance cover is INCLUDED in the course
You get to use a dive computer as part of the full equipment
Davy Jones Diving are one of the leading PADI Centres in the Canaries and in the team has three experienced instructors who have all gained 'PADI ELITE Instructor' awards, so you are diving with some of the top instructors in the Canary Islands.
Over the years, we have been asked many questions about the courses we run, and have tried below to cover all the answers. Scroll down to read all about how we will organise your course for you, or check now if we have an instructor free by
asking us about availability
Jump to:
Minimum Requirements
,
Course Content
,
Class Size
,
Duration and Logistics
,
Dive Computers
,
Insurance Cover
,
Distance Learning
,
Junior Courses
,
Languages
,
What you get
,
Student's Comments
,
Your Safety
,
Next Steps
,
Prices
,
what is Included
,
Recommendations
,
How to Reserve
,
Other Questions
,
Referalls
,
Your PADI Course in Gran Canaria - details
Course Content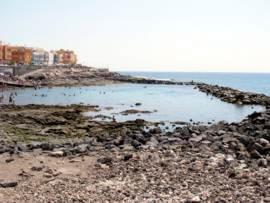 Your PADI Open Water Course in Gran Canaria starts with theory lessons in our garden, five lessons in the pool. You then do four lessons in the sea in the Arinaga marine reserve, some reading, video sessions, knowledge reviews and tests/quizzes.
You start in safe, confined waters and learn essential basic skills including breathing underwater, clearing your regulator and mask, buoyancy control, fining techniques and techniques for safe diving.
You then build on these basic skills and practice them both in the confined waters, and then in open water (in the Marine Reserve), all the time under the supervision of one of our qualified and experienced PADI Instructors. We have teaching and support materials to ensure that you understand the simple physics behind diving and to give you the confidence and enthusiasm to continue diving after your course. Your PADI qualification will open up thousands of beautiful divings spots and many different diving experiences all around the world.
In addition to the prescribed skills we aim to develop your confidence in the water, so that you leave us as a safe, competent and qualified PADI Open Water Diver.

You can read more about the content and options for your PADI Open Water Course at the PADI website.
Your pool for confined water training!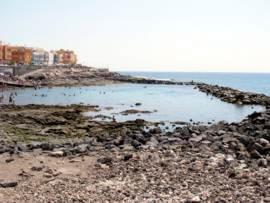 We are extremely lucky to have a
seawater training pool
in Arinaga! You do not have to suffer a cold sterile hotel swimming pool, with Davy Jones Diving you swim with the fish all the time! The pool at Zoco Negro is only about 300m from the dive centre, and in addition to having lots of marine life, it has a deepest point at 4m (ideal for mastering buoyancy control and ascents) and a big underwater area so you can swim around and explore! Two sessions (which cover 5 lessons) are held in this pool.
Learn to dive with Dive Computers!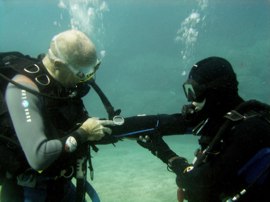 PADI now recommend that all students on this course get to use a dive computer as part of their training. The dive computer monitors depth and duration constantly, and calculates a remaining dive time to avoid decompression illness, and helps monitor ascent rates. Using a dive computer properly contributes to increased diver safety and more enjoyable dives. At Davy Jones Diving, we include the use of the Dive Computer for part of your course free of charge, so you get a good understanding of how they work and how they can help you stay safe your dives.
How many people are on each course?
We like to keep our courses small, so we only have a maximum of three students per instructor on a course. This means you get great personal attention, and helps to keep the course timetable short and maximises the amount of 'swimming time' rather than sitting watching other students practice their skills. You may join one or two other students on the same schedule, however if you want a 'private' course, this can also be arranged.
How long will it take?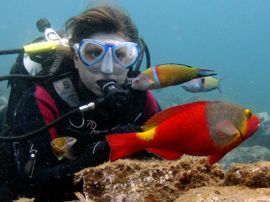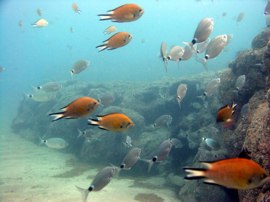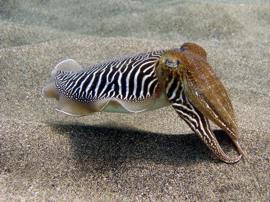 We usually schedule an Open Water Course over four days, pool sessions will be in our sea-water pool here in Arinaga. All the open water dives will be in the beautiful waters of the El Cabron Marine Reserve, and in each dive about one quarter is spent on specific skills, and three quarters just exploring and practicing the core skills of fining, breathing, buoyancy control and enjoying your diving. In the past our students have been delighted by trumpetfish, barracuda, stingray, angelshark, octopus, cuttlefish, and many more species while developing their core skills
We teach in small groups, and you can come on your own; with a partner or friend; or as a group, and the parts of the course will be timetabled to suit any other holiday or partner commitments.
With sub-tropical waters around Gran Canaria, we run the PADI Open Water Diver course all year round, and the temperatures in open water rarely drop below 17C. The Canary Islands have always had an excellent reputation as a 'winter sun' holiday destination. We also have our 'Go-Warm' clothing for winter of extra thermal shirts, gloves and hoods for all.
You don't have to wait until you get here to Gran Canaria to start your PADI Open Water Diver course, as you can now start to learn to dive at home before you depart using one of our distance learning options. The simplest way to start is to get the PADI Open Water course manual before you come to Gran Canaria for your diving course, and do all the reading at home. Alternatively you can register for the new
PADI e-learning
system, nominate Davy Jones Diving as your partner, and do much of the coursework and quizes online. In both cases we will be able to answer any questions by phone or email before you arrive to do the practical parts of the course. We work with a UK partner (Roho) to help you get the right materials. Finally you can complete the reading, tests and confined water training with one PADI school before you depart, and the rest of the PADI Open Water Diving Course in Gran Canaria when you arrive (See the
Referal dive
page). For more details on any of these options please use the
Express course enquiry and reservation form
Full Insurance Cover for all Students
When diving in Spain, the laws require that every diver is covered by both suitable medical insurance and a type of 3rd party insurance called 'responibilidad civil'. For most tourists this is not a problem, as their holiday insurance will cover both of these. However there may be some people, such as residents or backpackers, visitors on a group policy, or long term visitors, who are unaware that these are not covered entirely by their policy. To prevent anybody having a nasty shock when their insurer tries to wriggle out of any payments, we obviously work extremely hard to make sure that we have no accidents in the first place, and indeed our Open Water students have a 100% safety record over the last eight years. However, to guard against any future problem, we have taken out a group policy with a Spanish Insurer which guarantees to cover all medical and Spanish legal issues for every single Open Water Student that we teach. So rest assured, you do not need to dig out that policy and check it word for word before you learn to dive .. we've got you covered.
PADI Junior Open Water Diver Course
A student who is over 10 and under 15 can follow the normal syllabus and if they complete all the requirements of the course they will be qualified as a PADI Junior Open Water Diver, which allows them to dive to 12m when accompanied by an adult. However we normally recommend that students aged ten or eleven take the (easier) PADI Scuba Diver course. Our page on
PADI Junior Courses
gives more details about Junior PADI Courses and diving in Gran Canaria.
Languages

English - Instruction, Books and papers, Video

Deutsch - Instruction, Books and papers, Video

Español -Instruction, Books and papers, Video

Nederlands - Instruction, Books and papers, Video
Exams and tests also available in Italiano French, Danish, Swedish, Finnish, Norwegian *
Verbal instruction is available in English, German, Dutch or Spanish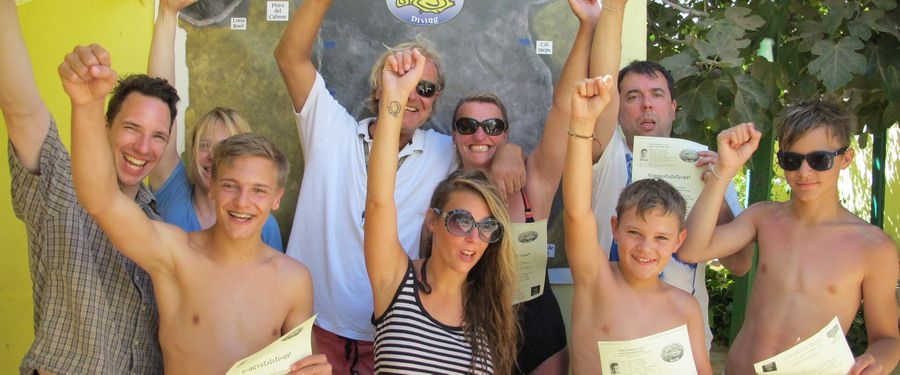 What you get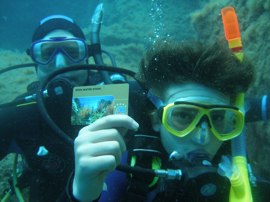 We try to make your course a lot of fun.. within a serious framework of diving safely. We want you to enjoy your experience so we help you relax in our garden as we prepare for each dive, and our experienced instructors are used to finding strange and wonderful things to show you as you progress with their help through the course.
Your PADI Qualification Card is sent to you at the end of the course, which qualifies you to dive to 18m (12m for Juniors) in open water. You can then go and DIVE THE WORLD!
Other students said ..
5
stars -
"Great experience to start my diving life."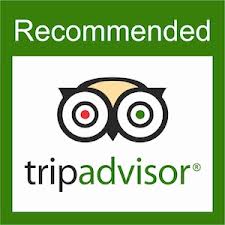 I completed my PADI open water certification, I was lucky enough to be the only open water student so my course was one on one. I'd never dived before but I found their course the perfect level of challenging as I progressed along. The crew are laid back and the atmosphere is social and friendly. Thanks to Brian and the guys for the memories. Highly recommened this crew.
2016-06-02
LachlanWK
Published by

Tripadvisor.co.uk

See full review
5
stars -
"Awesome Experience"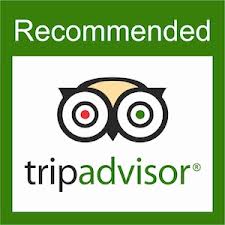 Jessica and Raymond truly are top-notch dive instructors! I did my Open Water Diver course with Jessica who was very patient and dedicated towards helping me develop a strong foundation in diving. She was sincere about ensuring I got the basics right before progressing on to the next set of skills. I then proceeded to do my Advanced Open Water Diver course...
2016-03-15
desmond88yong
Published by

Tripadvisor.co.uk

See full review
Thank you for a gret time - finaly got my long time wanted open water certificate - 4 days of Joy. Especially I would like to thank Brian and Marilyn for making this possible. You are very calm and easy both of you - and it feels safe diving with you. I hope that I'll return with Statsraaa Lehnkuhl next year so I can join you for another dive. Wishing you all the best for the future.

Morten Haagh-Jensen - From: Frederiksberg, Denmark
I write to thank you for the excellent experience I had diving with you. I am glad I did the four day course though I just made it through that little PADI quiz at the end. The teaching and service I thought was very professional and all the instructors had shown a lot of patience with me. Especially thank Brian for his time and pool sessions and his patience. Hope to dive in the red sea after this war is over, though I might be back to Gran Canaria before then. Once again thankyou for the experience, the water on the last day was crystal clear. Hope to bring my digital camera next time.

Arif Shukralla - From: Dublin Ireland
Keeping you safe
Safety is part of our culture, and is part of everything we do. By assessing all the risks carefully we have planned safety into each step of your course, and a large part of the course is teaching you how to be safe when you dive. There are many aspects to keeping you safe, from the equipment we use, through the low ratios of instructor to students, to the use of a very safe area for the training which has plenty of marine life to thrill any beginner, and you will recognise these as you progress through the course. If you have any concerns about safety then please do not hesitate to voice them, and we will be delighted to explain how we keep our accident rate so minimal.
Minimum Requirements
No previous diving experience is necessary before you start your PADI Open Water Diver Course in Arinaga. To take an Open Water course in the Canaries you must pass the WRSTC/PADI Medical (now a self-certification medical), and be over 10 years of age (Junior Open Water Diver). You must be able to complete and pass a swimming test by swimming 200m and floating for 10 minutes.
What Next ?
Do a few more dives to build you skill and confidence and then consider taking the PADI Advanced Open Water course in Gran Canaria and broaden your knowledge, increase your confidence, and take part in some really good adventure dives. Or you could go to a 'specialist' area such as Digital Underwater Photography, or try diving with Nitrox.
You can get more experience at many of the different dive sites all around the Canary Islands. You could visit other dive sites on Gran canaria such as the arificial reef near to Puerto Rico on the west of Gran Canaria, or the harbour at Sardina del Norte. There are hundreds of dive centres in the Canary Islands who can guide you around their local highlights.
The main thing however is to have fun, enjoy yourself and learn more about the waters that cover two thirds of earths surface. Here are some of the things you can see if you dive around the world:
How much will it cost?
The price of becoming a qualified diver by completing your PADI Open Water course in the marine reserve at El Cabrón is €445 per person for web bookings at least 7 days in advance, which includes your on-line registration with PADI, your PADI Divers Card, mandatory Spanish insurance, use of dive computers, compass and other equipment, and all the services listed below. A single person supplement of €50 may be charged if you want to do your course on your own with a private instructor. Prices also include Canary Sales Tax (IGIC).
To dive in Spain, you must be fit to dive. You will fill in an WRSTC/PADI self-certification medical form and if you reply 'No' to all the questions you need no further checks. If you reply 'Yes' to some of the questions you will need to get a medical check done by a doctor. These can be arranged in Gran Canaria for between €30 and €40.
In order to keep the centre free of COVID-19 we insist that all students are free of symptoms and recent contacts. When vaccination roll-out reaches your age-group we expect you to be vaccinated before arrival.
If for any reason you do not complete the course a pro-rata price will be charged.
What is included
This is an 'all inclusive' course, and includes four open water dives in the Marine Reserve in Arinaga, The five 'confined' water lessons, usually in the sea-water pool, all transfers to and from your hotel in Gran Canaria and use of all the equipment for all dives (including mask, fins, snorkel, jacket, regulator, wetsuit and boots, compass and experience of using a dive computer). You also get great help from our mature experienced dive instructors, you are covered by our special insurance for open water students, and you get free tea coffee in the dive centre, all tuition, tests and final certification. It also includes the PADI Registration fee.
We Recommend
If possible you complete your reading of the PADI Open Water manual and watch the PADI video/DVD before you come to Gran Canaria.
All students on all courses should have a log-book in which to record their dives. We have several different log books from €8 to €25.
That by the end of the course you should have tried and found a comfortable mask and snorkel.
Referrals from other PADI Instructors or centres.
If you have completed part of the course already, (eg confined water training, PADI Scuba Diver) we can accept the PADI referral providing you present us with the signed PADI training/referral form. Pricing will depend upon content already completed. If you have started your training with another organisation (eg CMAS, NAUI) it may be possible to 'credit' this towards your PADI course.
Reserve your place in Gran Canaria on a great PADI Open Water Diver course !
To
Start planning or book your course now
You can click on some of the dates shown below or fill in the
Express course enquiry and reservation form
or use the information on our
contact page
to email or call us to enquire about or reserve a place on your Open Water course.
Summary of your
PADI Open Water Diver Course
The four-day PADI Open Water Diver Course is the most popular recreational diving course in the world. By taking it in the El Cabrón marine Reserve with PADI 5-Star Diving Centre Davy Jones Diving you see the authentic Canarian Marine life at one of the island's top diving sites, with one of the leading dive centres in the Canary Islands.
Some suggested dates for
PADI Open Water Course

Course name / Week
Week commencing (Mon)
Week ending (Sat)
Link for details

PADI Open Water Course

-

Wk 50

11-12-2023
16-12-2023
- Check availability now!

PADI Open Water Course

-

Wk 51

18-12-2023
23-12-2023
- Places Available

PADI Open Water Course

-

Wk 52

25-12-2023
30-12-2023
- Places Available
PADI Open Water Course - later dates
From 2024-01-01
- Click to check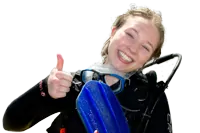 Remember our FLEXI-BOOK offers!
NO Deposit, Cancellation or Change fees!
Discover more secrets of the best diving in Gran Canaria