Options for the
PADI Advanced Open Water Course
in Gran Canaria
Get your PADI Advanced in the subtropical waters around Gran Canaria




If you are looking for somewhere to do your PADI Advanced Open Water Course and want to see a wide selection of canarian marine life and habitats, then the best place to do it is in the Marine Reserve at El Cabrón near Arinaga. The diving is always special here, with lots of marine life to see, and dramatic underwater scenery.
Using our expert knowledge of the El Cabrón we use a series of different dive sites which match the topics perfectly. This will show you different sides of the Reserve, and with such a prolific and varied marine life here this is an excellent place to choose fish identification as one of your specialist dives!
This course builds on the range of diving experiences introduced in the Open Water diver course, and is based on five different adventure dives in the marine reserve, each one of which introduces the diver to new types of diving and environment. It is an ideal way to broaden your knowledge of diving and increase your confidence by undertaking boat, wreck or night dives.

Course Content and options


Five adventure dives in open water, which must include a deep dive in the marine reserve and a navigation dive. The other three dives can be chosen from the options described below. There is also some reading, video sessions, knowledge reviews and tests/quizzes. You can choose your three elective dives from the following list, most of which are described in detail further down. :

Multilevel Dive and computer (including FREE use of dive computer)
Underwater Naturalist
Peak Performance Buoyancy
Night Dive *(Check out the night dive simulator!)
Aware Shark Conservation
Search and Recovery
Digital Underwater Photography (check out our Photo Gallery)
PADI Aware - Fish Identification
Enriched Air *(NITROX)
Boat Dive *(In the South of the Island)
Wreck Dive *(In the South of the Island)

* small supplement payable for this dive
Deep Dive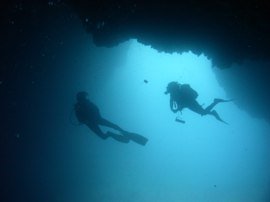 The 'Deep' dive is one of the two compulsary dives in the Advanced Open Water course, and the aim is to give you experience of depths beyond those experienced in your PADI Open Water Course. For this dive we review the principles of dive planning for deeper diving, including estimating the maximum 'no-decompression' time using either tables or a dive computer, as well as planning your air requirements. The actual dive will be in the El Cabrón Marine Reserve, to a depth of around 25m. At this depth you can start to experience the effects of Nitrogen Narcosis and to see changes in colors. In addition, you are likely to explore new areas of the reserve, and at these depths their is usually a good chance of encountering our local friendly Angel Sharks or Rays. At the end of the dive we practice a safety stop to help wash excess nitrogen from your body. There is usually something interesting to watch where we do the stops, such as the Trumpetfish or Tiger Moray that live underneath the ledge, or the cuttlefish or watch juvenile gilt-headed bream turn rocks over with their nose as they search for micro-organisms.
---
Navigation Dive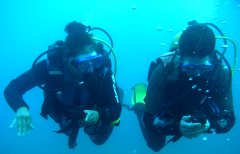 The 'Underwater Navigation' dive is one of the two compulsary dives in the Advanced Open Water course, and the aim is to give you the skills required to find your way to and from specific targets underwater. For this dive we review the principles of using a compass underwater, and simple techniques for estimating how far you travel underwater. We then practice the compass and distance estimation in a sandy area of the marine reserve, before following a simle route using pilotage. At the end of the dive we practice a safety stop to help wash excess nitrogen from your body.
---
Peak Performance Buoyancy Dive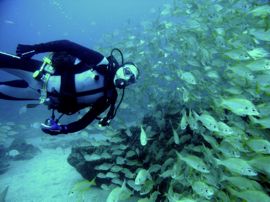 The 'Peak Performancy Buoyancy' dive is one of the most popular elective dives in the Advanced Open Water course, and the aim is to give you more experience of applying the principles of good buoyancy control that you learnt on your PADI Open Water Course. For this dive we review the principles of good buoyancy control, aand factors that effect your buoyancy, such as suits and correct weighting. We then go to a shallow area where we review basic buoyancy techniques and practice different techniques. If appropriate we will video you in the water so that we can discuss issues which impact good buoyancy control such as correct attitude, effective finning or use of the arms and hands. During the dive we explore an area of undulating topography so that you are forced to make minor changes to your buoyancy. Arinaga is a great place to take this option as we have both shallow areas to practice the basic skills, but then also zones with varying depths so that you can practice navigating over objects and maintaining a good buoyant position in the water. After the dive we review any issues or video in the dive centre.
---
Nitrox Dive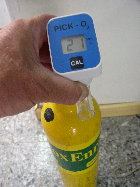 The Nitrox experience dive gives you the opportunity to try a richer gas mix, which can then extend your dive time. On this dive we introduce you to the basic concepts of using Nitrox as an alternative to Air as a breathing gas, and how to monitor and manage the Nitrox gas mix. We then take you for a dive in the El Cabrón Marine Reserve where you can experience using the Gas mix. During the dive we will compare dive computers to demonstrate the elongated no-stop dive times. The Marine Reserve is a great place to try NITROX as the depths and times of our dives are typical for where you would use Nitrox.
If you take this option, then it will count at a later date towards your PADI NITROX qualification, or a popular option, you can make the sixth dive of your 3-day Advanced Open Water Course as the second dive of the Nitrox Course, so you gain bothe the PADI Advanced Open Water and the PADI Nitrox qualification together. A small supplement applies if you choose this option, and you also need to buy your own copy of the PADI Nitrox manuals, or tables, or both.
---
Aware Shark Conservation Dive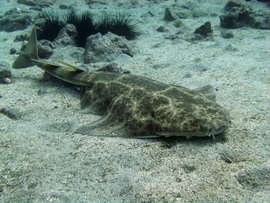 The PADI Aware Shark Conservation Dive is a new option in 2012 for the PADI Advanced Open Water Course, and as we are keen to protect and grow our population of Angel Sharks this is a very important option for us. We start by looking at the threats to sharks and other memebers of the shark and ray families, and in particular Angel Sharks (
squatina squatina
)and the rays that we find here in Gran canaria (Round Ray, Common ray, Eagle ray, Marbled Electric Ray, Butterfly Ray and the occaisional Bull Ray, Long-tailed Ray, Skate or Mobula (Manta) ray: We then take you to an area where we will try and locate examples of the species described, and to identify any potential hazards to conservation of these species.
---
Multi-Level and Dive Computer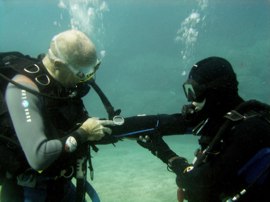 One of the most popular accessories for divers are their dive computers. A good dive computer will not only give you the basic safety information on depth, time and remaining no-stop time, but also additional information such as temperature, ascent speed and safety stop timings. For this option we first explain what is meant by 'multi-level' diving, and how it can improve both dive enjoyment and safety; then we look at the dive computers and how they function before we go out to the Marine Reserve and carry out a multi-level dive across the 'Table Top'. This is a great experience as you can watch as the 'no-stop' ceiling shoprtens during the first part of the dive, and at the same time enjoy the spectacular underwater scenery of the Arinaga Marine Reserve. After the dive we return to the centre and review the dives. This dive option includes
FREE
use of a modern dive computer.
---
Underwater Naturalist and AWARE Fish Identification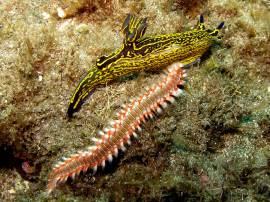 These two options both make great use of the marine reserve, as we have plenty of subject matter to look at. In both cases we start with a look at some of the marine life in the areas, before going out to the marine reserve to undertake the relevant excersises. With so much life to see in the marine reserve, both of these are popular options, and they help you to understand better the complex eco-systems and relationships between diferent plants and animals.
---
Digital Underwater Photography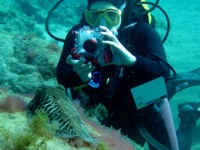 We get many divers here who confess that although they have a good digital camera, they never get many good photos. The answer is to take this option with one of our expert photographers, who will first go through a special briefing where we point out the most common problems with digital underwater photography, and how to avoid them. Then it's down to the Marine Reserve where we have more than enough subjects to find and photograph, as we explore one of the best places in the Canaries for underwater photography. After the dive, we can immediately review your photos in the dive centre, on camaera, PC or big screen! With so many things to see there is plenty of opportunity to practice and improve on any further dives in the reserve. If you do not have a digital camera then you can hier one for this dive for a small charge.
---
Night Dive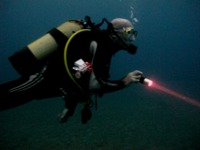 Why go diving at night? because it is so much fun! At night all the marine life changes from the day - some fish go to sleep while others come out to hunt. Night is the only time we see White-spotted Octopus (
Octopus macropus
), Golden Balearic Conger (
Ariosoma balearicum
)and one of the most unusual animals in the Marine Reserve - Bonellia (
Bonellia viridris
). Obviously we arrange for a late start for this dive, and after a comprehensive briefing, including a look at the marine life we are likely to find, it's down to the marine reserve where we have the ideal spot for your first night dive. An easy entry, comfortable depths and so much marine life that you will want to stay down there for ages. Dive times of around one hour are not unusual! When we get out it's back to the warmth and convenience of the dive centre to get changed and then get back to your hotel for a late supper. A small supplement applies to this dive but all additional equipment including two torches per person are included. If you are not sure what you might see then try our
night dive simulator
.
---
How much will it cost?

The price of obtaining your PADI Advanced Open Water Qualification in the marine reserve at El Cabrón is €375 per person for web bookings at least 7 days in advance, which includes six dives in the marine reserve; full equipment hire; your on-line registration with PADI (your PADI Divers Card); mandatory Spanish insurance; use of dive computers, compass and other equipment; and all the services listed below. Prices also include Canary Sales Tax (IGIC).
If you have your own equipment the price is €330 per person
If you do the Advanced and Nitrox course together the price is €425 per person.
A single person supplement of €20 may be charged if you want to do your course on your own with a private instructor.
To dive in Spain, you must be fit to dive. You will fill in an WRSTC/PADI self-certification medical form and if you reply 'No' to all the questions you need no further checks. If you reply 'Yes' to some of the questions you will need to get a medical check done by a doctor. These can be arranged in Gran Canaria for between €30 and €40.
In order to keep the centre free of COVID-19 we insist that all students are free of symptoms and recent contacts. When vaccination roll-out reaches your age-group we expect you to be vaccinated before arrival.
If for any reason you do not complete the course a pro-rata price will be charged.

How to reserve your place on a course

As you can see, the Marine Reserve here is a great place to complete your PADI Advanced Open Water Course. There is plenty to see, and the dramatic underwater scenery makes it a great deal of fun. To reserve your exciting course, fill in the Express course enquiry and reservation form or use the information on our contact page to email or call us to enquire about or reserve your place.
Any Questions?
Check the frequently asked questions about training courses page, but if you still have some questions then don't hesitate to use our express contact system and send us a message about planning your course.

Discover more secrets of the best diving in Gran Canaria