PADI Enriched Air Nitrox (EAN)
Speciality Course

Get your PADI Nitrox card in Gran Canaria
Where better to learn about diving with enriched air mixes (Nitrox or EAN) than in a Marine Reserve in Spain?. This course takes you through all aspects of planning and undertaking dives which involve the use of Nitrox, and then takes you on some great dives to try it out.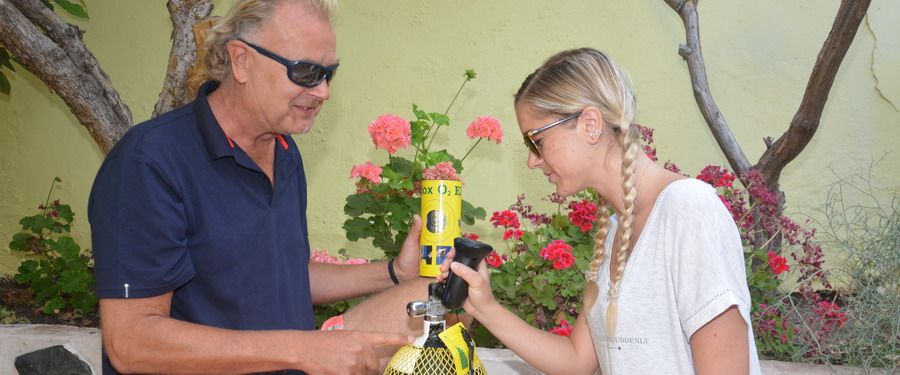 Nitrox is an enriched mix of normal air and oxygen for scuba divers, and it lets you dive for a longer time at a given depth without an increased risk of decompression sickness. It is not however a gas that lets you go deeper - in fact with Nitrox you have to be much more aware of your maximun depth. During the theoretical part of this course we explain why this is, and show you how to manage your nitrox so that you can dive safely with it. You then get two great dives in Gran Canaria's El Cabrón marine reserve, where you can taste it and test it properly so that you see the practical effects of using nitrox.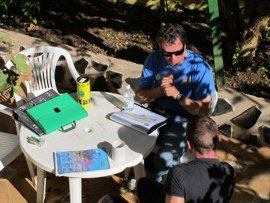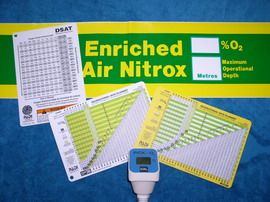 On your PADI Nitrox course we do the theory in the garden of our spacious dive centre at 'Casa Limon', and then two dives in the marine reserve, each one of which introduces you to the analysis and use of Nitrox for diving. The El Cabrón area is famous because the volcanic reef has arches, caves, cliffs and with these varied habitats it is a marine-life hotspot where you can see almost the whole catalog of marine species from tiny seahorses to angel sharks and butterfly rays. The main advantages of taking your PADI Nitrox course in the El Cabrón Marine Reserve are:-
See more, build your experience, with over 10 routes and 400 marine species
'Casa Limon' is the most spacious and relaxed dive centre in Gran Canaria, the perfect place to take your PADI Course
Our team of PADI Elite Instructors are mature, knowledgeable and highly rated on TripAdviser!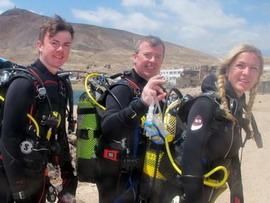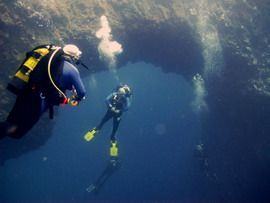 You start by learning about Nitrox and how to analyse it. You then build on these basic skills and practice them both in the sea, all the time under the supervision of one of our qualified and experienced PADI Instructors. All the teaching and support materials are used to ensure that you understand the simple physics behind NITROX and to give you the confidence and enthusiasm to continue diving after your course. In addition to the prescribed skills we aim to develop your confidence in the water, so that you leave us as a safe, competent and qualified diver.
Minimum Requirements
Must have a minimum of PADI Open Water qualification or equivalent. You do not need to have taken a PADI course in the past, so if you have a BSAC, SSI, NAUI, CMAS or other qualification you can still take this course. You must be over 15 years of age.
Course Content
After some introductory theory you plan and complete your first dive, where we taste the difference in diving with Nitrox. After a review in the dive centre, it is back out to the sea for a second dive where we fine tune the procedures for safe diving with Nitrox.
Skills covered
The course covers planning dives with Nitrox, the use of Nitrox tables, oxygen related diving medicine, preparing to dive with Nitrox, and the handling of tanks before and after diving. The course has recently been updated by PADI and there are now two main strands, the first is using tables when diving with Nitrox and the second is using your Nitrox dive computer.
Free use of Nitrox Dive Computer!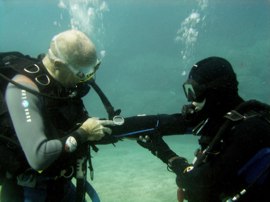 PADI recommend that all students on this course get to use a Nitrox dive computer as part of their training. The dive computer monitors depth and duration constantly, and calculates a maximum operating depth and remaining dive time to avoid decompression illness, and helps monitor ascent rates. Using a dive computer with Nitrox contributes to increased diver safety and more enjoyable dives. At Davy Jones Diving, we include the use of the Nitrox Dive Computer for part of your course Free of Charge, so you can understand how to set them and how they can help you manage your dives.
Duration and Logistics
This is a one day, two dive course. All transfers included.
Distance Learning Options

You don't have to wait until you get here to Gran Canaria to start your scuba diving course, as you can now start to learn to dive at home before you depart using one of our distance learning options. The simplest way to start is to get the PADI course manual before you come to Gran Canaria for your diving course, and do all the reading at home. Alternatively you can register for the new
PADI e-learning
system, nominate Davy Jones Diving as your partner, and do much of the coursework and quizes online. In both cases we will be able to answer any questions by phone or email before you arrive to do the practical parts of the course. We work with a UK partner (Roho) to help you get the right materials. Finally you can complete the reading, tests and confined water training with one school before you depart, and the rest of the Open Water Diving Course in Gran Canaria when you arrive (See the
Referal dive
page). For more details on any of these options please use the
Express course enquiry and reservation form
Languages

English - Instruction, Books and papers, Video

Deutsch - Instruction, Books and papers, Video

Español -Instruction, Books and papers, Video

Nederlands - Instruction, Books and papers, Video
Exams and tests also available in Italiano French, Danish, Swedish, Finnish, Norwegian *
Verbal instruction is available in English, German, Dutch or Spanish
Keeping you safe
Safety is part of our culture, and is part of everything we do. By assessing all the risks carefully we have planned safety into each step of your course, and a large part of the course is teaching you how to be safe when you dive. There are many aspects to keeping you safe, from the equipment we use, through the low ratios of instructor to students, to the use of a very safe area for the training which has plenty of marine life to thrill any beginner, and you will recognise these as you progress through the course. If you have any concerns about safety then please do not hesitate to voice them, and we will be delighted to explain how we keep our accident rate so minimal.
What you get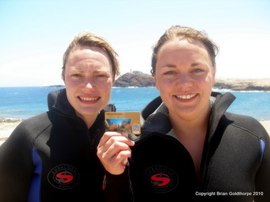 At the end of the course you will be awarded the "PADI Enriched Air Diver Specialist" qualification. This allows you to rent and use Nitrox fills up to 40%. PADI Open Water Divers will be able to count one of the dives towards their Advanced Open Water qualification, and if you are aiming for the PADI Master Diver qualification, this will count as one of the five specialisms required.
What Next?
Enjoy yourself on more adventure dives using Nitrox! Take further adventure dives with us in the El Cabrón Marine Reserve to explore the beautiful underwater scenery of Gran Canaria, or gain another 'speciality qualification'.
How much will it cost?
The price of obtaining your PADI Nitrox Qualification in the marine reserve at El Cabrón is €155 per person including registration with PADI as an Enriched Air Diver, who will then provide a training qualification card.
We recommend that every student get their own copy of the new PADI Enriched Air Nitrox manual, priced at €25. If you want the full set of Nitrox tables as well as the manual there is a PADI pack available for around €45 depending upon language and options selected.
We recommend that you should have a minimum of your own mask, fins and snorkel, and all other equipment can be hired on a daily basis.
The price includes two dives with equipment, Nitrox charges, all logistics, collection and return and PADI Registration fees.
To dive in Spain, you must be fit to dive. You will fill in an WRSTC/PADI self-certification medical form and if you reply 'No' to all the questions you need no further checks. If you reply 'Yes' to some of the questions you will need to get a medical check done by a doctor. These can be arranged in Gran Canaria for between €30 and €40.
In order to keep the centre free of COVID-19 we insist that all students are free of symptoms and recent contacts. When vaccination roll-out reaches your age-group we expect you to be vaccinated before arrival.
How to reserve your place on a course
Remember our FLEXI-BOOK offers!
NO Deposit, Cancellation or Change fees!
Discover more secrets of the best diving in Gran Canaria