PADI Scuba Diver Course
Get your PADI Scuba Diver qualification in the subtropical waters around Gran Canaria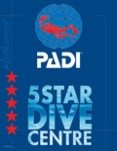 If you are looking for somewhere on Gran Canaria to enjoy your PADI Scuba Diver Course then the best place to do it is in the Marine Reserve at El Cabrón near Arinaga. The diving is always special here, with dramatic underwater scenery and lots of marine life to see.
If you want to learn to scuba dive, but don't have much time, then this course is the best option for starting your diving training. This is a 'half' course which takes beginners with no previous experience through the first half of the world-recognised PADI Open Water Diver course - the standard for qualified divers. It is ideal if you want to start your qualification process on one holiday and complete it on the next.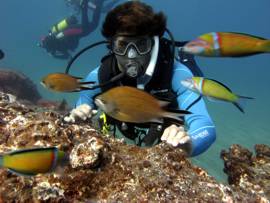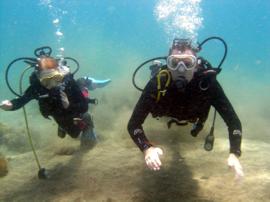 It is possible to start the week with no previous experience of scuba diving and in just two days learn the basics of scuba diving, and gain your world-recognised PADI Scuba Diver certification. But this is not just any PADI Scuba Diver course, as unlike other schools, both the sea dives take place in the beautiful waters of Gran Canaria's only marine reserve. So you have fun taking the course, but you also get two dives in one of Spain and Europe's best places to dive with a top PADI Gold Palm Resort - Davy Jones Diving.
On your PADI Scuba Diver course we do the theory in the garden of our spacious dive centre at 'Casa Limon', and then two dives in the marine reserve, each one of which introduces you to new skills. . The El Cabrón area is famous because the volcanic reef has arches, caves, cliffs and with these varied habitats it is a marine-life hotspot where you can see almost the whole catalog of marine species from tiny seahorses to angel sharks and butterfly rays. The main advantages of taking your PADI Scuba Diver course in the El Cabrón Marine Reserve are:-
See more, build your experience, with over 10 routes and 400 marine species
'Casa Limon' is the most spacious and relaxed dive centre in Gran Canaria, the perfect place to take a PADI Course
Our team of PADI Instructors are mature, knowledgeable and highly rated on TripAdviser!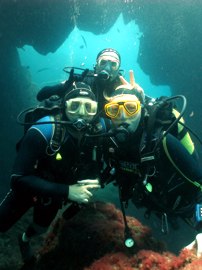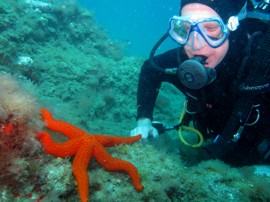 Your lessons start in the pool and you learn essential basic skills including breathing underwater, clearing your regulator and mask, buoyancy control, finning techniques and techniques for safe diving. You then build on these basic skills and practice them both in the pool, and then in the sea, all the time under the supervision of one of our qualified and experienced PADI Instructors. All the teaching and support materials are used to ensure that you understand the simple physics behind diving and to give you the confidence and enthusiasm to continue diving after your course. In addition to the prescribed skills we aim to develop your confidence in the water, so that you leave us as a safe, competent and qualified diver.
Minimum Requirements
No previous diving experience necessary. Must pass PADI Medical, and be over 10 years of age (PADI Junior Scuba Diver). You must also pass the PADI swimming test.
Course Content
Three lessons in the pool, two lessons in the sea in the marine reserve, some reading, video sessions, knowledge reviews and tests/quizzes
Skills covered
The course covers all the skills required to dive safely in the sea including breathing, buoyancy control, mask clearing, regulator recovery, finning, entries and exits.
Duration and Logistics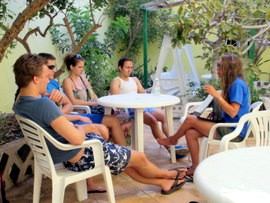 Usually 2 days plus self-study time, Pool sessions will be in the sea-water pool here in Arinaga where you can learn in safety surrounded by fish!. All transfers included. Timetabled to suit any other holiday or partner commitments
Distance Learning Options

You don't have to wait until you get here to Gran Canaria to start your scuba diving course, as you can now start to learn to dive at home before you depart using one of our distance learning options. The simplest way to start is to get the PADI course manual before you come to Gran Canaria for your diving course, and do all the reading at home. Alternatively you can register for the new
PADI e-learning
system, nominate Davy Jones Diving as your partner, and do much of the coursework and quizes online. In both cases we will be able to answer any questions by phone or email before you arrive to do the practical parts of the course. We work with a UK partner (Roho) to help you get the right materials. Finally you can complete the reading, tests and confined water training with one school before you depart, and the rest of the Open Water Diving Course in Gran Canaria when you arrive (See the
Referal dive
page). For more details on any of these options please use the
Express course enquiry and reservation form
Full Insurance Cover for all Students
When diving in Spain, the laws require that every diver is covered by both suitable medical insurance and a type of 3rd party insurance called 'responibilidad civil'. For most tourists this is not a problem, as their holiday insurance will cover both of these. However there may be some people, such as residents or backpackers, visitors on a group policy, or long term visitors, who are unaware that these are not covered entirely by their policy. To prevent anybody having a nasty shock when their insurer tries to wriggle out of any payments, we obviously work extremely hard to make sure that we have no accidents in the first place, and indeed our Open Water students have a 100% safety record over the last eight years. However, to guard against any future problem, we have taken out a group policy with a Spanish Insurer which guarantees to cover all medical and Spanish legal issues for every single Open Water Student that we teach. So rest assured, you do not need to dig out that policy and check it word for word before you learn to dive .. we've got you covered.
Junior Scuba Diver Course
A student who is over 10 and under 15 can follow the normal syllabus and if they complete all the requirements of the course they will be qualified as a PADI Scuba Diver, which allows them to dive to 12m when accompanied by an instructor. Our page on
PADI Junior Courses
gives more details about Junior PADI Courses and diving in Gran Canaria.
Languages

English - Instruction, Books and papers, Video

Deutsch - Instruction, Books and papers, Video

Español -Instruction, Books and papers, Video

Nederlands - Instruction, Books and papers, Video
Exams and tests also available in Italiano French, Danish, Swedish, Finnish, Norwegian *
Verbal instruction is available in English, German, Dutch or Spanish
Keeping you safe
Safety is part of our culture, and is part of everything we do. By assessing all the risks carefully we have planned safety into each step of your course, and a large part of the course is teaching you how to be safe when you dive. There are many aspects to keeping you safe, from the equipment we use, through the low ratios of instructor to students, to the use of a very safe area for the training which has plenty of marine life to thrill any beginner, and you will recognise these as you progress through the course. If you have any concerns about safety then please do not hesitate to voice them, and we will be delighted to explain how we keep our accident rate so minimal.
What you get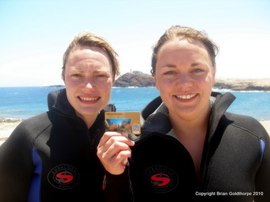 PADI Qualification to dive to 12m WITH AN INSTRUCTOR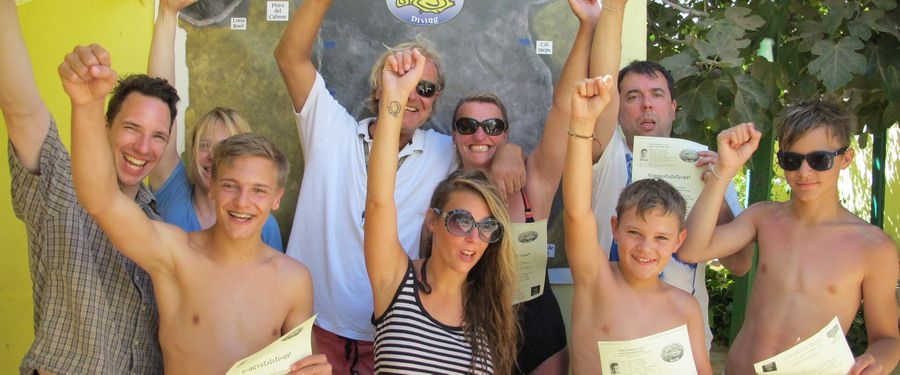 What Next?
Take the PADI Scuba Diver upgrade (or second half of the Open Water) course and gain the full
PADI Open Water diver
qualification.
How much will it cost?
The price of obtaining your PADI Scuba Diver Qualification in the marine reserve at El Cabrón is €285 per person, which includes all the equipment, mandatory Spanish insurance, and your on-line registration with PADI, and all the items listed as included below.
PADI now require all students to have access to their own copy of the manual. You can bring one with you, or purchase one here. There are options to purchase just the manual, or money saving kits which include log books and DVD.
If you answer 'YES' to any of the questions on the medical form, you must have a medical examination. This can be done before you get here, or in Gran Canaria where the cost is about €30-€40 per person.
If for any reason you do not complete the course a pro-rata price will be charged.
To dive in Spain, you must be fit to dive. You will fill in an WRSTC/PADI self-certification medical form and if you reply 'No' to all the questions you need no further checks. If you reply 'Yes' to some of the questions you will need to get a medical check done by a doctor. These can be arranged in Gran Canaria for between €30 and €40.
In order to keep the centre free of COVID-19 we insist that all students are free of symptoms and recent contacts. When vaccination roll-out reaches your age-group we expect you to be vaccinated before arrival.
The price of the upgrade from Scuba Diver to Open water is €285 which includes your on-line registration with PADI, and all the items listed as included above.
What is included
This is an 'all inclusive' course, and includes two open water dives in the Marine Reserve in Arinaga, the three 'confined' water lessons, usually in the sea-water pool, all transfers to and from your hotel in Gran Canaria and use of all the equipment for all dives (including mask, fins, snorkel, jacket, regulator, wetsuit and boots, and compass). You also get great help from our mature experienced dive instructors, and you are covered by our special insurance for open water students, and you get free tea coffee in the dive centre, all tuition, tests and final certification. It also includes the PADI Registration fee (unless you choose a digital training path).
We Recommend
If possible you complete your reading of the PADI manual before you come to Gran Canaria.
All students on all courses should have a log-book in which to record their dives. We have several different logbooks from €8 to €25.
That by the end of the course you should have tried and found a comfortable mask and snorkel.
Reserve your place in Gran Canaria on a great PADI Scuba Diver course!
To
Start planning, or book your course now
You can click on some of the dates shown below or fill in the
Express course enquiry and reservation form
or use the information on our
contact page
to email or call us to enquire about or reserve a place on your PADI Open Water course.
Summary of your
PADI Scuba Diver Course
The two-day PADI Scuba Diver Course is your first step to becoming a qualified diver. You can upgrade to an Open Water Diver at any time in the future. By taking it in the El Cabrón marine Reserve with PADI 5-Star Diving Centre Davy Jones Diving you see the authentic Canarian Marine life at one of the island's top diving sites, with one of the leading dive centres in the Canary Islands.
Some suggested dates for your
PADI Scuba Diver Course

Course name / Week
Week commencing (Mon)
Week ending (Sat)
Link for details

PADI Scuba Diver Course

-

Wk 49

4-12-2023
9-12-2023
- Check availability now!

PADI Scuba Diver Course

-

Wk 50

11-12-2023
16-12-2023
- Places Available

PADI Scuba Diver Course

-

Wk 51

18-12-2023
23-12-2023
- Places Available
PADI Scuba Diver Course - later dates
From 2023-12-25
- Click to check
Remember our FLEXI-BOOK offers!
NO Deposit, Cancellation or Change fees!
Discover more secrets of the best diving in Gran Canaria