Davy Jones Diving - Laatste Nieuws
Dit is een informele Nieuws Blog om u op de hoogte te houden van de dag-tot-dag gebeurtenissen in Davy Jones Diving Centrum in Gran Canaria. We zullen de roddels, de waarnemingen, de hoge (en misschien wel de dieptepunten!) hier.
Vanaf Januari 2013 hebben wij al uw nieuwsupdates op onze FACEBOOK-pagina gezet. U kunt meer recente nieuwsverhalen op onze Gran Canaria Diving FACEBOOK pagina zien.
---
New species for the Canaries - SURGEONFISH!
We got a real surprise last week when we came across a Monrovian Surgeonfish in the Arinaga Marine Reserve! This fish is normally only found on the West African Coast, and further south in the Cape Verde Islands. With its bright yellow spot it looks a bit like a Parrotfish, but the head and dorsal fins are very different. According to our friends in the University with warmer conditions here more of these migrants are turning up in the Canaries.
Brian
Wednesday, November 14, 2012 at 10:03:13 (GMT)
---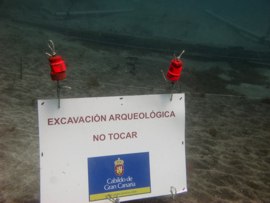 Major Archeological dig in Arinaga around ship's timbers.
Earlier this year we reported how some timbers from a wooden sailing ship of the 18th Century had been exposed by the regular movement of the sand following a winter storm. Now the site has been declared of major historical importance by the Cabildo de Gran Canaria, responsible for protecting the island's history, and a major underwater archeological excavation has been started. We can still dive the site, which is also revealing slowly several more secrets, and observe the state of the excavation. From the way that the copper covers both sides of the exposed wood we have deduced that this is the rear-most part of the keel of the boat. This must be one of the few underwater archeological excavations in Europe that is easy to access and visit. If you want to find out more about the status of the dig then talk to Eduardo or Brian.
Brian
Thursday, September 13, 2012 at 12:13:05 (BST)
---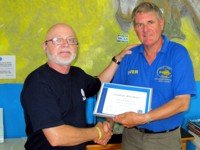 Wow! a second PADI Certificate of Excellence!
It felt almost like an early Birthday Present, when we were given our second PADI Certificate of Excellence yesterday by Christian Marret, the PADI Regional Manager for the Canaries! The Certificate recognises our innovative work on customer service and on our web pages, as well as the continuous positive feedback to PADI about our customer service and the great experiences we provide. This award was for the Dive Centre, so it is important to recognise that it come from a team effort, with Eduardo, Graham, and during part of last year Uwe all leading and contributing to the high levels of service that have gained us this award - My thanks go out to them all.
Brian
Tuesday, July 17, 2012 at 17:24:44 (BST)
---
Celebrate our tenth anniversary here in September
This September, Brian and Marilyn will celebrate the tenth anniversary of taking over the dive centre here in Arinaga. To celebrate we are planning a series of activities - join us for fireworks during the Arinaga Fiesta, a special party in the middle of the month, excursions to other highlights of the island, such as to see the Manta Rays at Sardina del Norte or even the wreck of the Plasencia. We also plan to run special days for PADI Specialities which work well here in the Marine Reserve (Digital photography, Aware shark conservation, Multi-level, Nitrox etc). If you are planning to come diving in the Canaries in September then make sure you follow our plans here and have some fun celebrating our tenth birthday with us.
Brian
Monday, June 18, 2012 at 11:09:04 (BST)
---
Celebrating World Oceans Day - 8th June 2012
Today was World Ocean Day so it seemed like a good idea .. to go Diving. Our group today was truely international, with divers from Australia, America, Switzerland, and Germany who live in Austria, Germany and Spain.
Brian
Friday, June 08, 2012 at 17:42:24 (BST)
---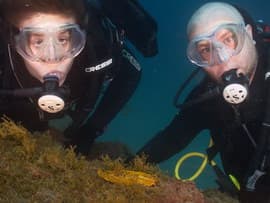 Nudibrachs proliferate in Marine Reserve
May and June have always been the best time for divers to see nudibrachs here in the Marine Reserve, but this year we seem to have an abundance of these beautiful little creatures. A few days ago we thought it unusual to find 3 together, untill the afternoon dive where we found a group of ten all clustered together, and not just the green/black
Hypselodoris picta
, but also Leopard seaslugs and the Golden Sponge Snails (
Tylodina perversa
).
Brian
Saturday, June 02, 2012 at 13:56:09 (BST)
---
We hit the million mark!
This week, we have passed the Million mark in terms of pageloads on the DavyJonesDiving.com website! We have been tracking our pageloads since about 2004, when we installed the StatCounter software on our website, and this confirms the steady progress we have made to this point. Since 2004 we have changed a lot, and now have pages in German, Dutch, Spanish, Norwegian and Swedish, and have recently optimised all the pages for viewing from a smartphone. I am sure it will take less time to reach the 2 million mark!
Brian
Saturday, April 07, 2012 at 16:17:52 (BST)
---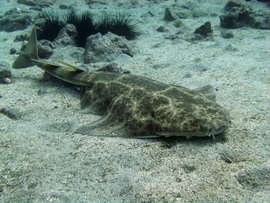 New Shark Conservation Course Available
We have a new Course! - The PADI Shark Conservation Awareness Speciality explains about the threats to Sharks and how we can protect them, and includes 2 dives looking for Sharks and assessing threats in their habitat.
Brian
Wednesday, March 21, 2012 at 14:41:57 (GMT)
---
Looking for News about Davy Jones the singer and actor?
It was sad to hear that Davy Jones, former singer with the Monkees, died in his sleep from a Heart Attack yesterday. The only connection between us and the singer was the common name. We obviously pass our best wishes and condolences on to the family and friends of Davy, and would like to reassure all our friends that all the team here is fit and well.
Brian
Thursday, March 01, 2012 at 09:20:25 (GMT)
---
Winter Storm uncovers exciting discovery
A couple of weeks ago there was a strong storm here in Arinaga, which prevented us from diving for a couple of days. When we got back into the water we made an amazing discovery, as in one part of the Marine Reserve,the storm has moved away the sand and exposed what appear to be the remains of an old wooden sailing ship. The timbers that have been exposed are over 6m in length and very heavy, consistent with the external planking used on sailing ships of the 18th aand 19th century. This is hardly a 'wreck' dive, but should be regarded as an archeological site of potential future importance. We will be organising regular dives in the area to determine the extent of the find and to assess, measure and record in more detail. We will be talking to the Island's expert on marine archeology to get more information on likely ships that have been lost in the area.
Brian
Friday, February 24, 2012 at 18:29:43 (GMT)
---
They are mending the road!
Yes, you have all complained about the track to El Cabrón and asked how it damages the vehicles. Well, for the last few days the Cabildo has finally got round to not only filling the surface, but also back-grading it and actually compacting it with a roller. We could here the vibrating roller underwater yesterday!
Brian
Thursday, January 26, 2012 at 09:22:43 (GMT)
---
Eduardo to the Rescue!
We never know what we will find from one day to the next, and today we came across a small turtle, trapped in a discarded plastic bag, while diving in the El Cabrón Marine Reserve. The Turtle was having difficulty moving with the bag attached, but fortunately the bag slowed it down enough and Ed was able to catch it, remove the plastic bag and set it free. The Turtle was able to swim away on its own. The lucky turtle has no doubt had its life extended by the swift reaction of Eduardo to the problem, and the lucky divers saw not only the rare sight of a turtle in the Reserve but a good example of protecting and supporting our marine ecosystem.
Brian
Monday, October 10, 2011 at 19:21:38 (BST)
---
Hammerhead Sharks near the Reserve
One of our friends from the Windsurf community told me that this week while surfing 2km up the coast from Arinaga he saw a Hammerhead Shark! It was about 2m long, on the surface with its dorsal fin showing, about 500m out from the coast. This is not the first report of offshore Hammerheads we have had, as windsurfers see them a couple of times each year. Underwater we are less lucky, apparently Hammerheads are cautious of divers and will move away from them before we detect the sharks. I have only heard one report in 9 years of somebody seeing a Hammerhead well overhead when they were at Punta de La Sal in 30m. Still, you never know what you might see in the Marine Reserve!
Brian
Friday, September 09, 2011 at 15:27:33 (BST)
---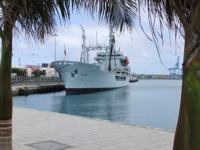 Crew of the RFA Gold Rover go a-roving in the Marine Reserve
While on a brief stop-over here in Las Palmas, some of the crew of the Royal Fleet Auxiliar vessal, Gold Rover, took time out from their busy schedule to join us for a days diving in the Marine Reserve here in Arinaga. Highlights of the day included watching a Bonito corral and then attack a shoal of sardines; and finding 3 different stingrays on the second dive - a Round Ray, a Common ray and an Eagle Ray.
Brian
Sunday, August 28, 2011 at 18:00:19 (BST)
---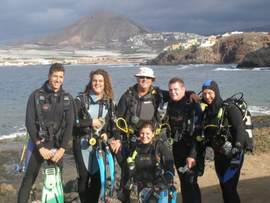 Special Event this Saturday with Local Ecologists
This weekend, the local environmental action and Ecological group 'Ben Magec-Ecologistas en Acción' are holding a special event at the Playa del Cabrón, as part of a campaign to gain extra support and protection for the area. If you are interested in taking part with us let me know as soon as possible.
Brian
Monday, August 15, 2011 at 17:06:22 (BST)
---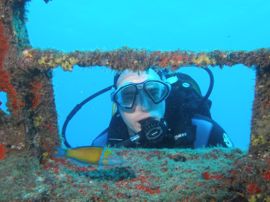 Newry And Mourne Sub-Aqua Club enjoy a week's diving with Davy Jones
We all had a great time over the last week with 14 members of the Newry and Mourne Sub-aqua club. Members went to most of the best sites on the Island, with some diving in Las Palmas in the Catedral, the Arona, Frigorifica and Little Kalais. Others went to Mogan where we dived on the Cermona II. But favourite for most was the El Cabrón Marine Reserve where they dived the arches, the caves, the bays and the Table Top, seeing a wide range of Canarian marine life including Angelsharks, Rays, Cuttlefish, Barracudas, Octopii and much more. We all had a great time entertaining them and having some fun and great dives.
Brian
Sunday, April 24, 2011 at 22:36:23 (BST)
---
Crazy weather!
We can see SNOW today from in front of the dive centre! Yes, up on the tops of the mountains the dusting of the last two days is clearly visible from down here! It's very rare to get snow at all in GC, and this is the first time it has been visible from Arinaga. Strangely, the diving in the Marine Reserve has been uneffectd .. the storm has hit the other side of the Island and we are in the lee.. but with air temperatures below normal, it is actually warmer in the sea than in the air! The forecasters tell us it will all blow over in the next two days and warmer weather wil return.
Brian
Tuesday, March 15, 2011 at 09:20:42 (GMT)
---
First price rise in 5 years
It's now five years since we last changed our prices in 2006, and the recent increases in fuel charges, along with increasing costs of safety items (such as more frequent testing of Oxygen bottles) mean that from the 3rd April we will be applying a small increase in most prices, of around five euros per day. However, if you confirm your booking now before the new prices are introduced, then we will honour your booking at our current prices.
Brian
Friday, March 11, 2011 at 09:14:40 (GMT)
---
Royal Philharmonic entertained by Davy Jones Diving while in Gran Canaria
It's always nice to entertain other professional entertainers, so we all enjoyed hosting members of the Royal Philharmonic Orchestra from London when they visited Las Palmas last week. The Orchestra was in Las Palmas for the XXVII Festival de Música de Canarias, and several members took time out from their busy schedule to spend a day diving with us in the Marine Reserve in Arinaga. So on Friday we were able to show them the 'diving fantastique' in the Marine reserve in Arinaga, while on Saturday they played 'Symphonie Fantastique' by Berlioz to an aprechiative audience in the Alfredo Kraus Auditorium.
Brian
Tuesday, February 15, 2011 at 21:59:36 (GMT)
---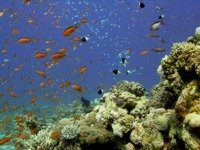 Canary Islands Diving - An alternative to the Red Sea?
With the current unrest in Egypt, we have had several people asking us how diving compares between the Red Sea and the Canaries. While the Canaries are only sub-tropical, the sea temperatures here in winter are only four or five degrees less than in the Red Sea, and the Canary Islands have a stable European government and a much better developed tourist infrastructure than in most parts of the Red Sea. We have put together a new page which looks at the
comparison between the Red Sea and Canary Islands for diving holidays
to help explain some of the differences a bit better.
Brian
Saturday, January 29, 2011 at 13:36:40 (GMT)
---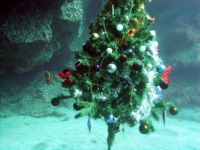 Christmas Greetings to all our customers and friends.
We would like to wish everyone a Merry Christmas and a Happy New Year. This year Brian and Marilyn will be in England for a couple of weeks before Christmas, while Uwe, Graham and Ed continue diving here in Arinaga. And yes we are diving all through the Holiday period, with some dates already well booked. The Christmas Tree is already back in The Marine Reserve, there are plenty of Angel Sharks and Rays about, and we almost always find something unusual.
Brian
Thursday, December 09, 2010 at 11:36:23 (GMT)
---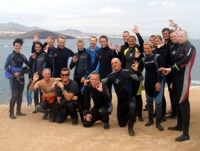 Dutch Navy enjoys diving in El Cabrón
The beginning of December is usually a busy time because of a Spanish long holiday weekend; however this year we had our hands full looking after the Dutch Navy. Their ship spent a long weekend in Las Palmas, and we sorted out all the arrangements so that they could visit us. We had two hectic days when more than 40 sailors from the HNLMS Johan De Witt, a Dutch man of war, came to Arinaga to enjoy diving in the Arinaga Marine Reserve with us. We had a wide mix of skills from absolute beginners up to experienced Divemasters, and were able to show many of the divers Angel Sharks, Rays and a lot more. Everyone seemed to enjoy the diving, and they told us they had tried diving in Dakar, but preferred it here as there was more to see in Gran Canaria.
Brian
Thursday, December 09, 2010 at 11:26:27 (GMT)
---
More Tiger Shark Teeth
Further investigations have produced another Tooth from a Sand Tiger Shark in a special area in the Reserve. However it looks like they may have been there for a long time and are not recent as we originally thought.
Brian
Saturday, October 30, 2010 at 15:50:47 (BST)
---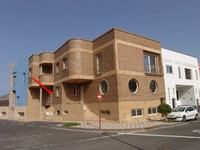 New apartments available for divers in Arinaga, Gran Canaria
We can now recommend two more apartments to divers who want to stay in Arinaga. In addition to the popular Nautilus Apartments, we can also recommend the Barracuda and Angelot self-catering apartments. These are very close to the dive centre, and can sleep between 2 and six people. They come fully equipped and even include Internet Access. For more information see the details on our Accommodation page.
Brian
Monday, September 06, 2010 at 14:43:13 (BST)
---
... and now Manta Rays in Arinaga! If you read the old guidebook to the reserve it talks about the possibility of sighting Mobulus Rays (a small type of manta ray) in the El Cabrón Marine Reserve. Till this year it was simply one of those divers myths... But then in July one of our reliable friends claimed he saw a group of three, and after a couple of other reports, last week our instructors Uwe and Graham came across one, followed a couple of days later by another sighting. Over the next couple of weeks we want to do some more controlled dives to try to find out is this a lone individual or, as we find in the north of the Island, a family group... watch our sightings for more updates! oh, and by the way in the same week a windsufer saw a Hammerhead shark on the surface in the same area!
Brian
Sunday, August 15, 2010 at 21:11:34 (BST)
---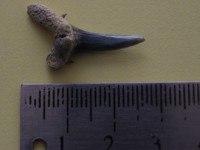 Evidence of Sand Tiger Sharks in the Canaries
. For some time, a friend of ours has been recovering the Teeth from Sand Tiger Sharks from a secret location near Arinaga. On a recent dive we also found our first in the same area. It was confirmed as coming from a Sand Tiger Shark by some experts from the Blue Planet Aquarium in Cheshire, England, who have Sand Tigers in their pool. Sand Tigers loose about 1.4 teeth per day, and up to 25000 in a lifetime! New teeth are continuously growing and replacing them.
As we have no recorded sightings of Sand Tigers, it is not clear wether the group of teeth represent a regular (nocturnal?) visitor, or some historical activity.
Brian
Wednesday, July 28, 2010 at 18:17:49 (BST)
---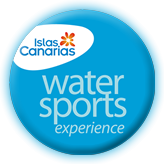 Davy Jones Diving awarded the 'Water Sports Quality Seal' by the Government of the Canaries
. We are delighted that our hard work in providing a high quality experience for our customers has been recognised by the Conseria de Turismo in the Canary Islands Government and we have been awarded their seal of approval in the Water Sports category.
There are four categories of award, Water Sports, Wellness, Family and Volcanic (for other adventure sports), and they have been awarded to companies like ourselves who deliver a quality service to customers through great experiences, and also highlight or complement the unique nature of the Canarian lifestyle, culture or nature. You can find out more about these seals of approval on the
official website of the department of Turismo de Canarias.
Brian
Thursday, May 27, 2010 at 15:45:00 (BST)
---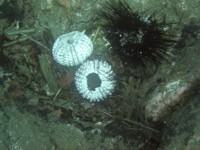 Mystery disease decimates long-spined sea urchins
For the last year there has been a government organised campaign against the black long spined sea urchins (
Diadema antillarum
also known as lime urchins) to remove them from popular dive sites including the El Cabrón, Sardina del Norte and Pasito Blanco. The reason for the cull is that this species was not native to the Canaries, and since it's accidental introduction on the hulls of wooden ships during the 'conquest' of the Canaries during the 16th and 17th century, it has colonised large areas displacing native species.
Early this year however we began to notice large numbers of bleached shells in the Marine Reserve, and after talking to our friends at the University of Las Palmas, we now believe that these are being attacked by some form of virus. Numbers have dropped sharply in many areas over the last two months, although it appears that the 'native' urchin species have not been effected.
It appears in some areas that the native algaes and plant life rea returning quickly, so we can only hope that these changes lead to the revitalisation of the reef here.
Brian
Monday, May 03, 2010 at 22:42:37 (BST)
---
We have discovered a new Dive route!
Occaisionally, we explore some of the less well know parts of the Marine Reserve, and can often come across unexpected secrets. Yesterday was a good example .. we dived in a new area, from a known entry point .. and discovered a really nice little cave which you can get right into to explore. This cave is the only one with a blowhole back to the surface, which you can swim up into! It is not very deep, but will only be diveable in certain weather conditions. So, if you think you have done all the dives in the Marine Reserve, we now have something extra to show you!
Brian
Friday, April 16, 2010 at 14:42:23 (BST)
---
Congratulations to Graham! After lots of study over the last few months and hard work, he has become our first diver to 'go all the way' and become a PADI Instructor, passing his Instructor exam first time over in Fuerteventura recently.
Brian
Tuesday, April 06, 2010 at 22:10:04 (BST)
---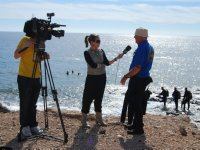 Canarias TV2 Features Eduardo and Davy Jones Diving.
For the last few months Eduardo, our Spanish instructor has been working with other local groups as part of a campaign to stop illegal fishing in the marine reserve in Arinaga. The local TV station decided to feature the problem, using Eduardo as the principle spokesman. So today we hosted a film crew from Canarias 2, the local TV channel, and helped them to publicise the issues around illegal fishing, and the way that the economy is now gaining more from Diving, by filming a group of our divers as they prepared for their dive in the Marine Reserve here in Arinaga
Brian
Friday, February 26, 2010 at 16:52:27 (GMT)
---
John Liddiard's article now online.
You can now read the review of diving in Gran Canaria, that was originally printed in the February 2010 edition of DIVER magazine in the UK. You can read John Liddiard´s article
"Tapas Diving in Gran Canaria" here
.
Brian
Saturday, February 20, 2010 at 10:09:45 (GMT)
---
Prices held for another year
We know that many of our customers are being more cautious in these times of poor exchange rates and financial crisis, so for the third year we have held down our prices at the 2007 levels. We are continuing to make savings on utility bills, changing insurance providers, lower fuel prices and other small changes without effecting customer safety or customer service.
Brian
Monday, January 25, 2010 at 20:59:17 (GMT)
---
Congratulations to Helen!
Our eldest daughter came to visit us last week, and finished off the week by running the first ever Marathon in Las Palmas, Gran Canaria. She finished in a time of 4 hours and twenty three minutes, coming in as the 17th woman overall and 6th in her age group! None of our 'very fit' staff felt they could have managed this feat, although Uwe and Nicole had been tempted to do the half marathon.
Brian
Monday, January 25, 2010 at 20:52:00 (GMT)
---
Gran Canaria a major feature in Diver Magazine this month!
. Finally, Diver magazine in the Uk has printed the review of Gran Canaria, based on John Liddiard's diving trip here last year. It covers all the best sites .. El Cabrón of course, as well as the wrecks of Las Palmas, and the diving on the West Coast near Mogan. Grab yourself a copy while it is still on the newstand and enjoy some of John's great photography and reporting.
Brian
Friday, January 22, 2010 at 19:18:29 (GMT)
---
Wow, what a month January has been. This winter we have had a continuous spell of great diving here in Arinaga. Day after day we have posted 'excellent' for the conditions, caused by a very stable high pressure system over the Canaries. Over Christmas this produced some storms on the West coast, but fortunately Arinaga was largely uneffected. The water temperatures are still high at 21C, and I haven't put my semi-dry on yet!
Brian
Friday, January 22, 2010 at 19:13:47 (GMT)
---
Angel Sharks return at same time of year. Just like the last two years, Angel Sharks started to return to the Marine Reserve in mid November this year ... but unlike previous years the water is much warmer. The research we have been carrying out withe the University of Las Palmas suggested that they preferred a temperature of 21C, but this year temperatures are above average, still just on 22, yet the Angel Sharks have all returned ... looks like we will have to keep on with this research project!
Brian
Saturday, December 19, 2009 at 16:35:22 (GMT)
---
The Christmas Tree is back! As in previous years, this annual highlight has been put in place by the local dive clubs. Join us for a dive and we can all sing carols around the tree, wear silly christmas hats etc. Water temperatures have remained good this year taking the 'nip' out of the dive.
Brian
Tuesday, December 08, 2009 at 08:58:46 (GMT)
---
...and the great conditions continue...
Yes, diving during November continues the trend of this autumn with calm conditions, great visibility and gentle currents. Some northerly parts of Tenerife were effected by heavy rain and flooding in the middle of this week, but Arinaga was totally uneffected!.
This week seems to have instead been full of really special dives... The Cape lobster that jumped onto me on Wednesday; the stingray that kept investigating us on the Night Dive; A mother stingray giving (live) birth to baby stingrays on Friday .... and slightly to the surprise of all of us, the return of the adolescent and adult angel sharks this week.
Brian
Sunday, November 22, 2009 at 23:34:59 (GMT)
---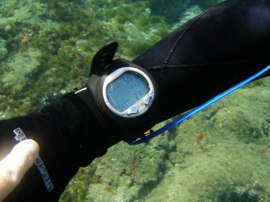 Free use of dive computers on PADI Courses
. This autumn, PADI have updated their guidelines and now recommend that all students on Open Water Courses should use a dive computer to monitor time and depth. We have invested in additional computers and now are the first dive centre in the Canaries where all students on Scuba Diver, Open Water, and parts of the PADI Advanced Open water course will be offered
free
use of these computers. Using a dive computer has long been regarded as best diving practice, and with lowering prices and new training schemes we welcome and fully support this change. We know that most divers put a dive computer high on their shopping list, so the ability to have its function explained fully to students on their Open Water Course should help them choose their own computers more easily.
Brian
Sunday, November 22, 2009 at 23:29:04 (GMT)
---
Another stunning autumn here in El Cabrón and the good weather continues! Since late September we have had a really stable warm air stream which has given us day after day of excellent conditions. And with the conditions have come lots of exciting sightings. Mobulus rays at Sardina, Baby angelsharks in the bay, seahorses, lots of rays including family groups, a new type of nudibrach we have never seen before. Several divers this week said they enjoyed diving here more than in the Red Sea! When asked why they said it was less crowded (No Russians!), and had more variety of diving sites, and our style was more chilled out. So if you are thinking of a late autumn break before christmas, don´t delay, give us a call now!
Brian
Friday, October 30, 2009 at 10:22:03 (GMT)
---
Good news for travellers from the UK and Ireland! Ryanair have planned a lot more flights from the UK to Gran Canaria for this winter from Late October. There are now cheap flight opportunities from Birmingham, Bournemouth, Bristol, Dublin, East Midlands, Glasgow, Liverpool, Luton, Stanstead, Shannon and several other European destinations. There are lots of bargains to be had at the moment so check out your dates quickly.
Brian
Wednesday, August 05, 2009 at 10:20:17 (BST)
---
We have just had a stunning week, weatherwise, with lovely air temperatures, low winds and great visibility. In one week we have had so many diving highlights as well! We saw the (very rare for us) Spiny Pufferfish on two days, saw a mother Stingray with six or seven babies around her, Angel shark swimming, stingrays, and lots more besides. When conditions are like this we can come across virtually anything, and to prove this on a recent night dive we discovered our first ever Small European Locust Lobster - so small we had to photograph it and then look it up in the book! This Spring we seem to have seen a lot more nudibrachs than normal, and we have also come across more Sea Hares during the day then we normally do. Once again the Marine Reserve keeps it's reputation of being full of surprises.
Brian
Tuesday, June 30, 2009 at 16:30:41 (BST)
---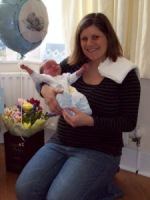 Congratulations to Annette and Chris!
Many of you have dived with Annette, some have been trained by Annette, lots of you have been collected and returned from your Hotels. Well she has now embarked on a new career and lifestyle following the birth of her first son, Gabriel on Monday 30th March. And yes... that does mean that Marilyn and I are now Grandparents....
Brian
Thursday, April 02, 2009 at 09:58:48 (BST)
---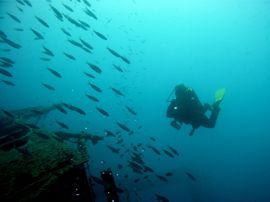 We have had a great time over the last week showing John Liddiard, of Diver magazine in the UK all of the best dive sites in Gran Canaria. John is one of the UK's top underwater photo-journalists, and he contacted us some time ago about a photo shoot in Gran Canaria. We were delighted to organise a visit for him in conjunction with our contacts in the Canarian Government and introduce him to not only the best dive sites but also to some of the other leading dive centres in Gran Canaria.
We had some great dives during the week, including the wrecks of both Las Palmas and the West Coast, and of course a real exploration of parts of the El Cabrón Marine Reserve. So keep your eyes on Diver and this summer we hope to see some exciting pictures which really showcase the diving in Gran Canaria.
Brian
Wednesday, February 11, 2009 at 21:42:21 (GMT)
---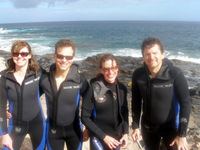 We were delighted to entertain a group of divers and snorklers this week from the Philadelphia Orchestra. They were visiting Las Palmas as part of their 2009 Tour of Europe, and played two concerts here in the Alfredo Krauss Auditorium. During their dives we were able to find Angel shark, stingray, tiger moray, barracudas, octopus and much more. Their tour continues over the next 3 weeks with more concerts in Spain, Portugal, Luxembourg and Austria.
Brian
Thursday, February 05, 2009 at 13:01:10 (GMT)
---
Older entries (before 2009) have been Archived
Ondek meer geheimen van het beste duiken In Gran Canaria