Archive - Davy Jones Diving News Blog before 2009
We use our informal News Blog to keep you updated on the day-to-day events at Davy Jones Diving Centre in Gran Canaria. This page hold entries from before 1st January 2009
---
One thing about diving in the Canaries is that you never know what will happen from one day to the next. This week we have highs and lows... Monday started with an unforgetable dive when I got bumped (again) by an Angel Shark .. and this times Hans got it on Video. Tuesday and Wednesday were marred by a storm but the conditions improved dramatically and yesterday highligh of the week was to see our first ever Bull Ray on Punta de la Sal. It was HUGE! It must be the biggest animal we have ever seen here in the Marine Reserve. Then on the night dive last night we saw rays, angelsharks and all sorts of creepie crawlies including a spotted bumblebee shrimp! Roll on February and some more settled weather as there is lots of life about at present.
Brian
Friday, January 30, 2009 at 13:00:21 (GMT)
---
The Photo Album is back! In December an unscrupulous hacker decided to use an undocumented vulnerability in our photo system to attempt to send out masses of spam with our return address. We were only able to stop them by removing the photo gallery from the site. We have therefore now implemented a completely new photo gallery (using Coppermine - a more secure package). This has all the features of the old one, plus you can rate the photos as well. We have even been able to put latin and spanish and german names for the marine life against many of the pictures as well. Let us know what you think of the new gallery - I think it is better but only you can tell me!
Brian
Sunday, January 18, 2009 at 17:22:30 (GMT)
---
Today I did the dive I have been waiting six years to complete .. to the only 'wreck' in the marine reserve .. the Cannon. This is not an easy dive so before you ask us to take you, check it out and understand the reasons why it is not dived very much by reading my personal
diving blog
to find out more about it.
Brian
Friday, December 26, 2008 at 18:21:39 (GMT)
---
Congratulations to Ed! A Happy 50th Birthday! Yes Ed has joined the ranks of the 'older people'. We were thinking of giving him a walking stick.....
Apolpgies on the other hand to those of you who like to browse our photo-gallery. It was hacked by some spammers and we have had to take it off-line for the moment.
Brian
Tuesday, December 23, 2008 at 09:22:45 (GMT)
---
We have just completed an unusual day - organising a special snorkelling expedition for 40 members of 'ClassAfloat', who sailed into Las Palmas this week as part of their year-long trip on board a tall ship. We had agreat morning discovering the wealth of marine life on Las Cantoneras Beach in Las Palmas which was well protected from the strong swell of the last few days. The Classafloat moves on to Africa in the next few days and we move back to planning for a busy christmas period.
Brian
Tuesday, December 09, 2008 at 11:58:52 (GMT)
---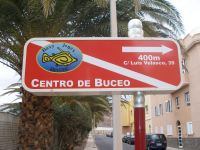 Over the past few years, we know that some of you have had difficulty finding our dive centre in Arinaga, as it is neither on the main street or by the sea. Hopefully this will become a thing of the past as we have now installed some signs on the main road coming into arinaga to make it obvious where our centre is. And after several openings and closures we remain the only professional and licenced diving centre in Arinaga, as La Galena Verde (A Spanish diving shop) has now moved to Vecindario.
Brian
Saturday, November 29, 2008 at 22:17:36 (GMT)
---
Wow, what a dive we have just had. The marine reserve in Arinaga always gives you something special but today's dive was top drawer. Imagine going for your first ever dive in the sea and coming across a mother stingray with five baby stingrays buzzing around her. The youngsters were not as timid as some older stingrays and flew around our group of beginners a couple of times, and then back to the mother. Then we found an Angel Shark sleeping in the sand as well! Yes, and all this was in water just 5m deep and well within range for all the beginners today. Cracking dive!
Brian
Thursday, November 20, 2008 at 16:18:29 (GMT)
---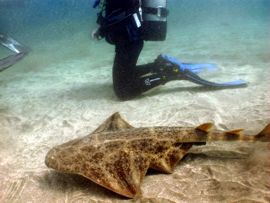 They're back! As usual Angelsharks have returned to the reserve in mid-November. We normally encounter them towards the end of the month but with slightly colder weather than normal this year they have arrived about 10 days earlier than last year. This is exactly what we predicted from the survey we have been carring out with the University of Las Palmas (see our Shark Survey Page). At the same time, the smaller pygmy filefish on which our logo is based, have started to return to the bay for winter.
Brian
Saturday, November 15, 2008 at 09:21:30 (GMT)
---
Spectacular September! This september we have had some excellent conditions for diving. The winds dropped down in the second week and the conditions have been calm with great visibility. Autumn is always the best time to dive in the Marine Reserve and this autumn has started with a wonderful calm period.
Brian
Friday, September 26, 2008 at 09:51:43 (BST)
---
BBC News in the UK have been reporting the
return of two turtles to Gran Canaria
. They were among an unusual number of loggerhead turtles that were washed up in the UK during the winter of 2008, and were returned to the Canaries and released next to the statue of Triton on the beach at Melenara recently.
Brian
Monday, June 30, 2008 at 20:03:55 (BST)
---
When one of the world's top Shark photographers, Andy Murch, wanted to photograph the critically endangered angel shark, where better to come than to the El Cabron Marine Reserve in Gran Canaria and Davy Jones Diving. This week we entertained him with some great dives, during which he got plenty of photos of angel sharks, as well as a good selection of Marbled Electric Rays, and a few other ray shots. We saw 4 types of ray during the week, but the one that eluded us was the butterfly ray... so guess what we saw the day after he left! Andy was delighted with the diving, and the clarity of the water to allow him to get some great shots. You can visit his website and browse through his collection of
shark photographs.
Finally this week, we were just about to close the shop when the local police turned up. As part of the new regulations for dive centres they have now started a series of visits and inspections which aim to shut down any dive centre in Gran Canaria which does not comply with the
new laws on diving centres in the Canaries.
Fortunately all our paperwork was fine and we had a good chat with the officers, who said that all the un-licensed centres should be expecting a knock on their door in the next few weeks, and if they have not got their papers, the illegal centres will be shut down.
Brian
Sunday, June 08, 2008 at 22:19:23 (BST)
---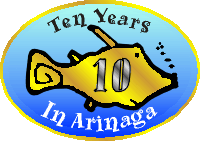 We are celebrating again! This time it is the tenth birthday of Davy Jones Diving being based in Arinaga! To celebrate we have a special Birthday offer for pre-booked divers in June -
Dive at 1998 prices!
Use our contact form to find out what that means to you, but remember.. it only applies to June!
Brian
Friday, May 23, 2008 at 22:45:33 (BST)
---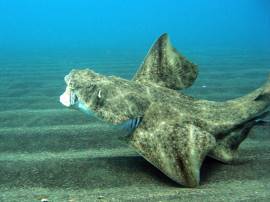 As with previous years, the middle of May has proved to give some of the best conditions of the year. This week has been really calm and we have been rewarded with almost daily sightings of angel sharks, normally so docile and afraid of us that we can get really close. Until yesterday when one was unusually spooked, and became far more aggressive than normal, before turning back and giving me a warning 'bump' on the leg! I think this is the first actual 'contact' that we have had in the ten years that the diving school has been open in Arinaga! I was a bit concerned for my student when the angel shark gave up on me and circled him before swimming away, but he loved it (not bad for a second open water dive he said!). We can't provide this level of entertainment ever day but we do say that the marine reserve is always full of surprises, which keeps it's reputation up as the best diving site in Gran Canaria!
Brian
Saturday, May 17, 2008 at 00:03:55 (BST)
---
We are starting a long term process to update our web pages to a new, cleaner, look, with better navigation and improved photos. While we do this you may find a variety of page styles, and some minor errors in displays. We have also tested most pages in Internet Explorer 7, but older versions, and users of Firefox may get some minor errors with the loading of pages. Please bear with us, let us know if you find any sentances that suddenly end, or links that don't work, and we'll get all the little niggles sorted out as soon as we can.
Brian
Thursday, April 10, 2008 at 22:44:22 (BST)
---
This week should have been one for celebration, as we finally recived our written authorisation as an authorised diving centre from the Gobierno de Canarias (Canarian Government). Sadly the loss of a close relative has meant that our thoughts and activities have been directed elsewhere. However looking forward our customers can expect to experience the high safety standards required by this new law, and enjoy some of the best diving in Gran Canaria whenever they choose to dive with us in Arinaga.
Brian
Friday, April 04, 2008 at 22:58:52 (BST)
---
---
Well, we finally had our dive centre inspection by the Canarian Authorities this week to finally confirm our status as a legal dive centre. This process has now taken nearly 2 years (we have been waiting for 14 months for the inspector to come!) but now that they have inspected us (and about 10 other professional dive centres in Gran Canaria) they are going to start closing down some of the 'pirates' and un-registered dive centres across the whole of the Canaries. If you find a dive centre offering really cheap prices now, it means they are failing to invest in customer safety and security, or operating without a proper legal dive centre as a base. Our tip is ask them to confirm the status of their recent inspection - If it was not 'favourable' then forget them, or dive with them at your own risk.
Brian
Sunday, February 24, 2008 at 10:00:56 (GMT)
---
Wow, Five Angelsharks today! This week we have seen them every day, and the special bonus of a scrawled filefish hanging about. This February has been the best for several years for diving: Water temperatures are slightly up on the last two years, and the air temperatures have been a lot warmer, with less wind, so you feel less chilled after your dive. Glad to see Dive Magazine rating Gran Canaria as a great place for Winter Diving in their latest edition.
Brian
Friday, February 15, 2008 at 18:50:32 (GMT)
---
We are now on SKYPE! If you have SKYPE then you can call us now free of charge to discuss and plan your diving, completely free of charge! We have set the system up to divert to home out of office hours as well, so don't hesitate to call us (free) and discuss your diving options. Our User id is 'davyjonesdiving' and we will shortly add a link to all the contact blocks and pages.
Brian
Sunday, January 20, 2008 at 19:08:41 (GMT)
---
We had a great day today, first day of diving in 2008. Conditions here are really great, and to start the year we found a Harlequin Crab! Eduardo has been diving here for years and it was his first sighting in 5000 dives. Last year we had two reported sightings (one with a picture) which we followed up by finding two empty carapaces, but they are small, mainly nocturnal, and highly camouflaged so easy to overlook. We have also seen an angelshark again today and visibility is excellent.
Brian
Wednesday, January 02, 2008 at 17:08:07 (GMT)
---
Simon's article and photos have now been published in the January 2007 edition of BSAC Dive.. and they show the variety and scale of diving now here in Gran Canaria. From the picture on the front of a shoal of grunts, through the stunning shots of the Arona and Kalais, to the detailed shots in El Cabrón and Sardina, Simon shows that Gran Canaria really does have world class diving.
Brian
Thursday, December 20, 2007 at 12:05:32 (GMT)
---
For the last ten days we have been hosting Simon Rogerson, the editor of BSAC Dive magazine, and showing him just how good diving in Gran Canaria can be. He has photographed and dived all the top sites including the marine Reserve in Arinaga, the wrecks of Las Palmas, la Catedral, Sardina del Norte and the South West of the Island. Look out for his review in the January edition of
BSAC Dive
, and see some of the amazing photos he has taken. When I get over my photo jealosy (well he did have a big Nikon D200 in a pro housing) I will create a new album in the photo gallery for you to enjoy the shots.
Brian
Friday, October 26, 2007 at 10:57:28 (BST)
---
This Autumn we are celebrating five years since we took over Davy Jones Diving. We have made a lot of changes in that time, but the diving still remains excellent. This autumn we have been rewarded with nearly six weeks of excellent conditions. Sadly for us all however, Annette has decided that she wants to take her career in a different direction, and so has moved back to the UK.
Brian
Thursday, October 18, 2007 at 08:53:49 (BST)
---
September has so far been an excellent month for diving here .. the water is up to 23C, the conditions have been nice and calm, and we have been seeing lots of rays .. three today, and once again a small turtle was spotted, although this time it immediately took flight. Last week at Sardina del Norte we saw six manta rays, and are planning more excursions around the island in the next few weeks.
Brian
Monday, September 17, 2007 at 18:57:17 (BST)
---
It's Fiesta time in Arinaga, and tonight is the big parade along the promenade. The town is already packed and everyone is wearing the traditional dress - White shirt or top, blue jeans to the knee. They are barbecueing fresh sardines all along the beach and by midnight when they start the fireworks you won't be able to move on the prom! No night dives tonight (well, you have to party when you can ...)
Brian
Friday, August 31, 2007 at 19:09:28 (BST)
---
Our new daily feed has gone live! We now have a unique, daily report on conditions for diving in the Arinaga Marine Reserve. On the left of the English homepage you will find the report and thumbnail, with more details on the
weather
page.
Brian
Saturday, August 25, 2007 at 16:01:40 (BST)
---
We have just received our first copy of the new book,"Descubre Gran Canaria bajo el Mar" (Discover Gran Canaria beneath the sea) and it is excellent. You can see our review on the 'Books' page in the 'El Cabrón' section.
Brian
Friday, August 24, 2007 at 18:26:57 (BST)
---
We have waited two years to find them then two come along at once. Yes we have discovered two Seahorses within the space of a week! We have now seen both twice and hope to show suitably qualified divers these little gems over the coming months on a regular basis. Latest photo will be added to the recent photos file.
Brian
Saturday, August 18, 2007 at 19:16:52 (BST)
---
Our reputation as the most knowledgeable dive centre in the Arinaga area has taken another step up. The Spanish diving magazine, Buceo XXI came to us when they wanted to write an article on the El Cabrón marine reserve, and ended up using our photos and our website material, translated into Spanish, for their article. The resulting page can be seen in the July edition of Buceo XXI.
Brian
Thursday, August 16, 2007 at 18:04:24 (BST)
---
Many of you will have seen the news footage about the terrible forest fires raging in Gran Canaria and Tenerife at present. We wanted all our friends to know that we are all perfectly safe here, about 40km from the fires, which are in the mountains in the centre. A few 'rural' tourists have been evacuated, but all of the big tourist resorts (Playa del Ingles, Maspalomas, Puerto Rico and Arguineguin) are unaffected and there are no restrictions on either our diving, or most other tourist activities. They are now getting the fire under control so hopefully everything else will be back to normal in the next week.
Brian
Wednesday, August 01, 2007 at 16:29:14 (BST)
---
We found the turtle again! This time with a camera so we can see from the photos it appears to be a fairly old Green Turtle. Look in the 'recent photos' section of the photo gallery on the left!
Brian
Thursday, July 26, 2007 at 17:09:44 (BST)
---
We went to Sardina del Norte for a change today. It´s an hour by car from here but we were rewarded by finding a Seahorse, and five Angelsharks! At this time of year Sardina seems to become a mecca for Angelsharks, and other divers have recently reported up to 40 on one dive! The Universtity is carrying out research into this behaviour, and we continue to contribute our sightings here in El Cabrón.
Brian
Saturday, July 21, 2007 at 14:41:37 (BST)
---
Wow -what a great day's diving. The weather forecast was not so good today so we were almost alone diving here .. and we found our first ever Turtle on the Table Top .. followed by the biggest Eagle Ray we have ever seen .. while up at Punta de la Sal we saw Dusky Grouper, Tuna, another smaller eagle ray, and came to one area with visibility of betwwen 20 and 30 metres. In the afternoon we also saw Triggerfish, Barracuda, and a tiny baby ray in the bay. Everyone thoroughly enjoyed themselves and had plenty to talk about..
Brian
Friday, July 20, 2007 at 08:52:12 (BST)
---
We have a new minibus! Yes, a brand new, air-conditioned, spacious mini-bus to improve your comfort when we pick you up to come diving in the Arinaga marine reserve. While we have never had any safety issues with our current vehicles this is engineered to higher (current) safety standards and includes three-point seat belts for all passengers among other improvements. So now we not only offer you the best diving on Gran Canaria, but we also have one of the best pick-up and transfer services to our dive centre as well.
Brian
Wednesday, July 11, 2007 at 22:13:18 (BST)
---
Conditions are spectacular this week! Visibility is above average, very low currents, temperatures 20-21 and being spring, lots of life about. Huge shoals of sprats, sardines and tiny spawn; Stingrays have been seen several times and the odd angelshark can still be seen.
Brian
Monday, June 11, 2007 at 22:52:25 (BST)
---
Spring is definitely here. There are millions of sardines and bogas in the reserve, flashing in the sunlight and attracting various predators. After a month's absence angelsharks have reappeared in both deep and shallow water, and we saw a Trachinus radiatus (Giant weeverfish) in shallow water yesterday. It is also getting warmer .. 21ºC now!
Brian
Sunday, May 20, 2007 at 18:07:52 (BST)
---
It's Butterfly week! On Tuesday we saw two butterfly rays and yesterday another one in a different area. We have also seen several angelsharks. The weather is really hot (up to 38ºC on the land) as we have a Kalima blowing in from Africa; so get in the water now, chill out and enjoy! Also this week, our cumulative website pageloads crept over a quarter of a million!
Brian
Thursday, May 10, 2007 at 12:26:19 (BST)
---
We have had some excellent dives over Easter! The weather has been really calm, so the visibility is really good, and the Triggerfish have been spotted several times. Unfortunately after a storm we have only seen one angelshark. Water temperatures are climbing over 20C and the marine reserve here is certainly the best place to dive on the island at present.
Brian
Wednesday, April 18, 2007 at 09:23:39 (BST)
---
Ed showed his talents as a shark wrangler last week by rescuing no less than three angelsharks and one ray from some illegal fishing nets in the reserve. The net had been left in the bay in an area we do not normally dive, and had ensnared a total of three sharks, and one anomalous ray, possibly a rare deep water type. Fortunately Ed was able to release them all without serious injury to either them or him.
Brian
Friday, March 23, 2007 at 15:53:58 (GMT)
---
We have just got back from a holiday in the Red Sea and Ed and Annette tell us that while we were away they saw a really friendly Butterfly Ray, a manta ray at Sardina del Norte and Dolphins frolicking in the Bay! We have a Kalima here so temperatures in Gran Canaria are even 2C warmer then in Egypt! Still we had a nice break and have returned refreshed.
Brian
Wednesday, February 14, 2007 at 19:00:48 (GMT)
---
Diving conditions have remained great this week, water temperature about 1-2C warmer than this time last year, and having found a Spiny Pufferfish last week we have been surprised with a beautiful Harlequin Crab this week.
Brian
Saturday, January 20, 2007 at 15:10:02 (GMT)
---
We have had some really nice diving over Christmas, and conditions have remained calm into January. Unfortunately a storm in early December took away the Christmas tree, but there is a lot about at the moment -we have seen Angelsharks every day since new year in several different areas; A cape lobster last week and today a spiny pufferfish right in the middle of the Reserve. It´s nice and quiet now, in winter we have small groups but we also have some
special offers
to fill up our quiet days a little.
Brian
Wednesday, January 10, 2007 at 15:03:33 (GMT)
---
Christmas is here .. The annual return of the Christmas Tree to the reserve took place yesterday, so it's time for us to put on silly Santa hats when we dive! We will put our own Nativity Scene in place over the next few days as well.
Brian
Thursday, December 07, 2006 at 18:44:49 (GMT)
---
November was a funny month here. Temperatures above and below the surface have been above average .. air about 30C and water 22C... but early in the month visibility was down after a big thunderstorm. Still conditions have cleared again and with the clearer water both Angelshark and Pygmy filefish have returned as normal for winter. We did one dive last week and saw 7 stingrays, so the prospects for Xmas are excellent.
Brian
Monday, December 04, 2006 at 11:32:13 (GMT)
---
Finally .. after months of delays .. our new compressor is online! The 3-phase was finally connected, and the new system is all plumbed in and running. It may be the end of one season but come Christmas and Easter and it will help us turn around tanks much faster and more effectively.
Brian
Tuesday, November 07, 2006 at 22:28:20 (GMT)
---
Our family of Triggerfish seem to have dispersed from Punta de la Sal and over the last few weeks have been seen singly in various places. One seems to have moved to the Bay where we have seen him several times at between 6 and 15m. He is a great new addition to our 'daycourse route' as he is inquisitive enough to come and inspect all the divers in his area.
Brian
Thursday, October 26, 2006 at 17:13:04 (BST)
---
Wow, great diving conditions at present, calm seas, good viz, lots of life. Last week other divers saw both a Manta Ray and a Frogfish in the reserve, we had an excellent night dive and saw squid, stingray, forkbeard, octopus, morays and lots more. In the dive centre we nearly got 3-phase last week, but the man only had the papers to put the new supply in, not to remove the old single-phase supply. More papers, another delay... good job our old trusty Bauer keeps on running and compressing the air for us.
Brian
Monday, October 16, 2006 at 15:46:54 (BST)
---
It must be Stingray week! Over the last few days we have seen lots .. two eagle rays swimming together in Punta de la Sal, A rare sighting of a rough-tailed ray, and on Sunday on a 'private' dive Ed and I saw an enormous common ray .. very old and big, plus several 'normal' round rays and eagle rays, and an Angelshark. We also found the mythical 'campo de Gorgonias' which includes many more examples of Gerardia Savaglia than the single specimen normally seen and photographed on Punta de la Sal. There is unfortunately no easy way to get to this zone so it will remain an 'extreme dive' and you'll just have to enjoy the pictures.
Brian
Tuesday, October 10, 2006 at 00:24:53 (BST)
---
Phew! it's the start of October and the temperature has shot up! 40C in Playa del Ingles today and about 33 here in Arinaga. It is due to last a few days... jump in the water its real cool there.Nice to see several divers from HMS Albion this weekend, here in Las Palmas for a few days for a planned visit.
Brian
Tuesday, October 03, 2006 at 18:49:51 (BST)
---
This week should have been when we got the 3-phase connected.. but we are waiting still and our new compressors sits again idle on the floor... On Tuesday we submitted our Emergency Plans to the local government as part of our registration papers, only to test it in earnest on wednesday when a diver slipped in the dive centre and dislocated his shoulder (ouch!). Our new medical partner worked perfectly, and within 90 minutes he had been taken to hospital by ambulance, examined by an english speaking doctor, strapped up and released. Please.. no more bare feet on our slippy floors!
Brian
Friday, September 29, 2006 at 16:06:58 (BST)
---
Wow, diving conditions today are great! After a couple of days with strong waves it has dropped flat calm. We swam all around the Table Top from the Hole in the Wall, and it was wall to wall fish. We started with a cuttlefish in 0.5m of water, and saw stingray, morays, barracuda, trumpetfish, octopus, a stargazer, and thousands of smaller stuff. Loads of sardines/bogas about, the shoal of grunts was huge and plenty of damselfish, wrassse and bream. A lovely glide through the reserve for a Sunday morning dive.
Brian
Sunday, September 24, 2006 at 12:24:39 (BST)
---
We have just been for a nice dive in the bay and found a Unicornfish! We have only seen two this year and there it was in 14m just outside the second cave! To cap it a big barracuda and a couple of Medregel swam past as well. Great second dive.
Brian
Thursday, September 21, 2006 at 08:49:58 (BST)
---
Discover more secrets of the best diving in Gran Canaria