Diving in Gran Canaria

Coming to Gran Canaria, and looking for the best places for scuba diving? Then don't miss the world famous "El Cabrón" or Arinaga Marine Reserve. The combination of warm subtropical waters, beautiful underwater scenery and abundant and varied marine life have made this the most popular dive site on Gran Canaria, and our PADI 5-Star Dive Centre at Casa Limon is right next to it. You can join other experienced scuba divers here all year round and we are always finding amazing creatures, with angel sharks, nudibranches and rays in winter and spring, sea-horses and triggerfish in summer and big shoals all year round.
When you explore Gran Canaria's hot-spot of marine life with us, you will be amazed by the diversity and quantity of marine life, and you might encounter anything from sleepy angel sharks and butterfly rays, through bright red glass-eyes and parrotfish or shimmering shoals of roncadors, down to secretive seahorses, beautiful coloured nudibrachs and even the occasional turtle. Our mature multi-lingual instructors know the best sites in Gran Canaria for diving, and you can rely on their expert local knowledge all year round to show you the hidden secrets and 'special places' in the El Cabrón Marine Reserve.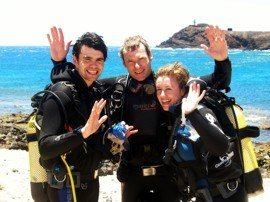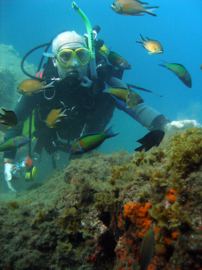 "Best Diving in Gran Canaria" - Dive Magazine
"Best place to dive is at El Cabrón" - AA Pocket Guide
"One of the most spectacular sites in the Canary Islands"
- Diving in Canaries (Sergio Hanquet)
The Gando-Arinaga area is one of the richest in fish species of the Canary Islands. (BIOGES - University of Las Palmas)
El Cabrón is one of the best zones for scuba diving in Gran Canaria (El País newspaper March 2018)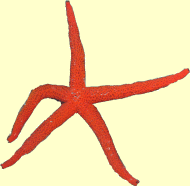 Certificate of Excellence
2017
2014-2017
"Topspot - De unieke duikplaatsen in het natuurpark voor Arinaga"
Duiken Magazine
"La variada y confiada fauna, junto a un fácil accesso, han hecho de esta zona la más visitada de Gran Canaria"Guía de Buceo España
Listed as a Site of Special Scientific Interest by the European Union since 28/12/2001.
Awarded not one, but two PADI Certificates of Excellence.
TripAdvisor Certificates of Excellence for 2014, 2015, 2016 and 2017.
Dive and explore Gran Canaria's favourite divesite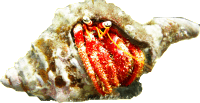 We are the closest PADI 5 Star Diving Centre to this amazing high-energy divesite, and our expert professional instructors know the highlights, the sights and the secrets better than anyone else. Our team is mature, speak English, Spanish, German, Dutch and Italian, and we have three PADI Elite Instructors.Our Dive Centre in Casa Limon has some of the best facilities in the Canaries, including a large private garden to relax in between your dives. With our reputation, facilities and experienced multi-lingual staff it is little wonder we are one of the three most popular PADI 5-star Dive Centres on Gran Canaria and we offer a great dive experience for everyone from complete beginners up to experienced scuba divers. We are a family friendly diving centre where your safety is highly important, as is making sure you enjoy Gran Canaria's best diving site.
The first time you dive in the subtropical waters around Gran Canaria you will be amazed not only by the huge shoals of fish but also the variety of colours and species, from minute hermit crabs and vivid damselfish up to intriguing but critically endangered species including angel sharks. The relatively low levels of sea urchins, and good plankton production, means that this area still has thriving habitats and good biodiversity compared to many of the other dive sites in the Canaries.
Typical Diving Conditions
This short video taken while diving Gran Canaria in November 2017 will give a good idea of typical visibility and conditions. Below are some typical highlights. See other diving videos on our YouTube Channel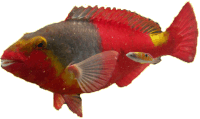 To plan your scuba diving in Gran Canaria, select your language at the top of the page, or flip through our pages - Our team speak English, German, Spanish, Dutch and Italian, so our website has over 200 pages in six languages and is full of information to help you discover why the El Cabrón Marine Reserve is rated as one of the top dive sites in Gran Canaria and the Canary Islands!
PADI Open Water and other diving courses

We are one of the top ten PADI Five Star Dive Centres in the Canaries, and already hold two PADI Certificates of Excellence. Our PADI Elite Instructors are mainly at the senior MSDT level, and fluent in English, German, Spanish, Dutch and Italian, and you can pick from the complete list of all our PADI courses including our highly rated PADI Open Water Course or our Introductory try-dive experience for beginners, pages on snorkelling in the Arinaga area, and don't miss more challenging courses such as the PADI Advanced Open Water Course!
5
stars -
"Perfect guided dives in the El Cabron Marine Reserve"
Mr boyfriend and I are both Advanced Open Water divers, and as soon as our credentials and insurance were checked (as it should be!) we were off on 10 awesome and varied dives on the marine reserve and also in the north of the island in Sardina. As we are experienced in diving around the world, it was fantastic to know how safe and knowledgeable the team were - especially Ed and Brett! We really could not have asked for more. I highly recommend Davy Jones for their professionalism, experience and friendliness. I would most certainly return!
2016-07-12
Beth J
Published by

Tripadvisor.co.uk

See full review
Wir Sprechen
Deutsch  

Unser Tauchzentrum liegt mitten am weltberühmten Meeresschutzgebeit 'El Cabrón' in Arinaga, wo unsere Gäste täglich von der Artenvielfalt und dem Fischreichtum aufs neue überrascht werden. Wir zeigen Ihnen die schönsten Orte der Insel zum tauchen mit bezaubernden Riffen und einer wunderbaren Meeresfauna....mehr seiten

Hablamos
Español  

Nuestra escuela de buceo esta en el mas famoso lugar: La Reserva Marina del Cabrón; y cada dia nuestros clientes sorprenden con la gran variedad y cantidad de vida marina que hay en la reserva. Te llevamos al mejor lugar de submarinismo en la isla, con los mas bonitos arrecifes y vida marina. ...mas paginas