Scuba Diving Refresher Courses in the Canary Islands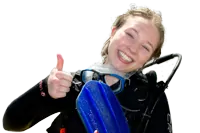 If you have not been diving for some time (for example because of the COVID pandemic) then it is quite easy to refresh your skills and once more start exploring the underwater world confidently. You can get back that feeling of having 'special powers' to swim and breathe underwater, and see again curious creatures such as cuttlefish, seahorses, moray eels or octopus.
Three easy steps to refresh your Scuba Diving Skills
First, find your diving manual and read through the chapter on the basics -breathing, finning, buoyancy control and clearing water.
Second, make sure you are fit again! Scuba equipment is heavy so do some basic fitness and stretching exercises.
Third, take a resfresher dive or course with a PADI dive centre and regain your confidence and skills.
Then rebuild your skills progressively and start enjoying your dives again.
5
Stars -
"Very refreshing!"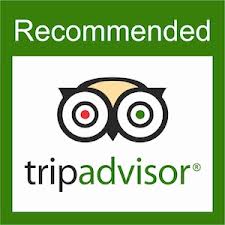 Very much recommended if, like us, you haven't dived for a long time - we were hugely grateful to Peter for gently leading us on two fantastic refresher dives. We were a bit nervous beforehand but he made us feel totally comfortable under the waves. Thanks also to Brian and the team for the logistics, including picking us up at our hotel and welcoming us at Casa Limón in Arinaga. As for the sealife in Gran Canaria, we got to see a really good variety, including trumpetfish, octopus and cuttlefish, so the marine reserve at El Cabrón didn't disappoint.
2022-02-03
Dream801571
Published by

Tripadviser.com

See full review
How to get back in the water
This is a one day course for anybody who has not dived for some time, and who wants to practice their skills before tackling more adventurous dives. It takes place in the safety of the El Cabrón Marine Reserve and under the watchful eye of your PADI instructor. You do one dive where you refresh the basic skills, then get some feedback, then a second dive where we explore a sheltered part of the el Cabrón Marine Reserve with you.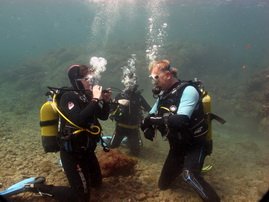 Who can take this course?
Anyone who has a recognised diving qualification at any level, from any training agency (e.g. PADI, BSAC, CMAS, SSI, NAUI) can take this course. The basic skills of breathing underwater, buoyancy control, finning, signals, and use of your regulator are common to all agencies. The teaching ratio is normally one to one.
As with all diving activities in Spain you must complete the WRSTC self-assessment medical form.
Please note that if you have recently suffered from a COVID-19 infection, you are advised to wait 3-4 weeks before you start diving again.
Skills covered
The content will vary to cover the areas which you feel you need to practice. We normally cover basic skills, including equipment assembly, breathing and equalisation, mask clearing, regulator clearing and recovery, buoyancy control and finning; although any other skills can be easily included in the course.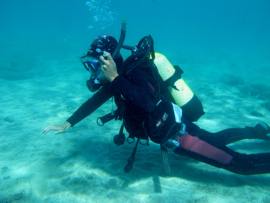 Duration and Logistics
We start this course at 09.30 in our dive centre in Arinaga. We normally finish around 2.00-2.30pm. Pick-ups can be arranged from either the South of Gran Canaria (e.g. Maspalomas, Meloneras, Playa del Ingles) or from Las Palmas.
Keeping you safe
Safety is part of our culture, and is part of everything we do. By assessing all the risks carefully we have planned safety into each step of your course, and a large part of the course is teaching you how to be safe when you dive. There are many aspects to keeping you safe, from the equipment we use, through the low ratios of instructor to students, to the use of a very safe area for the training which has plenty of marine life to thrill any beginner, and you will recognise these as you progress through the course. If you have any concerns about safety then please do not hesitate to voice them, and we will be delighted to explain how we keep our accident rate so minimal.
What Next ?
Build your confidence by joining our instructors on guided dives within the marine reserve or taking the next step in your diver training programme.
What will it cost?
The price of doing a refresher here in the marine reserve at El Cabrón is €75 per person for one dive, or €125 per person for two dives in one day (both prices inclusive of equipment hire).
How to reserve your Refresher Course
Discover more secrets of the best diving in Gran Canaria