Which are the Best Dive Sites in Gran Canaria for you?
Gran Canaria has many of the 'best' and most interesting dive sites in the Canary Islands, as it is the most southerly of the main islands. The warm subtropical waters of the Gulf Stream mean that you can dive in Gran Canaria all year round, and see an impressive mixture of sub-tropical and temperate fish and marine life.
Dramatic volcanic scenery has created caves cliffs and arches in some areas, and you might see big fish such as sharks and rays, and a wide range of colourful fish make it one of Europe's most popular diving destinations.
But which are the best sites for you? The best dive for a very experienced diver may not be the best dive for somebody who has only just completed their training course, or has not dived for a bit. We think that too many of the centres advertising the 'Best' dives are only promoting their local favourites, without offering a range of great dives to suit different needs and experiences.
There are three questions you need to answer to help you find 'the best for you':
Where do you want to stay in Gran Canaria? Each tourist zone has some local dive areas which are easy to get to.
Your level of diving experience, do you want an easy beginners dive or something more challenging?
What sort of experience do you want - one day or a week ? reef or wreck?, boat or shore dives?, long or short dives ?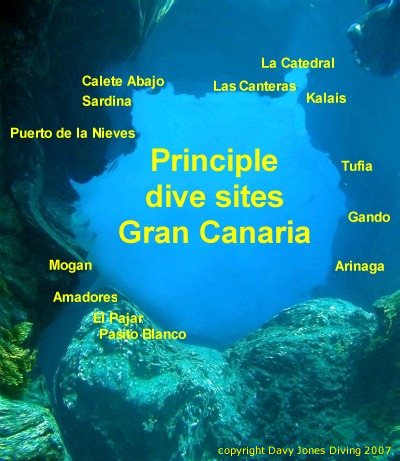 Where to stay on Gran Canaria for great dives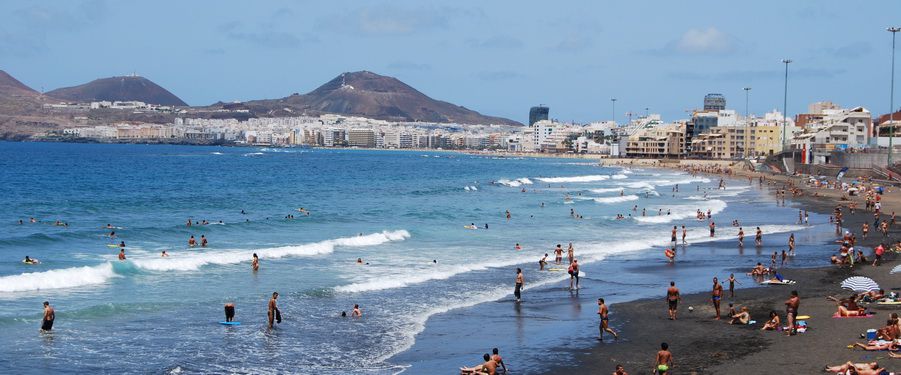 Gran Canaria is a small island, about the same size as Greater London; but it can still take several hours to drive from one side of the Island to the other. If you take two extremes, the drive from Puerto Mogan in the tourist zone of the South West to the City of Las Palmas in the North East can take almost two hours.
If you already have your hotel booked.. the best dives for you will be within a drive of 30-40 minutes of your hotel, otherwise you will spend more time driving round the motorway than actually diving. You can choose some likely sites in the next section.
If you are getting ready to book your holiday near your preferred dive site then keep reading and work out what it is you want in your dive to make it special for you. In general the best places to stay are in Maspalomas / Meloneras / San Agustin in the South as then you can easily dive either the East or the West Coast; and in Las Palmas in the North as from there you can dive on the North or East coast. Popular diving destinations such as Arinaga, Sardina del Norte and Las Palmas have less choice of hotels but there are plenty of apartments available on AirBnB or Booking.com.
Also check if the dive centre you want to use offers a free pick-up service in your area, as some do not. Parking can also be difficult at some of the dive centres in towns or ports
What is your level of diving experience?
Every diver has a different skill and experience level. So to get the 'best for you' you need to be realistic and choose a site with several options at your level.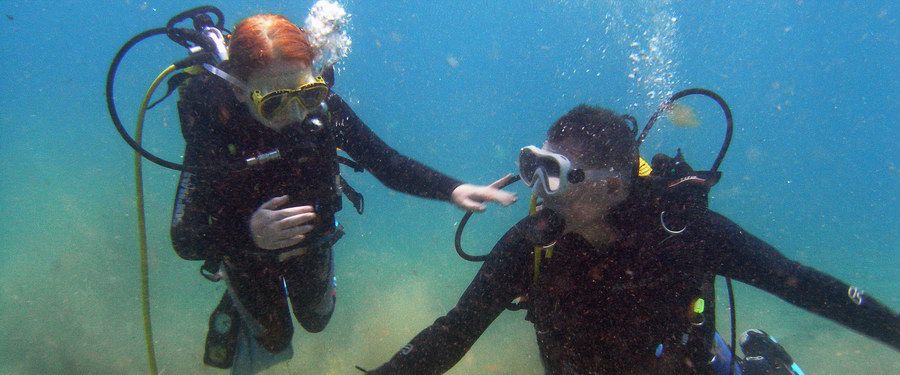 Shallow sites, 12m or under for Day-courses, PADI courses, beginners, juniors or dives to 12m (eg PADI SCUBA Diver).
The best sites for this level are almost all shore dives. Most boat operators do a 20m dive in the morning and only offer a shallow dive as the second dive of the day. If you want to dive twice a day to shallow depths(<14m) check with the operators for a suitable schedule. There are no wreck diving options at this depth.
Best of the North: Sardina del Norte, Playa de Las Canteras
Best of the East: Taliarte, Tufia, Arinaga (Best dives at Risco Verde, Playa del Cabrón, upper parts of Table Top, Cal Steps, Zoco el Negro)
Best of the South West: Arguineguine Beach, Anfi Beach, Bahia Blanca, Amadores, Playa Taurito, Playa Mogan

PADI Open Water, CMAS 1* or equivalent, dives to 20m
This is the main diving depth around the island, so there are plenty of great diving options in the 16-22m depth range which will suit the majority of divers. You have options of diving from shore or from boat, and there are a couple of small wreck dives, and reef dives where you can explore caves and arches. Overall these dives are some of the best options for most divers as they are available daily, and many have amazing shoals of fish, and varied marine life.
There are so many options in this category that we have listed here just some of the best dives by location.
Best of the North: Sardina del Norte (the Pier and Caleta del Abajo)
Best of the East: Tufia
Best of Arinaga (El Cabrón) : Los Roncadores, Arco Pequeño, Hole in the Wall, Punta de la Monja, Triggerfish, Cueva Grande, Cal Steps
Best of the South West: Pasito Blanco Natural reef, Pasito Blanco Artificial reef, Arguineguine Reef, Cermona II and Pecio Viejo wrecks, Meteor wreck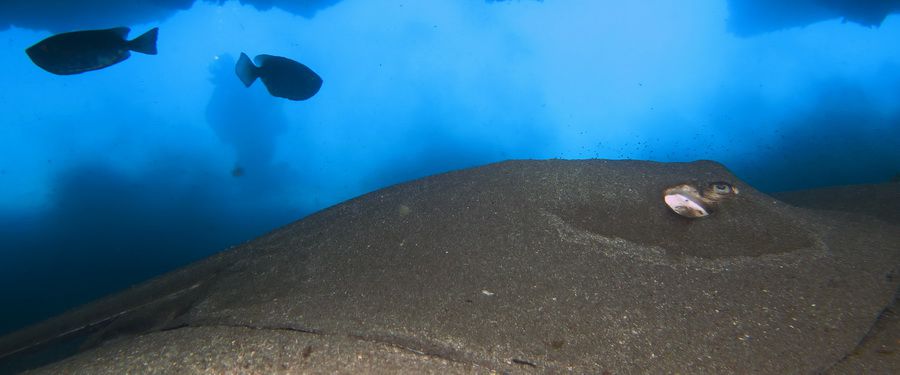 PADI Advanced Open Water or equivalent, dives to 30-35m
Diving to depths of 25m-40m is more limited, both by sites and by schedule. There are some spectacular dives to this depth but only in Arinaga and Las Palmas do they get dived more than once or twice a week. If you want to dive specific sites (eg La Cathedral, Arona, Bluebird) then check with your operator as they may only be available on certain dates. Access to some of the offshore sites is more weather dependant
Best of the North near Las Palmas : La Catedral, wreck dives including Arona, Frigorifica, Angelo Pando (check schedule with dive operators)
Best 30m dives in Arinaga (El Cabrón) : Punta de la Sal (the Gorgonia), Punta de la Sal (the Kitchen)
Best deep in the South-West : The Bluebird, Como Tu (check schedule with dive operators).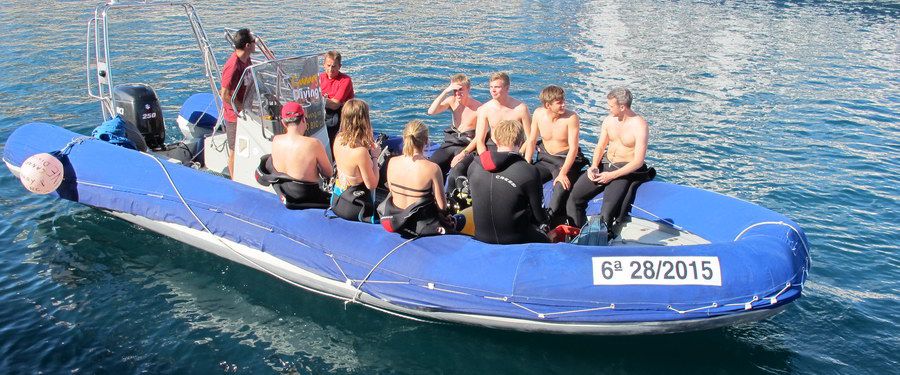 Wreck Diving
The best place for wreck diving in Gran Canaria is undoubtedly just outside the capital, Las Palmas. Here there are several big wrecks including the Arona, Frigorifico, Angelo Pando, Little Kalais, Ifafa, Kinder. These are mainly in the 30-40m depth to the sea bed and suitable for more advanced divers.
In the South West the wreck of the Cermona II is at a comfortable recreational depth of 18-20m and is suitable for all divers from Open Water. The Meteor (hydrofoil) is further south and more broken up.
There are several 'ghost' wrecks including the Alfonso XII, the Plascencia, the Zoro 33 which are not served by any port with a dive boat. There are also some deeper wrecks in the South which only get visited by local divers with their own boats. Diving on the Kalais is now prohibited as it is in the entrance of the new port. None of the recreational dive centres offer trips to these wrecks, but they still appear in some older publicity material produced by the local authorities.
Technical Diving and Rebreathers
Technical diving using mixed gas or rebreathers is not well developed on Gran Canaria. If you want to do this sort of diving you will need to be based in Las Palmas and discuss your plans or objectives well in advance with your dive centre to identify suitable dives and schedules for this.
Why is El Cabrón regarded as one of the best sites?
The ZEC (Zona Especial de Conservacion) or Arinaga Marine Reserve on the East Coast, known better as 'El Cabrón'. The three main reasons for the popularity of El Cabrón are:
There are over ten routes, so there is plenty of variety and different options for different skill levels.
This area has the most stunning underwater scenery, and is the only easily accessible dive site with arches, and caves to explore
It is a marine-life hot-spot with a huge biodiversity - there are big shoals of bream, roncadors, bogas, damselfish and you can see a wide range from small nudibranchii up to angel sharks, barracudas and rays.
This is listed as 'the best dive site' for diving in Gran Canaria by the Gobierno de Canarias on the official
Hello Canary Islands website
.

The great thing about el Cabrón is that it has
ten of the best dives
on the Island all in one area, and many of these can be adapted easily to different skill levels with slightly shorter or longer routes. More experienced diver always love exploring the caves here or descending to the Gorgonia at 30m, or taking a long slow drift from one side of the reserve to the other. Due to it's location it has not suffered from overfishing, and has the highest bio-diversity on the island, attracting almost the complete range of Canarian marine life from minature lobsters up to angel sharks, butterfly rays and bull rays. Arinaga is also famous for some of the stranger creatures which turn up including a crockodile eel, sergeant majors and surgeonfish from the West African coast and soldierfish from the Caribbean.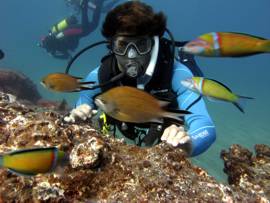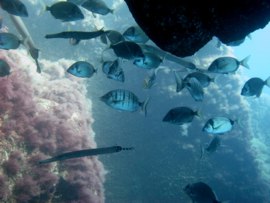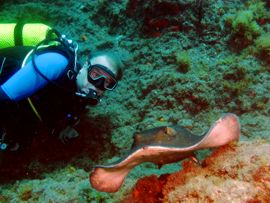 You can join us to explore this fabulous dive location almost every day, and learn more from our knowledgeable and experienced instructors about this fabulous dive site and the marine life you can see here.
We are the closest PADI 5-star Dive Centre to this spectacular Marine Reserve.
We dive from our centre throughout the year in waters warmed by the gulf stream and our sunny weather.
Just 20 minutes from the main tourist centres of Playa del Ingles, Maspalomas, Meloneras and only forty minutes from Puerto Rico.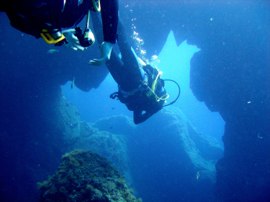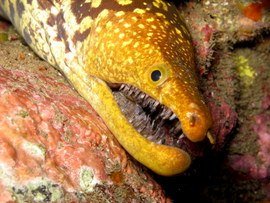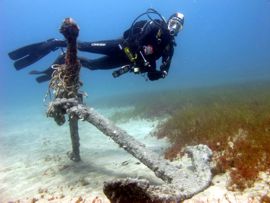 Despite the beauty and colour under the water the reserve itself is at the end of a dusty 'off-road' track with no visitor facilities at all (no toilets, no water, no cafes nothing). The best dives bottom out at around 22m, and are 'multi-level' which means that if you are careful with your air you can get non-stop dives of 40+ minutes. There is a separate page If you want more in-depth information about the dive sites in the Arinaga marine reserve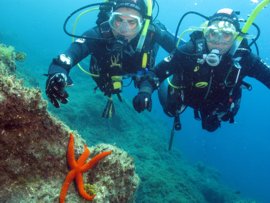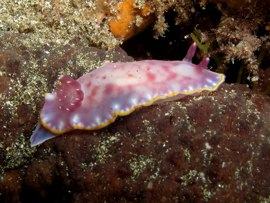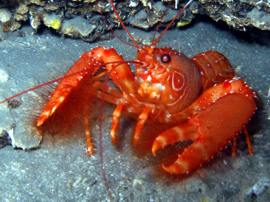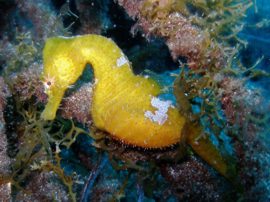 5
stars -
"Three great days diving El Cabron Reserve"
Just finished 3 days diving with these guys & would highly recommend for beginners or qualified divers. I chose Davy Jones after Internet research & consulting Trip Advisor reports. Arrangements before arrival were perfect & I was picked up on time on my first day. After completing paperwork & logbook checks...
2016-06-04
Bryan T
Published by

Tripadvisor.co.uk

See full review
Discover more secrets of the best diving in Gran Canaria