Thank You!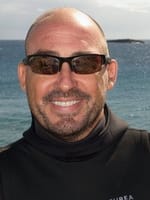 An e-mail with your questions about scuba diving in Gran Canaria in the El Cabrón marine reserve has been sent directly to me and I will try to get back to you as soon as possible.


Please check the e-mail address is correct. A copy has been sent to the email address, If you do not receive a copy please check the notes below and contact us again.


To prevent and track abuse and spam your IP address has been recorded.


Data Protection: Your email contains 'personal information' so will be held and processed in line with our data protection policies (see below for statutory notice in Spanish).
IMPORTANT
Please check you have entered the correct e-mail address. If it is wrong, press <BACK> in your browser, and re-send the enquiry.
Gmail, Googlemail, Hotmail, YAHOO, AOL, Btinternet and some other mail services may either 'block' or put our reply in a 'bulkmail' or 'spam' box, as our address was at one stage hijacked and used unscrupulously by spammers. To prevent this please add our email address (divenow@davyjonesdiving.com) to your 'whitelist' / trusted list / approved address list, so that you get our response about scuba diving with our dive centre in Gran Canaria without any delay.
If you don't get a reply within 24 hours then please re-send your request along with an alternative email address or a ringback number, so that we can try to contact you via different servers
Official Spanish privacy notice
Davy Jones Diving en adelante la empresa cumple con la legislación en materia de protección de datos de carácter personal. De acuerdo a lo establecido en la Ley Orgánica 15/1999 de Protección de Datos de Carácter Personal, le informamos que disponemos de su dirección de correo electrónico ha sido incorporada al fichero de CLIENTES y/o MARKETING. Como titular de dichos ficheros automatizados de datos de carácter personal, la empresa utilizará estos datos con la finalidad de mantener y gestionar los servicios contratados por el usuario, así como para informarles de las actividades, productos y servicios ofrecidos o patrocinados por la empresa. Los usuarios podrán ejercitar sus derechos de acceso, rectificación, cancelación y oposición mediante solicitud que habrán de dirigir a Davy Jones Diving a través del correo electrónico info@davyjonesdiving.com.
Los usuarios de esta información únicamente serán el personal de la empresa así como sus profesionales o colaboradores que prestan sus servicios en el mismo, y en determinados casos, terceros incluso PADI Europe. En el caso de que sus datos personales vayan a ser proporcionados a terceros, será únicamente con los estamentos oficiales que por ley exijan la cesión o bien entidades bancarias que serán informadas de que únicamente se podrán usar los mismos para los cobros, pagos o gestiones bancarias necesarias para poder llevar a buen fin dicha relación comercial. En el caso de que sus datos sean proporcionados a terceros distintos de los arriba mencionados, La empresa informará previamente del destinatario de dicha transmisión de datos y el objeto del mismo y recabará previamente consentimiento por su parte.
English summary: Your data will be held in sales database and only used for internal purposes or to inform PADI of qualifications gained. We do not sell, rent or allow any others to use your data. You have the usual rights of rectification, deletion by contacting us directly.
Discover more secrets of the best diving in Gran Canaria