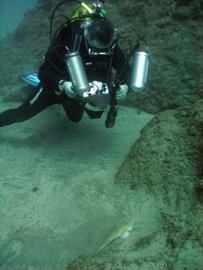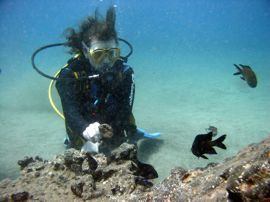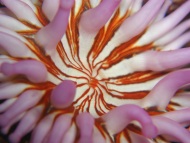 Ecological Statement
As active divers, we recognise that the marine environment is always in a delicate balance, and our aim is to observe the maxim:

Take nothing but photos
Leave nothing but bubbles
Kill nothing but time

We ask all divers who join us to have fun diving in Gran Canaria to follow the following ecological policy:
Do not take any shells or other items from our dive sites as it deprives other divers of their beauty and can deprive other creatures of shelter or a home.
We do not condone or support spear fishing
Always treat marine life with care and if you disturb it replace it where you found it.
Enjoy watching the abundant marine life in the reserves as it hunts, feeds, hides, but don't try to stop or change the behaviours you see.
We all want to have fun in the marine reserve, so by following the above policy we know that the Canaries will not end up as a 'fish desert' like some areas of the Mediterranean.
Discover more secrets of the best diving in Gran Canaria