Best dive site in the Canaries - the El Cabron Marine Reserve!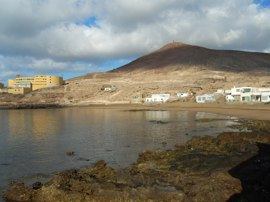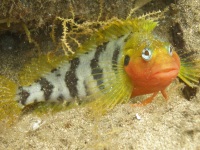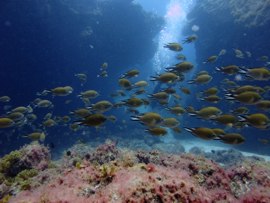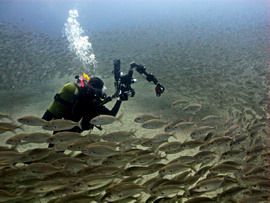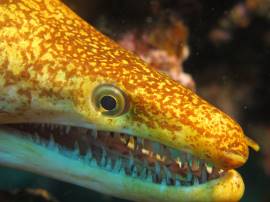 The El Cabrón Marine Reserve in the Canary Islands is a fantastic place to dive because of it's rich diversity of marine life, colourful fish and spectacular underwater scenery. This is what other people say about it:
"Best Diving on Gran Canaria" - Dive Magazine March 2004
"Best place to dive is at El Cabrón" - AA Pocket Guide
"one of the most spectacular sites in the Canary Islands" - Diving in canaries (Sergio Hanquest)
Listed as a Site of Special Scientific Interest by the EU 28/12/2001
It's no wonder with references like these that many divers in the Canary Islands are leaving the dive sites of Tenerife or Lanzarote to experience the high energy sites of the El Cabron Marine Reserve. (A lot of people rate Gran Canaria as a much nicer Canary Island than Tenerife as well !)
Gran Canaria is in fact the most Southerly of the Canary Islands, and this c an mean that it is 1 to 2 degrees warmer than the other Islands. This can be most noticeable in winter when sea temperatures also stay that little bit warmer than on Tenerife and the more northern islands.
Our diving centre in Arinaga is just twenty minutes by mini-bus from the popular tourist destinations of Playa del Ingles, Maspalomas, Meloneras, Sonnenland, Bahia Feliz, San Fernando and San Agustin. All our packages include a complimentary two-way transfer to your own Hotel, and we have a full range of high quality equipment available for you to use on your dive.
If you have never dived before, then we can provide you with a personal ticket to the reserve by means of our 'Discover Scuba' experience which gets you into the water quickly and easily. If you enjoy the dive, you can build on the skills and learn to dive on a PADI or BSAC course to gain your own internationally recognised diving qualification in just a few days.
Find out more about scuba diving in the Canaries with us by looking at the details of the dive sites within the marine reserve, our training facilities in both BSAC and PADI, as well as the Snorkeling courses we offer for younger people to enjoy the marine reserve.
So if you are coming on a scuba diving or snorkelling holiday in the Canary Isles make sure you visit the El Cabrón Marine Reserve on Gran Canaria with Davy Jones Diving, and experience our underwater world of beauty and awe.
Discover more secrets of the best diving in Gran Canaria