Extraordinary Discoveries for 2017 in the El Cabrón Marine Reserve
2017 was an amazing year for us, as we just kept on finding new species, and new surprises as we explored the el Cabrón Marine Reserve. People ask 'why is el Cabrón rated as one of the best dive sites in Gran Canaria?' - Have a look at some of the strange creatures we discovered during 2017 and you can clearly see!

Our thanks go to Fernando Espino Rodriguez of the University of Las Palmas who helped confirm the identification of several species.
January - Green Lobster and European Small Locust Lobsters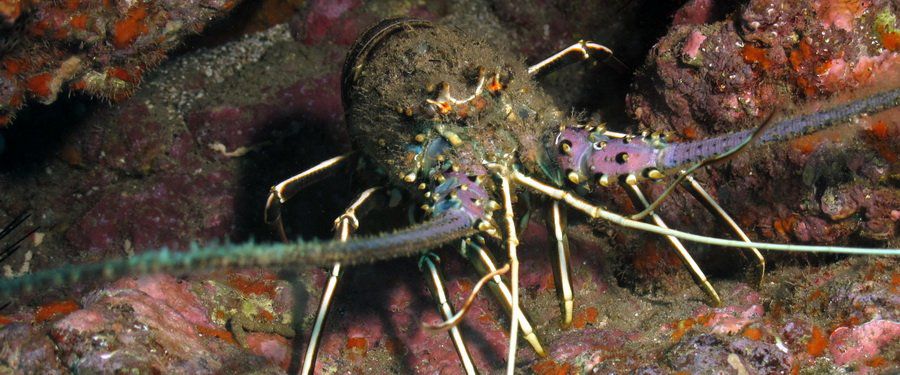 At the start of the year it was all about two crustaceans at opposite ends of the size spectrum. Late in 2016 we had discovered the Green lobster (Panulirus regius) known as the Langosta Antenna in a small recess in the bay, and at the same time a chance examination of another area we discovered a tiny Locust Lobster (Scyllarus arctus) sitting perfectly still in an easy to access location. Why are they special?, well the bigger 'Antenna Lobster' has been systematically harvested in the past for it's meat, and is now only found naturally on the Western Islands of El Hierro, La Palma and La Gomera, and some special areas in Tenerife. It was with us till about late March when it appears to have shed it's skin, and then become been more vulnerable to predators such as Octopus.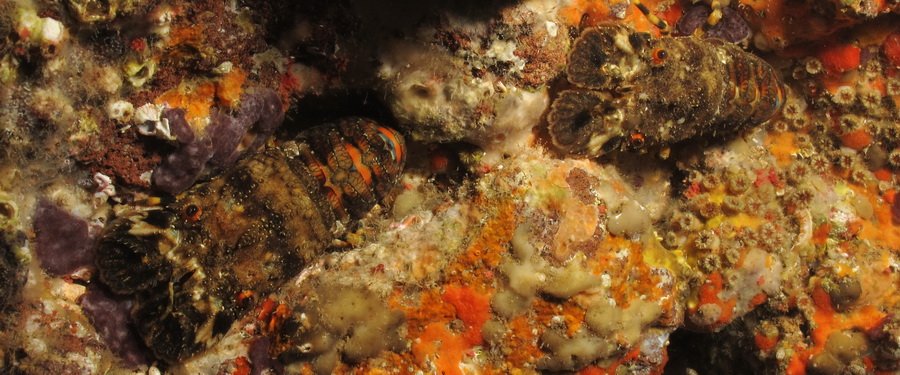 The Locust Lobsters get their name from their ability to jump like a locust, and normally hide during the day, and are only seen occasionally on night dives. In contrast to the spny lobster they are only found in the western islands of Gran Canaria, Lanzarote and Fuertaventura. Their patterned body makes a natural 'macro' subject and are only 10-15cm long! After first finding one, we first discovered a second in the same area and finally a third. They seem to like their corner and were still there in December! How long had we been swimming past them unaware of their corner!
March - Rubio !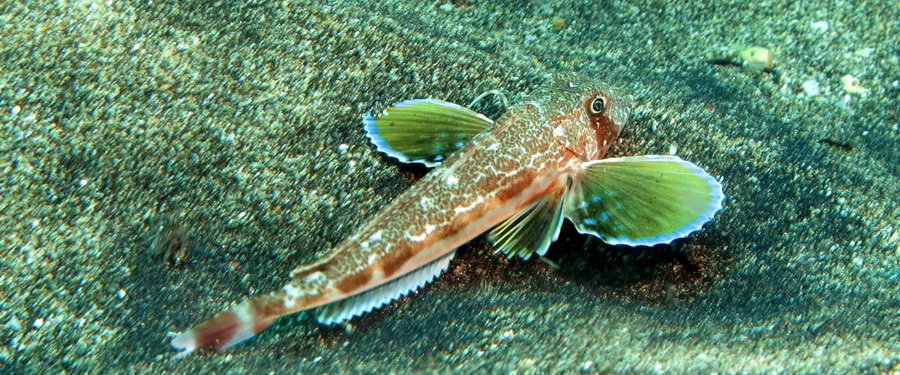 The Streaked Gurnard (Chelidonichthys obscurus) looks at first like a flying fish, with a small blue wing on each side, but actually lives on the bottom. The Spanish name is 'Rubio' or 'blonde' because when it hides in the sand the blond colouring make it difficult to spot! It also has three small 'legs' which give it the appearance of walking on the sand. It is thought that they migrate up from deeper water in spring, then go back to deeper water in winter. We first discovered one up at Sardina del Norte in late March... and one week later we found one in the bay! We then found another in June in slightly deeper water!
At the same time we had a pair of seahorses in the sea-grass, and a baby Spiny Pufferfish all within about 50m in the bay, making each dive full of interest!
March - Abade Capitan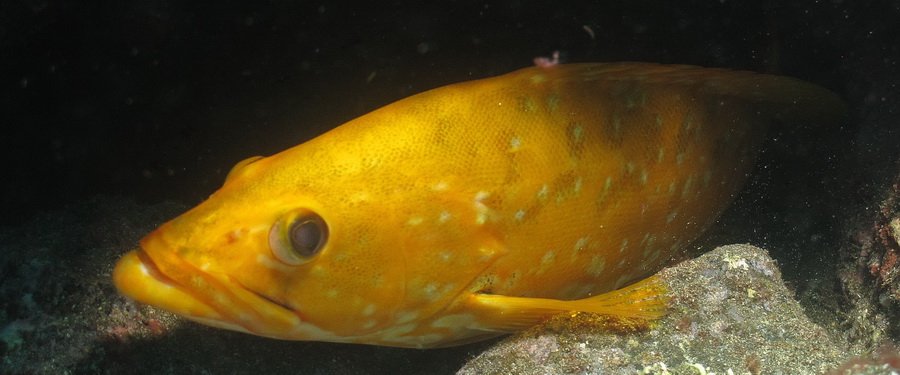 The Abade Capitan (Mycteroperca fusca ) is one of the most striking fish in the marine reserve. Normally the Island Grouper is a mottled black, grey or off-white, but certain individuals change colour over a period of months to bright yellow.. and some then change back to black. It is not known why, but in this colouring they are highly visible. We have had about one every 3 or 4 years in the past, mostly very shy, but this one is easy to find, and during the year become more friendly and less camera-shy. It was still here in January 2018.
May - Barred hogfish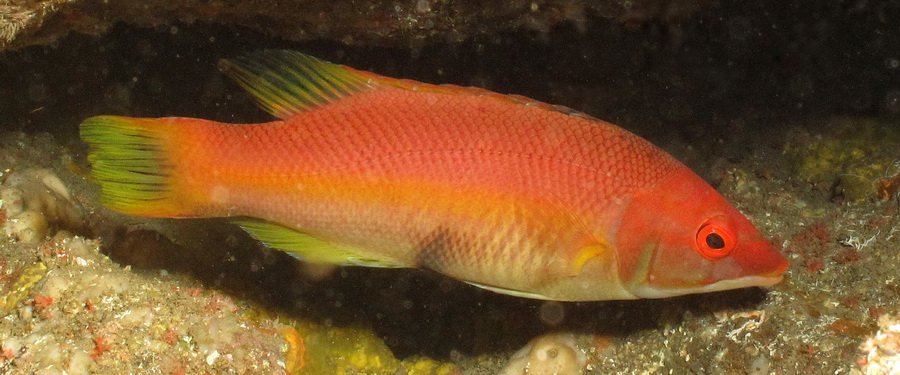 The Barred hogfish (Bodianus scrofa) is highly sought by photographers because of it's vivid colours. In the past 15 years we have seen one or two here in Arinaga in less visited corners, and a small number in other parts of the island, but overzealous spearfishing has made them quite rare. Starting in May we have seen them in several places, and several sizes! There was one exploring the Table Top at the turn of the year. They are however very good at disappearing under rocks and hiding in narrow crevices!
May - Triggerfish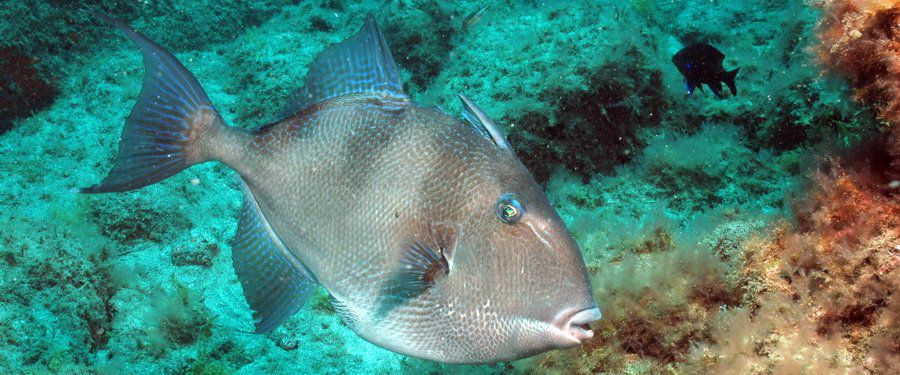 The Grey Triggerfish (balistes capriscus) is a summer visitor to the el Cabrón area, and often seem to create a 'nest' area. Numbers are small with between one and four individuals in recent years. This year we had one in Playa del cabron from May to September. They are quite curious and will approach divers, and swim very close to us, but if you get too close to their area they can be very aggressive and have been known to bite divers!
June - Goldentail Moray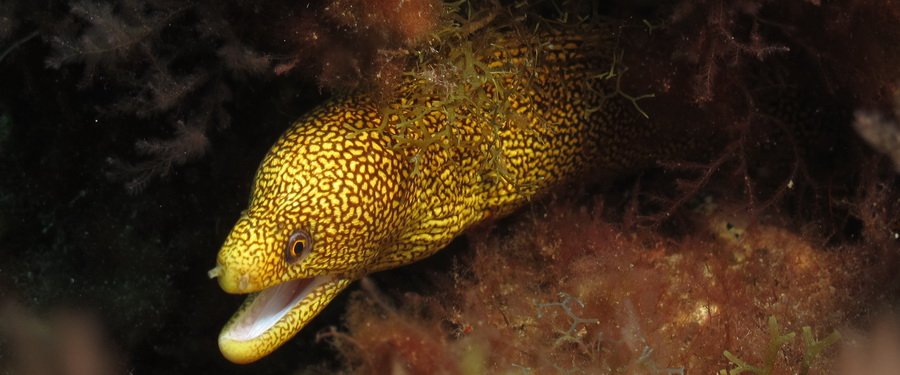 The goldentail moray (gymnothorax miliaris) is called the 'morena de lunares' or night moray in Spanish, and they tend to be shy and secretive during the day, and also not listed in Gran Canaria. They are found in Tenerife and the western isles, but very rarely seen here. We first discovered one in June, but it took till September to find it again in the day and photograph it. Today, in January 2018, two instructors did a shallow dive near the centre of Arinaga and came back to say there is another there, only a few 100 yards from the dive centre! How many more are well hidden in the day and only come out at night!
July - Caribbean Soldierfish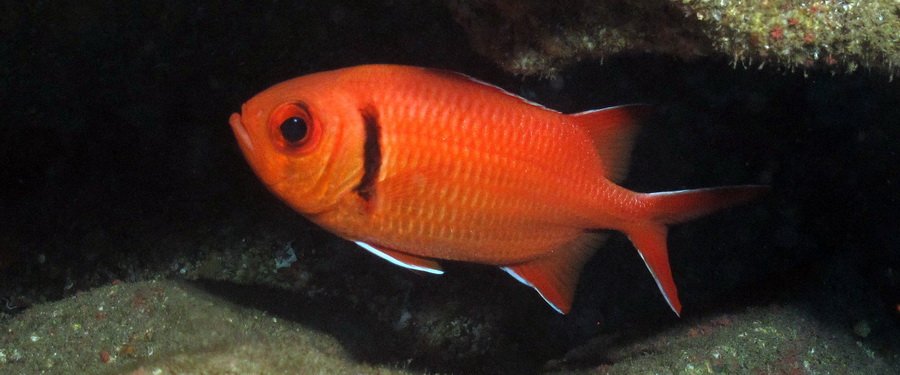 The Caribbean Squirrelfish or Soldierfish (Myripristis jacobus) is found widely in the Caribbean, but not included in the list of species of the Canaries, and yet we discovered one, lurking in the cave with a group of Glasseyes, who he resembles in shape and size. They are also found on the coast of South Africa and in Cape Verde so it has strayed here from warmer waters.
September Rainbow Wrasse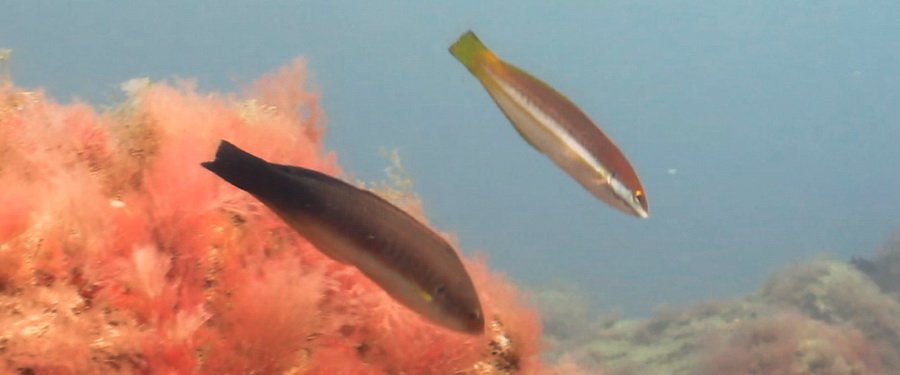 The rainbow wrasse (Coris julis) has been seen very occasionally over the years in el Cabrón, usually single and small or immature. It was great news to find a mature pair of male and female in September and October.
October - Leerfish or Garrick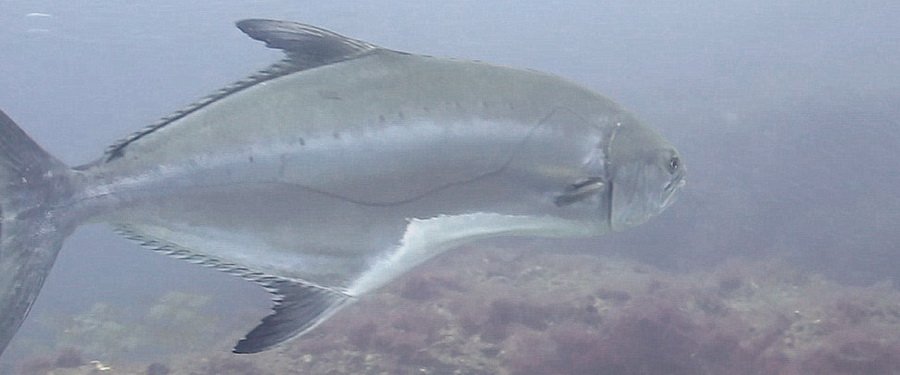 The Leerfish (Lichia amia) can grow up to 2m long, and when we were surprised by one coming at us I thought it was a medium sized shark! Since october several different centres have seen this, and we have come across them in two or three different places. They are normally deep water pelagic species often fished for by big game fishermen, and known in Spanish as Palometon. You can watch the video of the leerfish that surprised us on our YouTube channel.
October - Largescale Scorpionfish (Cantarro)
The Largescale Scorpionfish (Scorpaena scrofa) is bigger than our two normal species (S.porcus and S.maderensis) and at first glance is very similar to the Black Scorpionfish but has a much bigger head and pouting mouth and lips.. Despite a clear showing on video on one dive we have not found him since!
So there you have eleven special discoveries that were made in Arinaga in 2017. There was a 12th.. in that several other dive centres recorded Canarian Frogfish in the autumn, but despite extensive searches we never found them. There were also sightings (but no pictures!) of a surgeonfish. Overall however there is an impressive total of seven species which we had never seen before all in one year! Global warming ? Less pressure from spearfishing ? without much more information we can only speculate.. but while they are still here we will continue to track them and show them to you when you come here.
All pictures taken using a Canon G12 camera in an IKELITE housing, paired with an IKELITE DS-160 sub-strobe.
Plan your exploration in El Cabrón!
Some other relevant pages in our site
Discover more secrets of the best diving in Gran Canaria