Gran Canaria
Adventure Island and Activities

Coming to Gran Canaria and thinking about some Adventure Activities? If you are lookin for things to do in Gran Canaria that are a bit more adventurous, there are plenty of world-class activities available for you, on and off the water. You can cycle where the Professional Cycle Teams practice for the 'Tour de France' in winter; You can watch the world's top Windsurfers take part in the PWA Championship events in Summer or top athletes compete in the Las Palmas Marathon in January, you can dive in some of Spain's top diving sites, or take part in other boating, walking, running, climbing, surfing and yachting activities all year round.
Windsurfing in Gran Canaria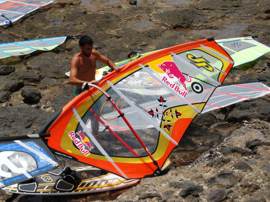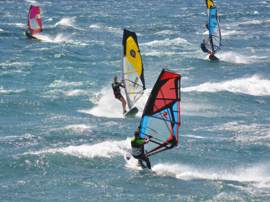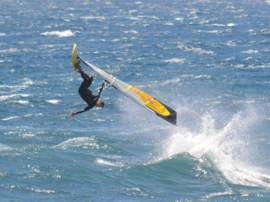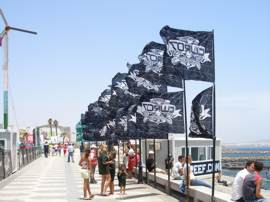 Gran Canaria is one of the top windsurf locations in the world, and at least two world champions live and practice on the Island. Every year in July one of the rounds of the PWA world championship is held at Pozo Izquierdo, next to the International Windsurfing Centre there. You can take lessons at several schools on the Island and start with more simple windsurfing lessons at one of the schools, and learn either basic or advanced techniques with one of the professionals.
Cycling in Gran Canaria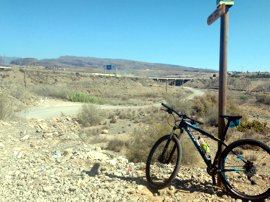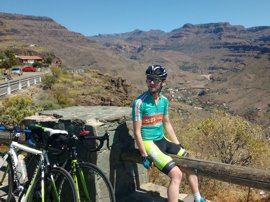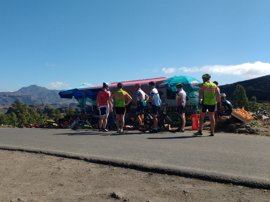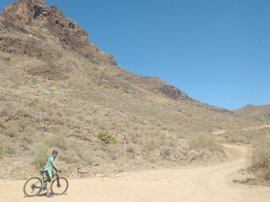 With warm sunny weather all year round, it is little wonder that Gran Canaria has become a favourite destination for many cyclists, especially in winter. The island is used at least one of the professional 'Tour de France' teams every winter as a training ground. For the expert or those aspiring to get better, there are climbs all the way up to the Pico de las Nieves. There are also a large number of mountain bike trails, and every year there is a special 'extreme' race for mountain bikes from one side of the Island, all the way to the top and back down to Arinaga - the Cyclo-Trans.
Hiking and Walking in Gran Canaria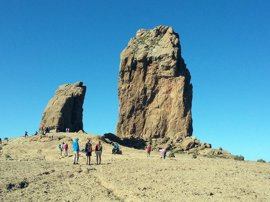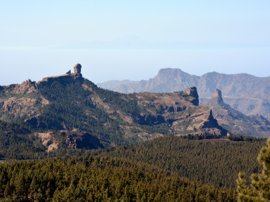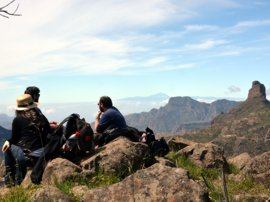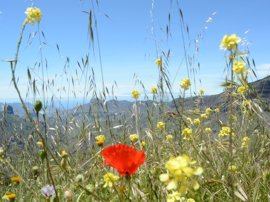 The mountains of Gran Canaria were formed many millions of years ago when the Island was an active volcano. Today the weathered slopes provide many beautiful, well-marked walks which criss-cross the remains of the caldera. There are walks and hikes for all levels from gentle walks at sea-level, to family walks up to Roque Nublo or down into the crater of Bandama. There are even several endurance competitions every year including the 'Trans Gran Canaria' extreme event from one side of the Island to the other. But for the average walker there is a huge choice, from family walks of a couple of hours to longer and more strenuous walks for the more experienced. There are several good guide-books available including the one by 'Rambling Roger', who lives on the island and has published several guides and guide-maps to Gran Canaria in English.
Find out more at his site about Hiking and Walking in Gran Canaria
Gran Canaria Diving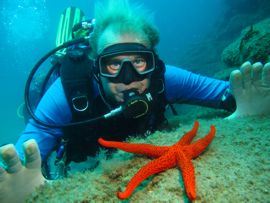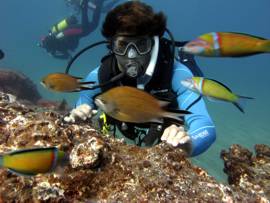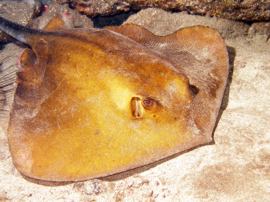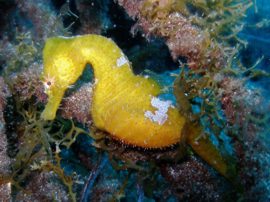 Gran Canaria is one of the best places to dive in Europe, because it has warm waters all year round, and there are more than 400 different marine creatures to see in it's clear waters. You can watch tiny colourful creatures such as nudibranches, seahorse or hermit crabs, up to large predators such as angel shark, barracudas or one of five types of stingray. There are also some big wrecks in the North near Las Palmas and some smaller wrecks suitable for your first wreck dive in the South of the Island. One of the best places to dive in Gran Canaria is in the El Cabrón Marine Reserve near Arinaga on the East coast, where there are arches to swim through, caves to explore, and several hot-spots where huge shoals of fish congregate. El Cabrón is a great place to see the bigger species including angel shark, butterfly ray and spiny pufferfish. For diver training, Gran Canaria is also a great choice with plenty of PADI training centres and some great locations where you can see the marine life while you take your course.
Even if you have never dived before there are one-day 'Discover Scuba Diving' courses you can take which will let you try scuba diving among the colourful fish under the watchful eye of your scuba instructor.
Discover more options for Scuba Diving in Gran Canaria
Discover more secrets of the best diving in Gran Canaria