Diving Laws in the Canary Islands
There are two main laws that all dive centres in the Canary Islands must follow. The most recent is the law relating to companies who offer 'Active Tourism' and the second is the older law for Dive centres. If a business is not registered with both it is not a legal dive centre.
Active Tourism Laws in the Canaries
This law was introduced in November 2017 and gave three months for all companies to register if taking part in ANY active tourism activities, including cycling, buggy tours, jeep safaris, surfing and of course scuba diving. When approved the companies are required to show the registration number on every page of their website and all materials. Our registration number is NR-35-1-0002592. If a company does not show a number you should check that it can provide the number.
Diving Centre Laws
In April 2006, the Canarian Government introduced a law "Decreto 35/2006, de 25 de abril, por el que se regulan los centros de buceo y las enseñanzas deportivas-recreativas subacuáticas en la Comunidad Autónoma de Canarias," which regulates dive centres. During 2006 and 2007 an 'introductory period' was established during which diving centres in Gran Canaria and the other Canary Islands were able to improve their facilities to meet certain minimum safety standards, and submit the official application to become either a centre authorised for excursions, or authorised for both excursions and to offer diver training.
Among a long list, the Law requires that dive centres have:
A proper written Emergency Plan
A written agreement with emergency medical service providers
A written agreement with a hyperbaric chamber
Authorisation to carry out diving from the 'Capitania Maritima'
Suitable first aid and oxygen equipment
Premises which are suitable for use as a diving centre including a classroom.
A compressor and installation which meets the relevant safety laws
Instructors who hold a valid instructional certificate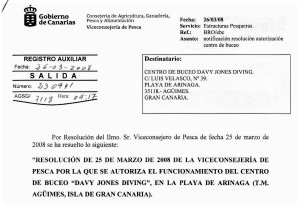 In March 2008, the first licenses were issued, and out of approximately 30 diving centres in Gran Canaria, licenses have been issued to about 13. Of the remaining centres some of them are finalising papers, while others have not attempted to submit the correct application.
Davy Jones Diving can confirm that we fully meet or exceed the requirements of this law, and that our license was issued among the first batch on 23rd March 2008. It has since been renewed as required by the law. We are also licensed for both the activities of Excursions for divers with qualifications, and for Diver training. We have also previously been inspected by both PADI and BSAC, and hold authorisations as a PADI 5 Star Resort and a BSAC Premier Dive Centre.
It is rumored that the Government intends to forcibly shut down the centres who have completely ignored this new law, as it is not convinced that they can offer the same levels of safety, backup and service as the centres who have submitted themselves to the inspection and licensing system. If this happens, divers who pre-book with them over the internet may turn up to find their dive centre padlocked and closed by the Guardia Civil.
Update - June 2008 We can now confirm that the next stage has started, and that the Policia Local in each district have started to visit all the dive centres in Gran Canaria. We were visited by uniformed officials on Friday 6th, and as our license has already been approved, and we have a local 'opening licence', they were more than happy. It was clear however that if we had not completed our dive centre license, that we could have been shut down by them on the spot. We are of the opinion that the Canarian government has provided lists of dive centres to all the local authorities on Gran Canaria, and that both the legal and the (now) illegal centres should expect a knock on the door in the next few weeks.
Our advice for anybody looking for a diving centre in Gran Canaria is only to book with one of the dive schools that has already completed the process as this is the only guarantee that you will not loose either your deposit, the chance to dive, or both.
Update- July 2008 The official Gobierno de Gran Canaria Tourist website now shows a list of the Diving Centres in Gran Canaria that are now inspected and regulated by the Canarian Government.
Update- 2013 The original licence has now been renewed at the end of five years and we have a full licence for the next five years to run a diving centre in Gran Canaria.
Update- 2014 We moved into our new diving centre in Casa Limon, and that means renewing all our paperwork! The Opening licence is nearly complete, and other licences will follow in quick succession!
Update- summer 2015Our license as an approved dive centre was reissued following a review of our papers and our compressor was re-licensed for another five years.
Discover more secrets of the best diving in Gran Canaria