DAVY JONES DIVING in Gran Canaria win top diving award from PADI Europe, Middle East & Africa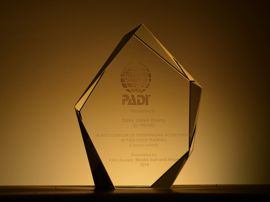 Davy Jones Diving, one of the most respected diving centres in the Canary Islands has been awarded one of Europe's top diving awards - an Outstanding Achievement Award - by PADI EMEA (Europe, Middle East & Africa). This award recognises their exceptional performance in diver education and training.
'Davy Jones Diving have made an immense contribution to the training of divers in the Canary Islands since moving to their new spacious dive centre in Arinaga in 2014' said Sascha Engeler, Regional Manager for PADI EMEA. Feedback from customers tells us that their students are trained to high levels of safety and confidence and really enjoy their courses with Davy Jones Diving. It is a very professional Five Star rated Dive Centre,and has a mature, experienced team of instructors. They cover a range of languages and have several who have gained PADI Elite Instructor status.'
Brian Goldthorpe, Owner and Chief Instructor of Davy Jones Diving said 'I am delighted that the hard work of my instructors has been recognised with this award. We have one of the most amazing dive sites in the Canary Islands (the el Cabrón Marine Reserve) right next to us, and this has different dive areas which are perfect for different courses. Our combination of a strong team of instructors, great dive locations and great space and facilities at our dive centre in Arinaga have helped us to achieve this prestigious award'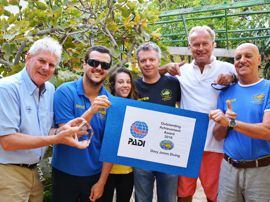 Scuba diving is one of the most popular adventure activities in the Canary Islands. Divers enjoy the wide variety of colourful sub-tropical and temperate marine species, and the warming effect of the Gulf Stream means that you can dive here easily all year round. There are over 80 PADI diving centres in the Canaries who train almost 10,000 people to dive safely every year. Worldwide there are over 6500 PADI Dive Centres, with over 135,000 individual instructors who are complete training courses with over 1 million students every year.
'We are looking forward to a great autumn of diving in Gran Canaria' said Brian, 'we are ready to welcome more students onto courses as well as the many qualified divers who come to the Canaries in Autumn to explore the waters and enjoy the best visibility and warmest temperatures of the year.
Notes to Editors.
Davy Jones Diving are based in Arinaga, Gran Canaria - the most southerly and warmest of the Canary Islands. They have been teaching divers as a PADI School since 2003, and have this year been entered into the TripAdvisor Hall of Fame after achieving a certificate of excellence for each of the last five years. They are led by Brian Goldthorpe, an Advanced Diving Instructor with over twenty years of diving experience, who has dived in the Canaries, The United Kingdom, the Mediterranean, the Red Sea and the Americas. His team includes instructors who can speak and teach in English, Spanish, German and Dutch.
The dive centre is right next to the El Cabrón Marine Reserve in Arinaga, which is a recognised ZEC (Zona especial de Conservacion). The area has a wide variety of authentic marine life habitats including extensive sea-grass, scree, rock, sand and caverns. This makes it a hot-spot for marine life and has almost the complete catalogue of Canarian Marine Life from tiny colourful nudibranchii through big shoals of damselfish, bream, grunts and bogas, to top predators including morays, angel sharks, rays, and barracudas. In recent years it has also been the best place to find non-native species from the African coast including sergeant-majors, crocodile eels, surgeon fish, squirrel fish and one of the few sightings of an orange-spotted filefish.
The El Cabrón area is composed of a mix of volcanic and sedimentary rocks and the underwater topography has the best selection of caves, arches and cliffs for visiting divers to explore. It is one of the best places to find endangered angel sharks in winter and one of the few places in Gran Canaria with a resident population of protected spiny pufferfish.
PADI Inc is the largest diver training organisation in the world, with over 6500 PADI Dive Centres, with over 135,000 individual instructors who complete training courses with over 1 million students every year. PADI EMEA (Europe Middle East and Africa) provide support in multiple languages to divers and instructors within their region and ensure that training standards are maintained at a high level.
Contacts for further information:
PADI EMEA : Sascha Engeler - Regional Manager for the Canary Islands (00 41 78 933 06 46) Sascha.Engeler (at) padi.com
DAVY JONES DIVING Brian Goldthorpe - Owner and Chief Instructor . (00 34 699 721 584) divenow (at) davyjonesdiving.com
Discover more secrets of the best diving in Gran Canaria