Archive of Guestbook - before 1st January 2009
Here are some comments from some of the divers who have dived with us in the Marine Reserve at El Cabrón in Gran Canaria. This includes automated entries (add one yourself!), e-mails and entries from our paper comments book.
Read more comments in



Spanish, German and Dutch
---
This was the best x-mas gift ever! A great experience for life. I sure will do it again. Thanks Davy Jones for great support, and thank you brother for the present.
Susanne, Niklas, Malm & Anne-marie - From: Sweden
Monday, December 22, 2008 at 12:30:30 (GMT)
---
It's so amazing, and i'm only 12, it's fab. At first it's scary but as soon as you master the breathing everything else is fine and the fish are amazing, so colorful.
Amy - From: Blackburn
Friday, December 05, 2008 at 12:30:30 (GMT)
---
Great Course; Great instruction and great location. Marine life colorful, varied and exciting made all the more accessible by clear (and patient) instructions. Very enjoyable, thanks.
Aine O'Connor - From: Dublin
Thursday, December 04, 2008 at 12:30:30 (GMT)
---
Something I have wanted to do for ages, despite the panic of breathing underwater at first - I made it! Thank you for your patience & instilling confidence so that I have seen life under the sea - I will be back!
Gavin - From: Stirling
Thursday, December 04, 2008 at 12:30:30 (GMT)
---
Thank you for an amazing experience - saw octopus, trigger and trumpet fish, angel shark and stingray - Fantastic!
Tony Carey - From: Cornwall
Wednesday, November 12, 2008 at 12:30:30 (GMT)
---
My night dive & day dives were perfect. Thanks for everything ... hopefully I'll find my way back to the Canaries some day! Thanks!
Jacqueline - From: Wisconsin U.S.A.
Saturday, November 08, 2008 at 12:30:30 (GMT)
---
Thank you very Much Vielen Dank Hartelyk Dank It was very good, see you next time!
Alphons en Marianne Mass - From: Dutch, but live in Germany!
Saturday, November 01, 2008 at 12:30:30 (GMT)
---
Hello, Just wanted to write and say THANKS for the brilliant dives we did with you last Wednesday! I had an ace time, your centre and staff are great, especially Andy - he had a really nice way about him and helped me relax and get my nerves under control. We'd hoped to come back and do another dive before returning home but unfortunately there just wasn't time - hopefully we'll be back again before long! Thanks again Emma
Emma Fawcett - From: England
Monday, October 27, 2008 at 17:03:14 (GMT)
---
You are all so professional - thanks so very much for looking after me. Uwe, you are my real Buddy and my hero! You had me achieving more than I ever thought I would. I will always be grateful and can't wait to go diving again! Sue. XX
Sue Wilson - From: Fleet, Hants, UK
Monday, October 06, 2008 at 21:52:57 (BST)
---
Takes a lot to shut me up but I´m speechless! We've had so much fun and the training and help was tremendous. Can't wait to do it again!
Sue and Gary Wilson - From: England
Tuesday, September 30, 2008 at 11:30:30 (GMT)
---
Brian, Thankyou !!!.. have now completed my Advanced in the uk ( was cold ! ).....and soooo looking forward to Gran Canaria so much !!!.. You and the team are in my opinion are at the front of scuba introductions !!... Thanks for costing me a fortune in buying all the gear ( and cleverly hiding the actual rice from the MRS ! ) but sooo looking forward to a life time of using it !! Expect a few new students in April... ( a few friends have now been hooked by my tail of the very rare Angel Shark i nearly knelt on !!! ).... Cheers !!...Martyn !!!!!!!!
Martyn Kenny - From: Glossop, Manchester
Saturday, September 27, 2008 at 23:55:50 (BST)
---
A 60th birthday present and something I wanted to do. Faced with reality I was very nervous. I panicked twice and got all sorts of skills muddles but Andy was a fantastic teacher and determined I would get my licence. I did!! Thanks Andy for being so patient and believing in me. You are an excellent teacher.
Nesta - From: England
Tuesday, September 23, 2008 at 11:30:30 (GMT)
---
I was the daughter who bought the 60th Birthday present!! I had a great time too and am so proud of mum for doing it. Andy, thanks for all your time and patience with her. I also had one of my best days diving so far at the cathedral and the wreck, thank you Eduardo for taking me there.
Karen - From: England
Tuesday, September 23, 2008 at 11:30:30 (GMT)
---
A big thank you to EVERYONE at Davy Jones Diving - I loved every minute of it. It was great being able to go back to the dive centre between dives, even if it was just to be teased about my pink mask! (Eduardo was blatantly jealous!) Special thanks has to go to Uwe who made my Advanced so much fun. Can't recommend Davy Jones highly enough. Love and best wishes to all, Nat x
Natalie Wickenden - From: London, UK
Thursday, August 21, 2008 at 12:08:54 (BST)
---
Had a fantastic three days diving with Eduardo. Credit must go to me for finding the spiny pufferfish!! I'm very proud of that feat! Glad you got some photos of it. The diving was absolutely fantastic, and I'd go back to the island just to dive with Davy Jones again. Thanks for everything!
Nikki Tweed - From: Northern Ireland
Tuesday, August 12, 2008 at 18:35:53 (BST)
---
Dear Brian and Marilyn,
Last night we have arrived home after our flight from Gran Canaria to Münster. Please thank Jorge at Nautilus from Imelda and me for staying in his apartment, we had a good time. Thank you again for the lovely dives in the waters of Gran Canaria and arranging our apartment. Kind regards, Erik
Erik Veldhuis - NAUI instructor #46007 - DAN oxygen instructor #163827 - IADS instructeur #6637
Erik Veldhuis - From: Holland
Thursday, August 07, 2008 at 11:46:51 (BST)
---
Huge thanks for a great week, PADI OW & Scuba Diver for Adie & Jon respectively as well as a great refresher for me. Your flexibility and helpfulness made everything so easy, and the video is a fantastic souvenir. We will be back :-)
Kevin Cook - From: Smallwood, Cheshire
Monday, July 28, 2008 at 15:52:10 (BST)
---
Our 6th year back diving in Gran Canaria, and you still manage to provide us with something new! Table Top and the other old favourites still enthrall, whilst the diving around the island provided some wonderful sites. Sardina is great, and we look forward to more diving there. The deep wrecks off Lap Palmas gave a nice change, and the new more local areas also added to the trip. You have seen us both progress from near beginners to professional instructors, but always manage to give us the right sort of diving. Many thanks to everyone, and we look forward to next year.
Guy & Matthew Story - From: Northwich, Cheshire, UK
Saturday, July 26, 2008 at 12:21:03 (BST)
---
A Truely immense experience and one I definitely try again. The staff are genuinely lovely and helpful at every stage. p.s They paid me a fiver to write this!!
Stephen Mullen - From: Newry Co. Down
Thursday, July 24, 2008 at 08:59:10 (BST)
---
I was recommended by another diver - best recommendation I've ever had! Two great dives & helpful, informed staff. Thanks
Alison - From: Banbridge N. Ireland
Wednesday, July 9, 2008 at 08:56:04 (BST)
---
Thanks for a great day. Even though it was our 4th time diving it was an amazing experience and we are both going to go on and do a full course in the future.
Darren & Dana - From: West Brom
Monday, July 7, 2008 at 08:53:59 (BST)
---
Big thanks to everyone for 3 days of great diving, we found the morays and a Butterfly Ray!
Dan - From: Denmark
Friday, June 20, 2008 at 08:52:04 (BST)
---
A 'BIG' thank-you to Andy for helping me gain my diving legs at first. And another 'BIG' thank-you to the rest of the team for making our day fantastic. What an amazing experience and one of the best things I've ever had the pleasure to take part in. I'm a definate convert and will be back under the water asap! Thanks again.
Janice & Garry - From: Liverpool
Thursday, June 19, 2008 at 08:49:36 (BST)
---
It was fab, Guys are great helping you to do the dive. Its amazing to see so many fish. got loads of time, and they really helped you so very safe. Would do it again! Thanks for a great time.
Steven - From: London
Thursday, June 5, 2008 at 08:44:38 (BST)
---
Vielen Dank fuer die supertollen Eindruecke die ihr uns gezeigt habt... Es war ein wunderbares Ereignis, das man sich vorstellen kann... Liebe Blubber Gruesse Chris und Jenny
Chris und Jenny - From: Oesterreich
Friday, July 04, 2008 at 10:49:28 (BST)
---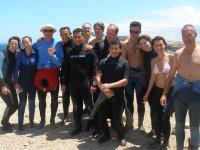 Hello dear Davyjones Team,
back in Fuerteventura with loads of nice memories and back for work at Deep Blue. We had a great time with you guys and would like to thank everybody in your team. Special thanks to Eduardo who took so good care of us together with Hector and Uwe. Please attached two pictures for you so that you don´t forget us ;-) Again, thank you very much and hopefully we can welcome you one day here in
Fuerteventura at Deep Blue.
Miguel Gonzalez - From: Deep Blue Diving, Fuertaventura
Monday, June 02, 2008 at 16:17:00 (BST)
---
We were very nervous about the dive but the guys made us feel at ease, helped us with any issues we may have had. They really helped to build our confidence. A big thankyou to all the guys. We enjoyed the experience very very much and will certainly be doing it again.
Debbie & Rebecca - From: Leeds
Thursday, May 15, 2008 at 16:47:20 (BST)
---
I would like to thank Brian & Eduardo for their immense reassurance all through the day and the dive. They provided a professional and very caring approach to me ... very nervous. But I did it! I would recommend this to anyone. Once again thank you for your quite calming influence. Hope to come back again!!!
Helen Johnson - From: Wales
Monday, April 28, 2008 at 16:42:46 (BST)
---
One more ticked off the ¨to do before we die¨ list!!!! That may just have ¨topped¨ the parachute jump from 14,000 feet. We thoroughly enjoyed our first dive - will do it again - soon. Thanks 4 the brilliant tuition.
Dave and Sue Rogers - From: St Bees ,West Cumbria, UK
Friday, March 28, 2008 at 14:53:56 (GMT)
---
Came for Open Water course for my 15 year old son. Brian is a great instructor! Safety first but fun also. Dives were varied and interesting! Would definitely recommend for learning to dive and learning to enjoy diving!!! Very pleasant shop, very professional.
Ralph Hope - From: Tallinn Estonia / Seattle USA
Monday, March 27, 2008 at 18:42:14 (GMT)
---
Whoohoo!! Had taken a navi class before but hadn't done my Open Water qualification. Thought I´d be scared to death .....sooo much fun! the guys were great!!
Laurie Carr - From: USA
Thursday, March 20, 2008 at 18:40:12 (GMT)
---
New to diving and now completely hooked. Fantastic dive at El Cabron. Great visibility, amazing sea life and a tremendous experience. A great day out. Thanks so much Brian for making the day so memorable.
John Walters - From: Margate Kent
Monday, February 25, 2008 at 18:31:21 (GMT)
---
Fourth time Dave and I have been here. Brian you must be doing something right. Great dives conducted very safely, very enjoyable once again.
Frank and Dave - From: Scotland
Friday, February 22, 2008 at 18:27:07 (GMT)
---
My first visit to Gran Canaria and Davy Jones with Frank and Dave. Many thanks for your safe and efficient supervision. An excellent dive centre and the El Cabron Marine Reserve is just brilliant.
Neil C - From: Scotland
Friday, February 22, 2008 at 18:29:41 (GMT)
---
Hi Brian, Just wanted to e-mail you to say how much we enjoyed our open water dives last week. Please pass on our thanks to Andy. We thought he was an excellent instructor. He explained everything very clearly, supported us when needed and was a great guide. All in all it was a fantastic experience. Regards,
Graeme and Hilary Richards
Monday, February 18, 2008 at 22:33:30 (GMT)
---
Thanks for a great day last Monday. We really enjoyed our dives, and thought that the day was run very professionally and safely, and the dive instructors were fantastic. Thanks Debbie and Rebecca PS what was the name of the shark we saw please. (It was an Angel Shark.. Brian)
Debbie and Rebecca - From: London
Monday, February 18, 2008 at 17:29:22 (GMT)
---
Thoroughly enjoyed my first ever diving experience. Brian, and Davy Jones know exactly how to dilute your worries and fears, and make this leap of faith an enjoyable experience. Keep up the good work.
David Foster - From: England
Monday, January 28, 2008 at 10:51:56 (GMT)
---
Had a great couple of dives. Thanks very much to everyone especially Andy!
Craig - From: Nottingham, UK
Wednesday, January 23, 2008 at 19:36:57 (GMT)
---
Many thanks to Davy Jones staff for doing my second part of the diving course. I did my first part on the PADI eLearning system on the net and found it very good, you can learn at your own pace.
Richard Brown - From: Merthyr Tydfil
Tuesday, January 15, 2008 at 11:00:22 (GMT)
---
Many, Many thanks to all "Davy Jones" staff especially for Brian for sense of Humour; Andy for "full" explanations, Eduardo for where be where we have to be:- Fantastic places ("dives"), a lot of species and great time with Davy Jones Staff.
Remol & Ewelina - From: Poland
Tuesday, January 15, 2008 at 10:54:57 (GMT)
---
There is only one way to sum up the experience "Fantastic"!! Keep up the good work, laid back attitude and personal approach. Thanks
Ron "Bacardi" vonder Linden - From: Holland
Tuesday, January 15, 2008 at 10:51:28 (GMT)
---
Hi Andy, Thanks for a superb dive. Very impressed, great to finally see some fish! Highly recommended.
Steve - From: Cardiff
Tuesday, January 15, 2008 at 10:49:02 (GMT)
---
Hi all. Would just like to say thanks for making my time diving in Gran Canaria so good! I had a fab time and have the bruises to prove it! Special thanks to Andy for rescuing me from regulator hell! I'll be sure to recommend you guys to fellow divers! Look after the angel sharks for me!!! Nat.x
Natalie - From: Manchester, UK
Tuesday, December 11, 2007 at 01:04:59 (GMT)
---
Thanks very much. First time diving in the Canaries. Was very impressed. Lots of fish
James & Hannah - From: London
Wednesday, November 21, 2007 at 09:30:19 (GMT)
---
Brian, thanks to you I discovered a whole new world today, fantastic, absolutely fantastic. My first time diving was a wonderful experience thanks to your tutelage and calm reassurance. An unforgettable day. Thank you
Bob - From: Carlisle
Saturday, November 17, 2007 at 09:32:42 (GMT)
---
My husband and I could not a dreamed of a better diving experience! All those from the Davy Jones crew that we met were warm, friendly and professional. Andy was beyond fabulous -- it's been awhile since I did my last dives and he was incredibly patient, encouraging and did it all with good humour and FUN! Kudos also go to Matt, Hector, Eduardo, Brian and Marilyn. And, the dive sites were #1! Thanks for a brilliant time!
C & N Westphal - From: Hamburg, Germany (amongst other places)
Wednesday, November 7, 2007 at 21:14:22 (GMT)
---
Hi Myself and my brother were over for a week on 16th October. Done 2 dives first at El carbon. second at two caves. Have to say the dive was beautiful also lovely clear viz. guide was excellent also very clear instructions best dive yet. will return next year thanks.
Diarmid Macmillan - From: Scotland
Tuesday, October 23, 2007 at 14:59:27 (BST)
---
Hi had 5 great dives. My first night dive very different from anything done before, big thanks to Eduardo and Hector for a interesting time. See you all if and when i return Stuart
Stuart Vincent - From: UK
Monday, September 17, 2007 at 16:05:53 (BST)
---
Arrived home safely this morning although very very tired! Very surprised indeed to find my EFR and Rescue Diver cert cards waiting for me on my doormat - that's a first! They usually take at least a month to come through when they get sent to Bristol! I've really enjoyed diving with Davy Jones - Andy is a brilliant instructor - just a shame I couldn't do more dives during the second week of my holiday (I was getting a bit fidgety having to sit on the sunbeds all day). More than likely I'll be back to Gran Canaria, but don't know when, but will definitely be diving with you guys when I do. Take care Suzanne
Suzanne Leak - From: UK
Sunday, September 16, 2007 at 16:07:47 (BST)
---
Hi i am Ollie i have dived with you before in June , it was fab i have tried to send you the pics i hope you get them , i was wondering if i could use your logo in a powerr point presintation to my class as to how much of good experence it was . I have got a few videos as well . Thanks x Ollie
Oliver Ross - From: UK
Sunday, September 16, 2007 at 16:08:56 (BST)
---
Thank you Everyone once again for 6 fantastic diving experiences. It´s my second time here and I definately want to come back again. Brian, Andy, Annette, Eduardo and everyone else were patient and professional. I´ve seen my first eel (moray) & my first stingray (x5). I am now a PADI Advanced diver and plan on doing my Rescue , hopefully here. Thank you everyone, I hope to see you again!
Stefan Williams - From: South Wales
Sunday, September 3, 2007 at 16:24:02 (BST)
---
Thanks for the couple of dives I had with your people in July this year. Eduardo and Guy made the dives good fun and most enjoyable. The young boy Daryl, who went on his first open water dive with his dad, yourself and Guy still talks about his first open water experience. Do you by any chance, still have any of the underwater photos you took on the day? It would have been the afternoon of 20th July. If you manage to find any could you please email me a copy for our club website. Thanks Bill...
Bill Hamilton - From: Scotland
Thursday, August 30, 2007 at 09:03:51 (BST)
---
Hi Brian & Team, Just a short email to say thanks very much for the great dives! The information given and briefing prior to each dive were excellent as was the knowledge of the various marine life and where to locate them. Having watched the relentless trawl on Taurito beach each day, I was very pleased I chose a professional dive centre! I will certainly recommend you be the first dive centre to contact for all who want some great dives in Gran Canaria. Thanks Again
Alan Finn - From: Bucks
Wednesday, August 29, 2007 at 16:11:30 (BST)
---
Did dive before in Ibiza, but we were basically thrown in the water. I really enjoyed today and am very pleased about the 'relaxing' way of teaching. Keep up the good work!
Franklin - From: Holland
Wednesday, August 15, 2007 at 18:28:38 (BST)
---
Most amazing experience, nothing like it until you've actually done it! Instructors are everything you need for your first time - brilliant - thank you. Thanks to you all & Eduardo.
Alice & Rachel - From: Suffolk, UK
Monday, August 13, 2007 at 18:32:01 (BST)
---
Having dived in the UK decided to accompany my son on introduction to diving. As a diver and a parent the team was very reassuringly safe. Pleased with the way Brian and the others dealt with my son. I found I could relax and enjoy the dive. Many thanks
Alan Rae - From: Suffolk
Wednesday, August 01, 2007 at 14:36:46 (BST)
---
Had an amazing time (even with a burnt and buoyant bum!). Came back nearly every day & I hope to be diving for a long time.
Ema - From: Oxfordshire
Saturday July 28, 2007 at 16:34:21 (BST)
---
Was really scary at first but when I got used to the breathing technique I started to calm down and enjoy it. Brian was really patient and comforting, he was a big help to the experience to make it that bit better. thanx
Nicola - From: Scotland
Friday, July 27, 2007 at 11:33:05 (BST)
---
Excellent experience, very friendly team and although a bit unsure at first I will definately Scuba Again. Thanks
Jess
Saturday, July 14, 2007 at 17:30:11 (BST)
---
My son and I undertook the 4 qualifying Open Water dives required on 7th-8th July 2007 following our confined water dives and tests in the UK. What a place to choose! All our thanks to both Brian and Andy along with Brians wife and daughter who had to put up with us as we fumbled our way through! You made our dives an absolute joy and the patience you showed us was very gratefully received. I can't recommend Davy Jones Diving highly enough - and what a marine reserve - beautiful!
Simon Hall - From: Crawley
Friday, July 13, 2007 at 23:30:04 (BST)
---
Bit Scary at first, but by the end I didn't want to get out - loved it! You all made this the best holiday !!! Thanks
Tara & Rupert - From: Ireland
Wednesday, June 20, 2007 at 18:35:44 (BST)
---
A Brilliant experience, hopefully the first of many dives! we were well prepared before the dive, and well supported during it, a great dive team. Thanks very much.
Rob & Emma - From: Glasgow
Monday, June 18, 2007 at 18:34:02 (BST)
---
Thanks Guys - I cannot believe how scared I was from when the tank first went on till actually getting in, but having you there as such an understanding, calming, professional team made every second of nervousness worthwile. Thanks once again.
Kel & Ru - From: Northampton
Wednesday, June 6, 2007 at 18:32:22 (BST)
---
Thanks everyone for a really, really good 3 days diving - our first outside the UK. Unforgetable experience.
Clare & Guy Newall - From: Stafford, UK
Thursday, May 24, 2007 at 18:29:42 (BST)
---
Thank you for amazing time in the water. Very trust-worthy friendly team!
Olly - From: London
Saturday, May 16, 2007 at 15:27:49 (BST)
---
A really fantastic experience. The team we were with were fantastic and the trick is to trust them... they will keep you safe! I will definately be doing this again! Thank you so much guys I really do hope to do this again.
Stacey - From: Plymouth
Saturday, May 19, 2007 at 15:26:12 (BST)
---
Had a great time (despite my ear problem) and felt safe the whole time thanks to the great safety introduction and having Annette by my side - Thank you
Helen - From: London
Saturday, May 19, 2007 at 15:23:17 (BST)
---
Passed Enriched Air Course had two great dives, easy to follow instructions. Two more great dives. Good equipment and excellent dive master. Best priced diving in a long time Many Thanks
Ian Sturrock - From: Dundee
Wednesday, May 09, 2007 at 18:24:49 (BST)
---
Hi Brian Just to say thanks for a great 3 days diving last week. I really enjoyed the variety to see, Eduardo is an excellent guide.
Adele Riley - From: London
Wednesday, May 09, 2007 at 11:45:29 (BST)
---
We had a brilliant time. We were informed before we went in the water in an excellent fashion and we would recommend this diving school to anyone who wants to have a truly excellent first dive. The instructors are that good, that when I tried to swim away from them they still managed to catch me.
Chris Booth & Catherine Hawksworth - From: Manchester, England
Monday, April 02, 2007 at 18:18:32 (BST)
---
I have just had an amazing time! I panicked and didn't want to get in! but the instructor was wonderful - so calm and just helped me under and away we went. About 4 times I went into 'panic' mode and forgot to breathe, got water in my mask and generally went round in circles! But each time he was brilliant!! Thank you so much for a wonderful experience 'I will be back!' Sam & Tash PS my daughter really enjoyed it too!
Samantha - From: London
Wednesday, March 14, 2007 at 17:49:34 (GMT)
---
Two great dives. Good equipment and excellent dive master. Highlight of my holiday in Gran Canaria! Many Thanks
Rob Bruce - From: Gloucester, England
Wednesday, March 14, 2007 at 17:51:46 (GMT)
---
WOW! did our AOWD and improved our skills a lot! many many super super thanks to Brian, Andy, Eduardo and all the others! It was all worth it and more.
Jukka and Pipsa - From: Finland
Wednesday, March 14, 2007 at 17:53:39 (GMT)
---
Hallo Brian und Familie , hallo Team , ist zwar schon ein paar Tage her (2002/2003), aber dennoch möchte ich für ein paar schöne und relaxte Tauchtage danke zu sagen. Euer familärer Service, ein Stückweit weg von den üblichen Touristen - Zentren, beweißt daß man auch auf den Canaren,sehr gute und Spass bringende Tauchgänge unternehmen kann ! Tauchfreunden aus Deutschland , kann ich diese Stätte von sehr netten, freundlichen Briten geführt, wärmsten empfehlen. Solltet Ihr nicht ohne schon , individuell geplant haben , empfehle ich dringend individuell Flug + Auto + Unterkunft solo/individuell zu buchen und die Insel und Tauchgründe so wesentlich intensiver zu erleben. Brian wird Euch ggf. auch in Sachen Unterkunft und Auto gerne zur Verfügung stehen ! Viel Spass. Alles Gute wünscht Euch Allen , Mfg. Mario / Germany
Mario - From: Beelitz,Deutschland
Saturday, January 13, 2007 at 11:44:49 (GMT)
---
Hi Brian, Just a quick note to say thank you for the couple of days diving I enjoyed with yourselves over the Xmas break. It was good to see something different, especially as most of my experience has been in the Red Sea, and I also ended up with the EANx diver course under my belt! Special thanks to Andy & Ed too, whose calming influence really helped and made the couple of day's diving really relaxing. Hope to be out & see you all again soon,
Mark Cannon - From: Chelmsford Essex
Tuesday, January 9, 2007 at 14:07:05 (GMT)
---
Brian, Just a quick note to say what a great time Heike & I had last week. It was just what we were looking for...nice accommodation, close to good quality diving. Thanks for looking after us and providing a quality service. Attached are 2 pics of the 'rare' Canarian Lobster. One we saw with you in the cave...the other we saw on the wreck dive.
Steve Millard - From: Liverpool
Saturday, December 30, 2006 at 10:04:13 (GMT)
---
Enjoyed the dives, the reserve is wonderful. Saw so many fish. If you want to dive the reserve Davy Jones is the place to go, Eduardo is very patient and points out anything you might miss, there is much to see. All the staff is very friendly and very knowledgeable of the reserve. They can also help you find good snorkeling sites. Also Bryan, the Tomate restaurant was excellent!
Gina & Carter - From: Darmstadt Germany
Saturday, December 23, 2006 at 10:36:01 (GMT)
---
Thank you for a great time - finaly got my long time wanted open water certificate - 4 days of Joy. Especially I would like to thank Brian and Annette for making this possible. You are very calm and easy both of you - and it feels safe diving with you. I hope that I'll return with Statsraaa Lehnkuhl next year so I can join you for another dive. Wishing you all the best for the future.
Morten Haagh-Jensen - From: Frederiksberg, Denmark
Thursday, October 12, 2006 at 14:00:59 (BST)
---
Had a terrific time, thank you to everyone for your professionalism and your friendliness.
Peter O'Shea - From: Ireland
Friday, September 29, 2006 at 16:31:39 (BST)
---
Wonderful experience, something you'll never forget (get the DVD!). Thank you to Andy and all the team for a great day and all their help. Keep up the good work and keep introducing people to a whole new world. God Bless
Bob Walsh - From: Basildon, Essex, UK
Thursday, September 21, 2006 at 18:39:31 (BST)
---
Best thing i've ever done, everything looks different from down below! Thanks very much.
Mark Keable - From: UK
Thursday, September 7, 2006 at 16:37:01 (BST)
---
By far the best centre I've dived with, very friendly, professional instructors, many thanks in particular to Annette! El Cabron is a fantastic dive site, full of life including many unusual and interesting animals. Many thanks again!
Paul Kemp - From: Munich, Germany
Thursday, August 24, 2006 at 20:21:51 (BST)
---
Thank you Annette and co for the lovely couple of days. Really enjoyed my first dive, absolutely fantastic, told Annette I had 5 bar instead of 50! Second dive with Brian was great especially doing headstands! My third dive was incredible, went down to nearly 20 metres! and swam under arch! My last dive was again superb, seen two octopuses, one swam past me! I'd like to thank everyone for the fantastic days and I would love to come back and read this comment soon (hopefully as a higher-qualified diver). All the best everyone (sad to leave, will miss everyone I met.. Annette especially!
Stefan Williams - From: Neath, West Glamorgan
Thursday, August 24, 2006 at 20:16:52 (BST)
---
Awesome experience, one I shall definately be repeating. I also want to thank the instructors for all their time and effort. They are superb in all aspects and made our Adventure one my brother and I will never forget. Thank you very much.
Jas and Luke Screech - From: Taunton, Somerset, UK
Monday, August 14, 2006 at 20:04:34 (BST)
---
Fantastic experience. Can't wait to do it again. Thank you all for your patience. Your support, instruction and encouragement made this a brilliant day - Again thankyou.
Kelli Bothwell - From: Leigh on Sea, Essex, UK
Monday, August 14, 2006 at 20:02:29 (BST)
---
10 excellent dives with excellent guides and buddies. Lots to see within the Reserve. All the information about the dives and aquatic life is on hand. Those taking part in the PADI Underwater Digital Photography course should feel assured: Brian is first class to teach and to dive with. Thanks very much.
Graham Losh - From: Royston, Herts, UK
Saturday, August 12, 2006 at 10:34:13 (BST)
---
Many thanks for a relaxed, clear and friendly dive operation. Jamie (15) and I (?) had an enjoyable and varied four shore dives. Your website is excellent and so to the operation 'end to end'. Good luck for the future.
Peter and Jamie Kaye - From: Salisbury, UK
Saturday, August 12, 2006 at 10:31:00 (BST)
---
Very professional operation. Good safe practices. Very friendly and helpful. Enjoyed my four dives.
John McLoughlin - From: Liverpool, UK
Wednesday, August 09, 2006 at 19:21:19 (BST)
---
I write to thank you for the excellent experience I had diving with you. I am glad I did the four day course though I just made it through that little PADI quiz at the end. The teaching and service I thought was very professional and all the instructors had shown a lot of patience with me. Especially thank Brian for his time and Andy for his pool sessions and his patience. Hope to dive in the red sea after this war is over, though I might be back to Gran canaria before then. Once again thankyou for the experience, the water on the last day was crystal clear. Hope to bring my digital camera next time.
Arif Shukralla - From: Dublin Ireland
Thursday, August 03, 2006 at 19:32:25 (BST)
---
Passed my OPEN WATER DIVER COURSE! Happy as Larry! Annette helped and pushed me all the way through it. Would recommend it to anyone. Thanks Annette. Thanks to all at Davy Jones Diving - see you next year.
Philip L Cowley - From: Manchester, England
Thursday, August 03, 2006 at 17:54:08 (BST)
---
Thanks for an incredible adventure. We were all aprehensive before hand, but we soon settled into it and loved every minute. We all felt safe in the water with the excellent team of divers!
The Murphy Family - From: Mansfield, Nottinghamshire, UK
Wednesday, August 02, 2006 at 18:48:50 (BST)
---
Great Diving as an experienced diver, childrens try-dive superb - very safe, enjoyable, only problem now got to pay out for 2 open waters as kids converted. Dive Instructors best I've come across. Fantastic all round.
Elaine Forrester - From: Attleborough, Norfolk
Saturday, July 29, 2006 at 17:20:10 (BST)
---
Brian & Marilyn,
Well safely back in the UK < groan> Just wanted to say how much I enjoyed diving with you on my hols. You got a great team there and I cant wait to get back there to do some more.
All the best, Tim

Tim Dop - From: Wales
Tuesday, July 11, 2006 at 14:26:53 (BST)
---
Big thanks to you all for making my first holiday diving, a great experience! Please find attached a few photos that I will enjoy for many years.
Kindest regards Steve Beresford

Steve Beresford - From: England
Saturday, June 17, 2006 at 10:33:29 (BST)
---
Hello, Just wanted to drop you a final note to say thanks for a great day of diving.
The location was the best I have seen & I have dove 3 oceans & a lot of other less famous places! The shop was great, like a diver's cafe. The staff were all very friendly, the trip to and from "zero stress". Lunch was just the ticket too. Wish we had time for another go! The T shirt will be at the top of my collection back in Halifax, Nova Scotia, Canada. Looking forward to watching "my first movie". The fish are the stars, divers - supporting cast! Thanks again, from the whole gang!

Ian McNaughton - From: HMCS Athabaskan
Wednesday, June 7, 2006 at 16:57:21 (BST)
---
Hi Marilyn, How are you?
I am back in the office in cold Amsterdam, I wear long sleeves, a warm top, I am freezing. I had a great week last week, diving all week, and I got the confirmation already for the certification.
I hope I will be diving with you again, maybe beginning of next year. If my friend MAAIKE shows up this week/next week, could you tell her my warm regards to her and wish for a great holiday. Best regards to all of you, freezing here,
Anne Marie Hartman - From: Amsterdam
Tuesday, June 6, 2006 at 08:00:05 (BST)
---
Brian
I would just like to thank you for your professional handling of my Diveleader course at Davy Jones diving. Whilst I can't say it was easy - I enjoyed every minute of it! Please send my regards to Ed, Andy, Siobhan and Annette. And special thanks to you and Marilyn for making my social life very enjoyable. Hope to see you agin before very long.

James Jowett - From: London
Thursday, May 25, 2006 at 19:30:18 (BST)
---
Brian,
Just thought I would drop you a short email to tell you we are now back in the UK (unfortunately) More importantly it was to thank you for your hospitality whilst we were on Gran Canaria. Also please pass on our thanks to Annette as she did a great job getting us through the course. We really enjoyed it (well apart from the dive on Monday in the not so nice conditions) and Annette did very well looking after us. Hope you have a great summer season and hope to see you again sometime.

Nigel and Alicia Moloney - From: UK
Friday, May 5, 2006 at 17:34:59 (BST)
---
Hi Brian/Marilyn/Siobhán/Andy/Annette/Ed!
I took my PADI OW with you about a month ago, and now I'm hooked; I've started buying my own gear slowly but surely, I've joined a dive club here, done a cold water orientation, and done a few chilly dives in Irish water. I'm already planning my next steps in diving, Sudanese Red Sea Liveaboard is strong possibility, and I'm definitely doing some Wreck diving in Dublin Bay and off the west coast in the next month. Thanks again to the brilliant staff at Davy Jones; in particular to Andy and to Annette, my combined divemaster/taxi/tour guide!

Simon Carroll - From: Dublin, Ireland
Thursday, May 4, 2006 at 10:45:06 (BST)
---
Dear Brian and Andy,
We just wanted to drop you a line to say thank you for the support and understanding you gave me whilst diving last week with friends, (the 6 of us from Wolverhampton) It was really good of you to take time to help me build up my confidence in the water. Although I had a shaky start, especially with the 15lt tank on the rib on the Tuesday, I thoroughly enjoyed the weeks diving. I certainly felt more confident by the Friday and would have happily stayed for another week of diving! Again, thank you very much for making my first diving holiday so enjoyable. I'm not sure if this is good news but we enjoyed the diving so much we are looking at coming over later in the year! With best wishes to you all for a good summer season,

Paul and Louise Bridgeman - From: Wolverhampton
Saturday, April 22, 2006 at 10:23:57 (BST)
---
---
Hola Eduardo y Brian, ya estoy de vuelta en mi casa despues de las vacaciones estupendas en las Canarias. Desde luego uno de los "highlights" de esos dias has sido el ir a bucear con vosotros en el Cabron. Sois prodesionales y al mismo tiempo haceis del buceo una cosa natural, sin complicaciones. Es muy relajante. Venga! os deseo lo mejor y espero tener la oportunidad de volver a bucear con vosotros. Maxi
Maximiliano Fernandez - From: Madrid
Saturday, March 26, 2006 at 13:29:05 (BST)
---
Discover more secrets of the best diving in Gran Canaria