Gran Canaria Diving
Four Fitness Exercises to get you ready to dive.

Coming to Gran Canaria and thinking about scuba diving? Some of our guests have come here and found that after a break from diving (or over winter) that their fitness was not not as high as they expected.
So we consulted with our specialist sports Physiotherapist, Julie Dass, Director of the Julie Dass Sports Injury Clinic, and asked her for some tips to help you get back in the water after a more sedentary lifestyle over winter.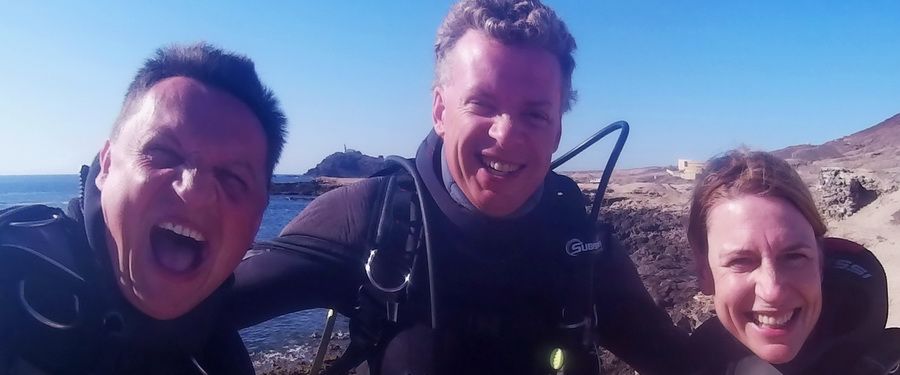 You enjoy your dives more if you feel fit
Get Fit for your Scuba Diving Trip - by Julie Dass.
Improving your fitness before you arrive for your dive is very important,it will make it easier to gear up and enjoy the amazing marine life, caves and underwater landscape once you are below the surface level.
Strong muscles improves your body's ability to use oxygen more efficiently so your tanks will last longer.
The key areas to enable you to haul heavy tanks, climb ladders, and flip fins for up to an hour requires strength and muscular endurance.
The main muscles to concentrate on are lower back, core and legs.
Here are four easy at home exercises you can start today :
Squats
-
feet shoulder width apart, bend your legs as if you are going to sit down, hold for 3 seconds and then straighten to standing repeat 2 sets 20
Step ups
Stand on your staircase and step up one step at a time, lift your knee up towards your chest hold for 3 seconds and repeat on other leg, when you feel stronger try a two step gap. Build up to 20 on each leg. 20 on each leg
Lying Scissor Kicks
Lie down on your back, raise your legs in a straight position above the floor 3 inches off the floor , crisscross your legs back and forth . keep your hands and arms flat on the floor. Repeat for 10 seconds, increasing to 30 seconds as it becomes easier.
Calf Raises
Stand on the edge of the first step on the stair case, go on to one leg on to your tip toes,hold for 3 seconds, then flex down so your heel goes towards the floor. repeat 10 times on each leg.
If you can introduce 20 sit ups and 20 press ups every day between now and your booked dive this will help build endurance and strength.
The above are easy to fit in around your busy schedule as at home, if you have time I would recommend swimming and stationary cycling building up from 10 minutes to an ideal 30 minutes.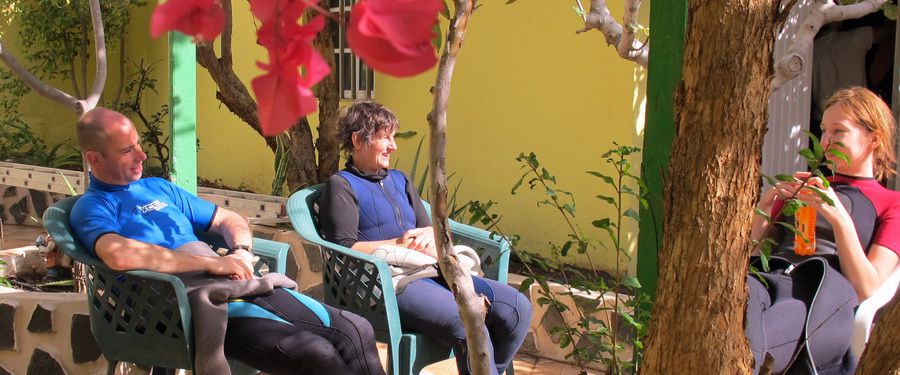 Be fit to dive, and enjoy the afterdive!
Remember by improving your fitness for a dive holiday it will help improve your safety and ability in the water so you can enjoy your dives without getting cramp in your calves or aches and pains in your lower back.
And when you get here ?
Remember some basic tips for carrying heavy equipment, such as keeping a straight back, and carrying one piece of equipment at a time and you will feel great at the end of the day, and remember to start with a gentle dive for your first dive and you will still feel in form by the end of the week!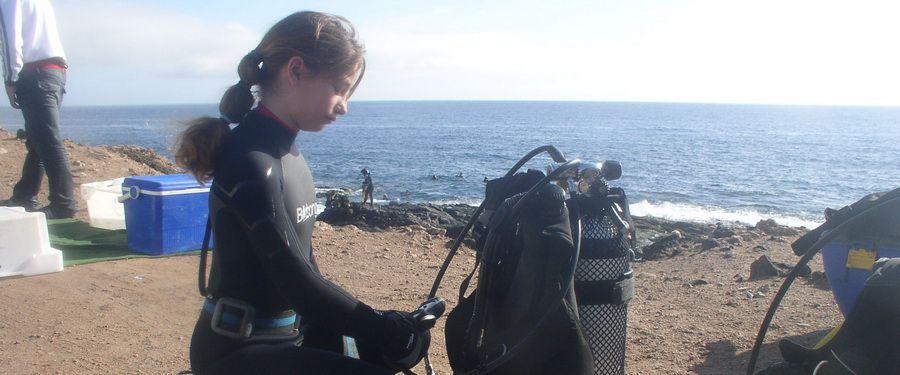 Remember - a straight back when lifting tanks
Julie Dass has been a Physiotherapist specialising in sports and sports injuries for over XX years. She runs the Julie Dass Sports Injury Clinic from the Stables therapy centre in Bedford with a team of zz specialists in sports physiotherapy.
Discover more secrets of the best diving in Gran Canaria